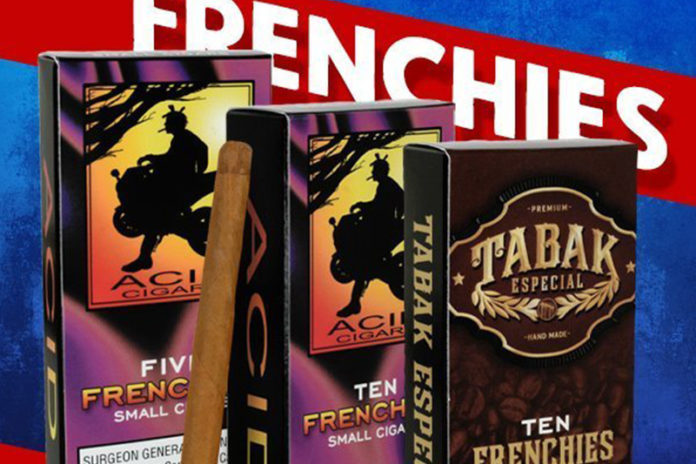 Drew Estate has announced the nationwide release of a series of Frenchies, quick smokes, under the ACID and Tabak Especial brands. Frenchies first made their debut during Tobacco Plus Expo (TPE) 2019 and will be featured again in the company's booth during the 2019 International Premium Cigar & Pipe Retailers Association (IPCPR).
The ACID and Tabak Especial Frenchies are 3 3/4 x 20 small cigars. ACID Frenchies come in both 5- and 10-count pack. Tabak Especial Frenchies are sold only in 10-count packs. ACID Frenchies are wrapped in a lush Sumatran wrapper with Nicaraguan fillers, producing a delightful, sweet, pleasing smoke. The Tabak Especial Frencies are wrapped in a smooth Ecuadorian Connecticut Shade with Nicaraguan fillers and are the perfect small smoke to have with your morning cup of coffee.
"Frenchies are truly small cigars, packaged in a mass market style box that's easy breezy for the fast-paced smoker. These small cigars produce volumes of velvety smoke and are nice and sweet, so delicious…voila," commented Jonathan Drew, president and founder of Drew Estate.
ACID Frenchies 5-count packs will have an MSRP of $5.50 per pack and will be shipped in shelf sleeves of 10. The ACID Frenchies 10-count pack will have an MSRP of $10 per pack and will also be shipped in shelf sleeves of 10. The Tabak Especial Frenchies will only be available in 10-count pack with an MSRP of $10 per pack. Both ACID Frenchies and Tabak Especial Frenchies will begin to ship in September 2019.
Each comes shipped in a shelf merchandising sleeve of 10 packs for retailer convenience and also each is individually packed with a Boveda humidity pack to maintain the proper humidification and freshness where ever its placed in a store, whether it be in a humidor or near the register.
For all the latest news from Drew Estate, visit drewestate.com.