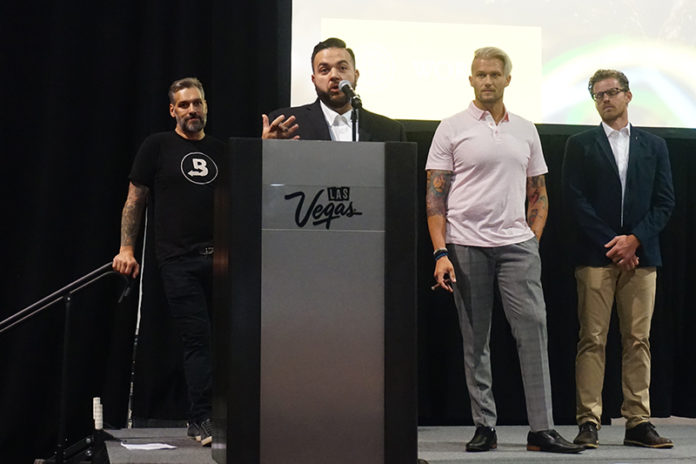 Hand Rolled: A Film About Cigars, a documentary about the cigar industry made by Jesse Mariut and Steve Gherebean, rounded out the IPCPR's first day of seminars with its official debut. The film tied together everything that was discussed the first day of the convention, from how cigars differ from other tobacco products to the truly personal and unique experience cigars have created for various individuals around the world. The documentary was executive produced by Pete Johnson, brand owner of Tatuaje Cigars, who met Mariut and Gherebean at the IPCPR show two years ago.
"They [Mariut and Gherebean] told me they were trying to do a documentary about the cigar industry, and I told them, 'If you're willing to look at a couple of documentaries that I'm into that tell the stories and the history of the people of the industry, I'd totally be in. I just didn't understand how much I'd be in," explained Johnson. "I'm a softy when it comes to the history of this industry. There are great people in this room, and this is my 24th trade show. To me, this is the best industry in the world. This is not a quick little story about cigars—this is a history lesson of the industry and how [Fidel] Castro took over that island [Cuba] and made the rest of the world pay attention to all those other countries."
Featuring interviews with heavyweights like Carlos Fuente Jr., Rocky Patel, Hendrik Kelner and Jose Orlando Padron (which would end up being his final interview), the movie was both informational and entertaining. It educated viewers on the history of the cigar product category, from its early origins in Cuba to the Cigar Boom led by Cigar Aficionado in the mid-1990s. The film received a standing ovation from the audience, indicating it truly resonated with the IPCPR crowd and fulfilled its mission to educate the world on what makes cigars unique and personal. The documentary will undergo another round of editing while the team works to distribute the film to Netflix and other platforms.