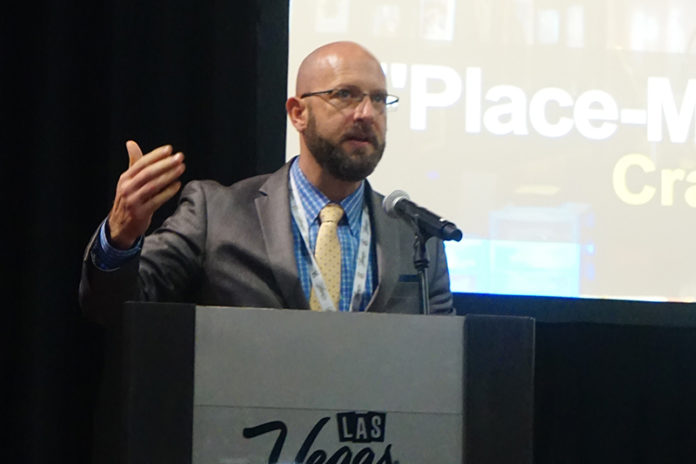 One of the most valuable benefits of attending the International Premium Cigar & Pipe Retailers Association (IPCPR) show is the educational seminars the association hosts the day before the trade show opens. During these sessions, retailers and manufacturers alike can learn about new trends in the industry, exchange insights on combating challenges, and network with their colleagues to make their businesses stronger and more profitable.
The first of the seminars, "How to Work with Regulatory Agencies," featured four panelists: Craig Cass, a past president of the IPCPR and the owner of five Tinder Box premium tobacco stores in North Carolina and South Carolina; Drew Newman, the fourth generation to be involved in the cigar industry through his family's company, J.C. Newman Cigar Company; Nate Hurley, the ombudsman for the U.S. Food and Drug Administration's (FDA) Center for Tobacco Products (CTP); and Will Woodlee, an attorney with Kleinfeld, Kaplan & Becker LLP, a law firm that specializes in FDA law and policy.
Each of the panelists offered advice on how and when to interact with the FDA and the CTP. Noting that regulations can be confusing—but are now a common part of any tobacco-related business—the participants outlined a strategy indicating how members of the tobacco industry can create successful relationships with the government.

Nate Hurley, Ombudsman, FDA's Center for Tobacco Products
Hurley described his duties as ombudsman—an independent, objective and confidential resource set up within the CTP to receive complaints and resolve issues between the CTP and any aggrieved parties. Hurley encouraged the audience to seek answers from the FDA/CTP website before contacting him. He also told the audience that his office can provide options and informal advice for dealing with the CTP as well as the formal process of filing information or resolving any disputes with the agency. According to Hurley, any party may ask the ombudsman to get involved at any stage of the process without retaliation, and his office will maintain the confidentiality of any party in almost all cases.
"Research the website to see if there is an answer to your question there," Hurley said. "Be explicit in your questions. Let us know if you have had contact with others at the CTP. Manage your expectations of outcomes, and understand that we can't become your personal advocate, violate trust, overturn a decision, become involved in litigation or violate the ombudsman ethics."
Hurley can be contacted at askctp@fda.hhs.gov or (877) 287-1373.
Will Woodlee of Kleinfeld, Kaplan & Becker LLP
While Hurley explained the resources the CTP offers, Woodlee stressed caution, telling the audience that every interaction with the agency could lead to undesired consequences. Before interacting with the CTP, every manufacturer and retailer should ask if doing so will help him or her achieve his or her goal; if the risks outweigh potential benefits and whether the interaction could have unintended consequences.
"The FDA is not your friend!" Woodlee forcefully told the audience. "Anything we say can be used against us."
Woodlee explained that the CTP is a conservative agency when it comes to interpreting the law and providing the industry with interpretations because it possesses a basic distrust of the industry.
"Do not ask questions unless you can accept the answers," Woodlee advised. The interaction might reveal regulatory strategies to the FDA or otherwise expose weaknesses, and it might give a previously unknown issue unwanted attention from the agency.
If the benefits of interacting with the CTP outweigh the risks, Woodlee recommended that manufacturers and retailers have an intermediary and that they also gain support from others within the industry so more voices are heard.
Woodlee concluded his presentation by discussing FDA warning letters, which retailers and manufacturers receive for violations of tobacco laws. The letters are posted on the FDA's website every Tuesday and may lead to monetary fines and a prohibition of tobacco sales if the agency's concerns aren't addressed.
The FDA requires a response within 15 days of a business receiving a letter. The response can be an objection to the allegations and provide reasons for each objection, or it may be an acceptance of the allegations and include corrective actions and supporting documents to show the FDA how the business plans to avoid violating the law in the future.
Craig Cass of Tinder Box and Drew Newman of J.C. Newman Cigar Company
In a question-and-answer session closing the first seminar, both Cass and Newman explained how their businesses have attempted to navigate the regulatory climate. They've met with successes and setbacks, but both commented that the FDA was attending the show to learn about the premium cigar and pipe industry and to learn how it differs from cigarettes and other tobacco products.
"There are ways that the industry can improve relations with the FDA," Cass commented.
"We must communicate with a consistent message, and the industry as a whole must pause before communicating with the FDA to ensure that consistent message."
New Opportunities for Retailers
The second seminar, "Uncovering Growth Opportunities via Benchmarking," was presented by David Bishop of Balvor LLC and sponsored by Sindicato Cigars, which debuted its Cubico cigar at the show. Bishop shared data from a survey his company conducted earlier this year in which 196 tobacco retail respondents provided insights on how tobacconists can thrive and improve their businesses by identifying the business practices of the top 25 percent of the survey's respondents.
According to Bishop, top retailers are more diversified than their competitors. They were more likely to have Internet, mail order and wholesale components to their businesses, making it easier for their customers to shop with them. The top performers were also more likely to encourage more spending per customer visit and to stock items from a broader array of products, including accessories, pipe tobaccos, pipes, premium cigarettes, roll-your-own and make-your-own tobaccos, and standard cigarettes. The top-performing retailers each averaged around 425 SKUs in their store.
Another way to improve business, according to the survey results, is to increase your company's reach within your community. Creating an email list and using it to reach out to your customers is an effective way to drive traffic into your store. Top retailers typically have a subscriber list of 1,500 people per store and are more aggressive in convincing
customers to sign up for the email list, taking advantage of opportunities such as while the customer is checking out at the register or asking them to sign up at events or on the store's website. Bishop noted that 63 percent of all respondents utilized a website and email blasts to build business, and the top 25 percent of retailers averaged a total of 4.9 events—both in-store and off-site—in the first quarter of 2018.
Before opening the seminar to questions from the audience, Bishop concluded, "Some of these options may not be a fit for your business. You've got to prioritize them and then consider what it would take to implement them by asking yourself what your company culture is, how you compare with your competitors, what are your key performance indicators, where can you improve and what are your goals."
With the recent court case of South Dakota vs. Wayfair (in which the U.S. Supreme Court ruled that states can charge tax on purchases made from out-of-state sellers regardless of whether the seller has a physical presence in the taxing state), many in the audience were curious to see how e-commerce operations would now fare against brick-and-mortar retailers. Bishop's data offered hope to traditional retail stores: Do more and leverage your digital marketing, and you will see results. From simply having a functioning website to engaging with your customers through email marketing and social media, retailers must get savvy and resourceful if they want to compete. Brick-and-mortar retailers' competitive advantage over e-commerce is in the way these businesses are able to engage with the community as well as the unique experience brick-and-mortar stores can offer customers. To take the survey and get Bishop's full results, visit bit.ly/cigarsrock.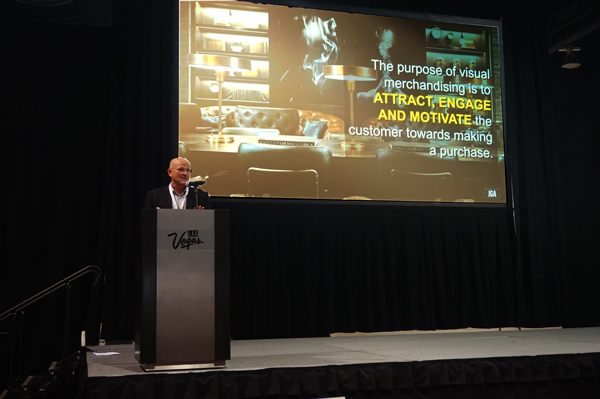 The Power of Merchandising
The session "Place Making and Visual Merchandising: Crafting a Retail Destination Experience" built on Bishop's session but focused more on the actual experience within a store. Presented by Ken Nisch, chairman of JGA Branded Environments, the session offered attendees a view into different stores and how the retailers created excitement and a unique experience within their stores. This was an important session for those attending the IPCPR show because retailers who carry cigar and pipe products aren't selling a commodity but an experience—and to be successful they must embrace this difference and create something memorable and unique in order to keep their customers coming back.
"You're in a very interesting business that's so aligned with where people are today. It's about authenticity, it's about craftsmanship, it's about [the] human element, it's about storytelling, it's about cultural connections, and it's about sociability," Nisch explained.
Nisch's research indicated that consumers now are more experience-driven than they are materialistic. In the age of Instagram and the selfie, consumers are more likely to spend their money on an experience than they are a material object they feel won't offer any emotional return. Premium cigars and pipe tobacco as well as the retail outlets that sell them are part of the experience economy—while consumers don't necessarily need them, they will incorporate these products into their lives if they somehow provide them with a unique experience. Nisch urged those in attendance to look at their store as a destination and to make it a place where a consumer would want to come for a one-of-a-kind experience and the backdrop to fit their social needs.
This story first appeared in the September/October 2018 issue of Tobacco Business magazine. Members of the tobacco industry are eligible for a complimentary subscription to our magazine. Click here for details.