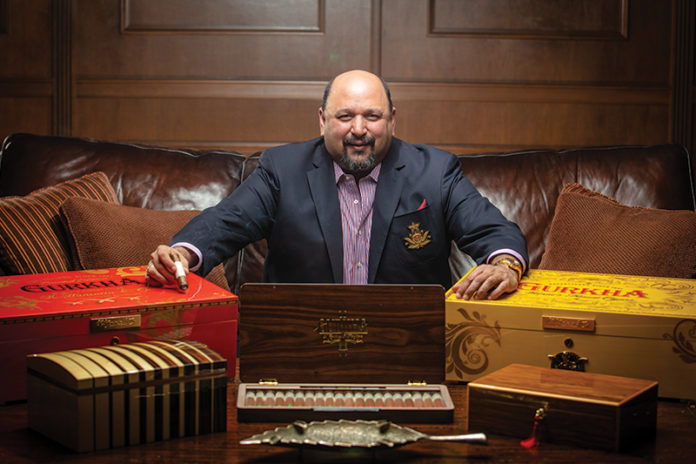 This year marks the 30th anniversary for Gurkha Cigars, a company with a reputation built on ultra-premium cigars. Brand owner Kaizad Hansotia attributes his company's longevity and success to the passion he has for the cigar industry and all things luxury. In the 1980s, the Hansotia family had a successful luxury watch business that led it to expand its reach into other areas of luxury lifestyle products. With an eye for the finer things in life, Hansotia entered the premium cigar business in 1989 while on vacation.
"I was walking on the beach when I stumbled upon a man hand-rolling cigars out of a little hut," he says. "The level of craftsmanship was extraordinary. My interest had piqued, and I tried one."
Hansotia thought cigars would make a unique addition to the family's luxury-inspired business. From the man on the beach, Hansotia learned that Gurkha cigars had been around for more than a century and were named after Nepalese warriors whose bravery had inspired British troops. Hansotia was so impressed and inspired by these cigars' story that he bought all of the man's cigars on the spot, thereby acquiring the Gurkha Cigars brand for just $149.
Gurkha Cigars debuted in duty-free markets in 1990 and retailed for $14 to $17 per cigar, which was unheard of at the time. They were only available encased in glass tubes, while most other cigars at the time were packaged in more traditional cigar boxes. The first run of Gurkha cigars was popular and sold out quickly. At the time, the company consisted of only two employees: Hansotia and his wife, Katya. Hansotia was hands-on from the beginning, handling all the product, packaging, sales and marketing himself while Katya focused on managing the office. Thirty years later, Gurkha Cigars now has nearly 50 employees, and the company continues to have a hold on the ultra-premium cigar market.
Gurkha Cigars embraces the luxury market, crafting its cigars with only the rarest and highest-quality aged tobacco leaves. "We always think in quality not quantity," Hansotia explains.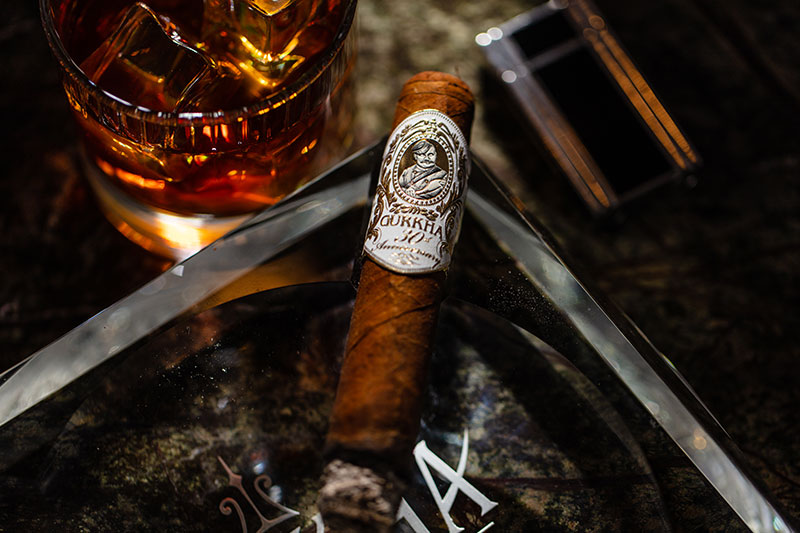 To commemorate the company's 30th anniversary, Gurkha has released the Gurkha Treinta 30 Year Anniversary cigar. The cigars are made by Aganorsa Leaf in Nicaragua, and they will be available in three sizes: Robusto (5 x 52), Toro (6 x 54) and Magnum (6 x 60). The cigars come in 21-count boxes, and the first 1,000 boxes of each size will be released in limited-edition commemorative boxes. Gurkha Cigars has also introduced a beautifully elegant tin that houses five of the Toro-sized Treinta cigars.
Treinta 30 Year Anniversary cigars are made from an Ecuadorean Habano rosado wrapper, an Aganorsa Leaf Corojo '99 binder, and a filler blend of Corojo '99 and Criollo '98 tobaccos grown in Esteli, Nicaragua, and Jalapa, Nicaragua. Gurkha Cigars is also releasing a limited-edition anniversary humidor that will include 50 Treinta Limitada cigars only available with the humidor. The humidor will retail for $800 and will include 25 Belicoso cigars (6 1/4 x 52) and 25 Figurado cigars (6 3/4 x 52).
"I always thought long-term from day one," Hansotia reveals. "Most people think of a three-year plan. We think of a 30- to 50-year plan."
Gurkha's Treinta 30 Year Anniversary cigar will begin shipping in September 2019.
This story first appeared in the July/August 2019 issue of Tobacco Business magazine. Members of the tobacco industry are eligible for a complimentary subscription to our magazine. Click here for details.