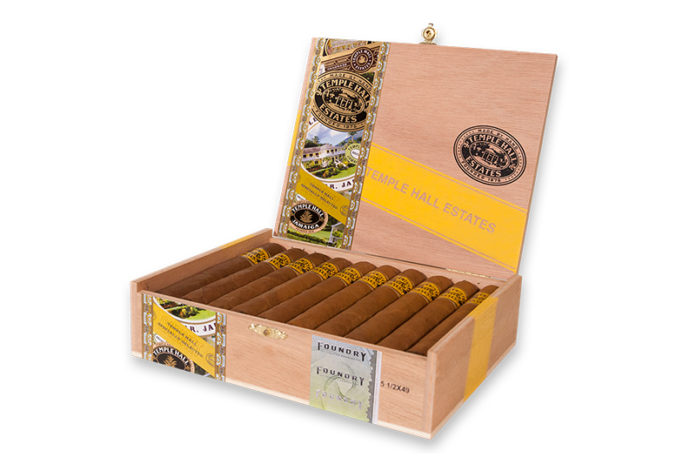 Foundry Tobacco Company's new Temple Hall Estates collection pays homage to a rich past that has ties to World War II and Cuba.
During WWII, many Cuban cigar masters traveled to British-held Jamaica to make cigars. During this time, the British were among the world's largest buyers of Cuban cigars so there was a great demand and need for skilled cigar makers to make the move. The Temple Hall cigar factory became a home to these cigar makers and soon became a major player in the industry. Years after it opened, Ramón Cifuentes, the father of the Partagas brand, assumed control of the factory's day-to-day operations after Castro took control of Cuba. Cifuentes' attention to detail and high standards helped put Temple Hall on the map and helped it to be viewed as one of the world's leading cigar factories.
"Temple Hall Estates pays homage to the factory in Jamaica, and the people who shared Ramón Cifuentes' love for the art of cigar making," said Justin Andrews, sales manager for Foundry Tobacco Company. "This new line is made in Santiago, Dominican Republic, according to the techniques set forth at Temple Hall by Ramón."
The new Temple Hall Estates cigar features a Connecticut Shade wrapper and Mexican San Andrean binder. It uses proprietary Dominican Piloto Cubano leaves grown in Mao, Dominican and incorporates Mexican San Andrean long fillers to round out the blend. This cigar delivers a smoke with notes of cedar and earth. According to General Cigar, the Temple Hall Estates is a silky, elegant and flavorful smoke reminiscent of the cigars made by Ramón Cifuentes.
Andrews notes thats Temple Hall Estates rounds out Foundry Tobacco Company's portfolio by offering a mild, smooth-smoking cigar previously represented in the FTC Heritage Series which includes Ramón Allones and Bolivar.
Temple Hall Estates is available in four sizes: 5 1/2 x 49, 6 x 50, 5 1/4 x 54, and 7 1/2 x 49. The suggested retail price is between $6.99 to $8.49. This new cigar is now shipping to cigar retailers across the U.S. Some in-store educational events will begin in March at cigar shops across the country.
For the latest news from Foundry Tobacco Company, visit foundrytobaccocompany.com.