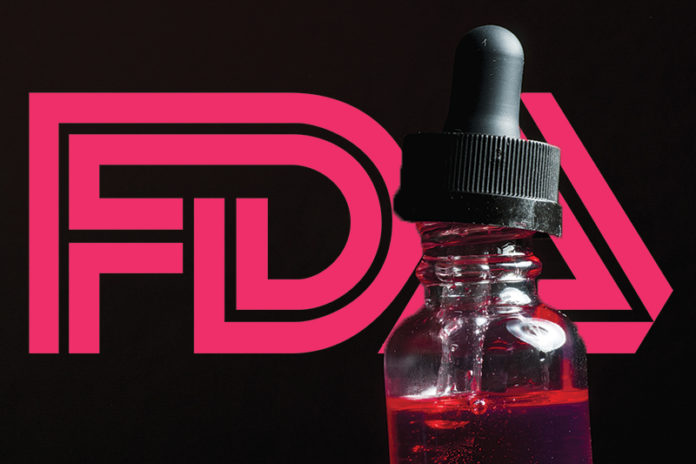 The U.S. Food and Drug Administration (FDA) is cracking down on e-liquid and hookah products that are being sold without acquiring marketing authorization from the industry. This comes as the FDA continues to take actions to stop the rise of youth e-cigarette use in the U.S.
The FDA issued warning letters to four companies–Mighty Vapors, LLC (Ovo Manufacturing & Distribution), Liquid Labs USA, LLC (Likido Labs USA), V8P Juice International, LLC, and Hookah Importers Inc.–accusing them of selling 44 flavored e-liquid and hookah products without the required authorization from the FDA. According to the warning letters, these products were introduced or modified after Aug. 8, 2016, which is when the Deeming Rule was introduced that extended the FDA's power to regulate all covered tobacco products. According to the Federal Food, Drug, and Cosmetic Act (FD&C Act), any new tobacco product must meet premarket requirements and receive authorization from the FDA to be legally marketed and sold in the U.S. Those companies that are found in violation of this act could face steep penalties or judicial actions such as seizures and/or injunctions.
In a press release, acting FDA Commissioner Ned Sharpless, M.D. commented: "Today's actions make clear that we will continue to keep a close watch on whether companies are breaking the law and will take swift steps when violations are found. Our work in this area has already resulted in a number of companies removing products from the market. The marketing of illegal tobacco products is particularly concerning given the epidemic of youth vaping that we're facing, which we know has resulted in part from irresponsible practices of manufacturers, importers and retailers who have targeted kids in their marketing of these products. We are committed to tackling the troubling trend of youth e-cigarette use by continuing to use all available regulatory tools to ensure these products aren't being marketed to, sold to, or used by kids. It is critical that we remain vigilant in our efforts to stem the increase in use and nicotine addiction in children driven by e-cigarettes, which threatens to erase the years of progress we've made combatting tobacco use among kids."
The warning letters were issued on Aug. 8, 2019 and the companies in question were given 15 working days to respond to the FDA, outlining how the intended to address the FDA's concerns. The companies are asked to provide a date when they planned to discontinue the sale or distribution of these products and how they planned to comply with the FD&C Act going forward.
This is not the first time the FDA has issued warning letters to companies operating within the e-cigarette and vapor industries. Previously, the agency issued letters to nearly 90 companies, questioning the marketing and distribution of over 130 different electronic nicotine delivery system (ENDS) products [read more here]. Those letters led to many of these companies removing the products in question from the market.
You can read the warning letters as well as more of the FDA's press release about this particular case by clicking here. For all the latest legislation and FDA news impacting the tobacco industry, click here.