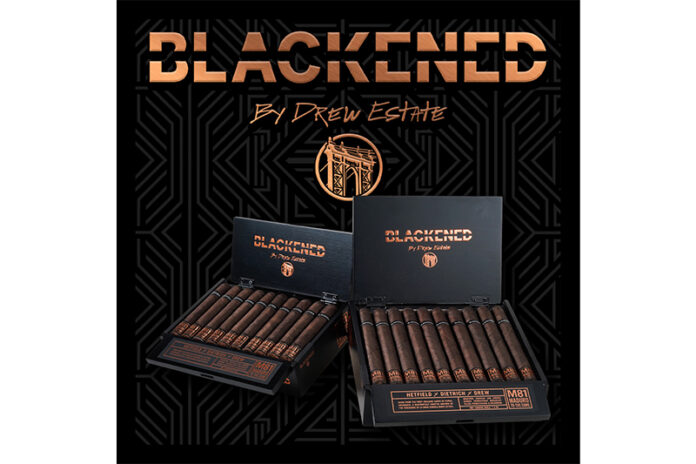 Drew Estate's Sept. 28, 2022 "Freestyle Live" Special Edition" broadcast was one for the record books. During this special virtual event it was revealed that Drew Estate's next release is a collaboration with James Hatfield of Metallica and Rob Dietrich of Blackened American Whiskey. Those that purchased one of the latest Freestyle Live Event Packs were treated to a sample of this upcoming release–BLACKENED Cigars "M81" by Drew Estate.
BLACKENED Cigars "M81" by Drew Estate is described as a "passion project that brings together three immensely talented and vastly experienced cigar enthusiasts–Jonathan Drew, founder and president of Drew Estate; James Hetfield, Metallica co-founder, singer and guitarist; and Rob Dietrich, the Master Distiller and Blender of BLACKENED American Whiskey." This new cigar's blend was built around the exploration of he deepest, darkest and heaviest depths of the Maduro leaf and began with Hatfield and Dietrich who frequently smoke cigars together.
"It is really a fun social thing for me, a fellowship, to have a few buddies sit around with a few sticks," Hetfield said in a press release. "My buddy, Rob Dietrich, BLACKENED's Master Distiller, and I frequently enjoy cigars together and he introduced me to Jonathan from Drew Estate. The three of us connected and shared each other's vision and story about where we've been, what we like to see and what is important to us now, and we all came up with what a BLACKENED 'M81' Cigar would look and taste like. I love the Maduro leaf and I'm super excited for everyone to try this."
Dietrich and Drew have been friends for over a decade and have wanted to collaborate on something special for some time. Drew Estate sent samples to Hatfield and Dietrich who both kept cigar journals where they critiqued the cigars they smoked and made note of what they liked and disliked about each cigar. After two years of this process, the group decided on the exact flavor profile that would become BLACKENED Cigars "M81" by Drew Estate.