A closer look at this year's Tobacco Business Awards' Nicaraguan, Dominican, Honduran and Value Cigar category winners. You can view Tobacco Business' full Top 24 Cigars of 2021 list by clicking here.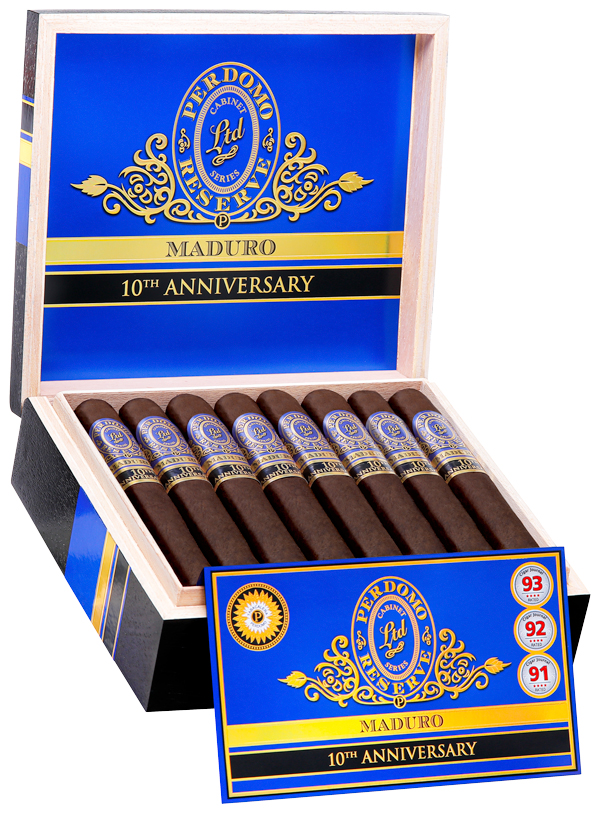 Nicaraguan Cigar of the Year: Perdomo Reserve 10th Anniversary Maduro
It's not often that Perdomo Cigars releases something new, making each new release special. In June 2020, Perdomo came out with one of its new releases—the Perdomo Reserve 10th Anniversary Maduro, a cigar that was voted as Nicaraguan Cigar of the Year but also was overwhelmingly voted as Tobacco Business' overall Cigar of the Year for 2021.
"We are so proud and honored that the Perdomo Reserve 10th Anniversary Maduro received the Nicaraguan Cigar of the Year! It simply means the world to me. It makes me emotional, and from the bottom of my heart I want to sincerely thank all of the retailers, industry peers and our consumers worldwide for this prestigious award," states Nick Perdomo Jr., president and founder of Perdomo Cigars.
Perdomo added, "The new Perdomo Reserve 10th Anniversary Maduro is a very special cigar for us because we don't come out with many new cigars, as you well know. We really wanted to blend something that was so special that everyone would be able to pick up on the nuances of the special hand selected maduro wrappers that we grew. Together with fillers from Jalapa Valley, I put more of these fantastic fillers in because of their sweet and aromatic flavors together with more powerful tobaccos from Condega and the Estelí valleys. I really believe we had a home run with the cigar, and it's extremely popular in the marketplace."
Perdomo Reserve 10th Anniversary Maduro was originally slated to be released in February 2020, but it was delayed until June 2020 due to the COVID-19 pandemic. Once announced, this cigar mostly sold simply based on word-of-mouth and online hype. For the first four months that the Perdomo Reserve 10th Anniversary Maduro was available, Perdomo's sales team didn't have samples for retailers, but most placed orders based on the respect they have for the Perdomo family and its attention to detail and quality in terms of its premium cigar products. The company sold out container after container of this cigar after it was released with the Perdomo Reserve 10th Anniversary Maduro, easily becoming one of the in-demand new releases of 2020.
This particular cigar took over two years to develop. This cigar's blend was a team effort—in addition to Nick Perdomo Jr., Perdomo's blending team with over 300 years of smoking experience worked closely alongside Perdomo vice president Arthur Kemper and director of sales Nicholas Perdomo III to zero in and focus on getting the blend for the Perdomo Reserve 10th Anniversary Maduro just right. The blend wasn't considered complete and ready for release until there was a consensus among all involved in the blending process that the cigar was one of the best everyone had smoked. The final blend was one that Perdomo was sure would sell for the retailers and be widely accepted among a wide range of cigar smokers.
"To be truthful, we are always swinging for the fences. Our job is for our retailers to trust in us, and they really do. For our consumers, we aim for them to echo these words: 'We love and trust every cigar that Perdomo makes!' That is what we work so hard for. I wanted a cigar that would hit many palates. I wanted people to really fall in love with this cigar. That is what we wanted, and thankfully what happened after we developed this special blend. We are so blessed that the smoker loves it so much," says Perdomo.
The Perdomo Reserve 10th Anniversary Maduro sports a stunning blue band, a color loved by both Nick Perdomo Jr. and Arthur Kemper. Perdomo Reserve 10th Anniversary features filler tobaccos from the three most fertile valleys in Nicaragua: the Jalapa Valley, known for its sweet and aromatic flavors; the Condega Valley, which imparts a tremendous aroma and earthy flavor; and Estelí, that gives the blend much of its complexity and richness. Nick Perdomo Jr. describes this cigar as being very complex, smooth and extremely well balanced with a solid tobacco core of flavor.
"It's a fantastic cigar with hints of dark chocolate, espresso and natural sweetness from the dark and oily wrapper," Perdomo says. I would definitely recommend pairing the Perdomo Reserve 10th Anniversary Maduro with great bourbons, single malt scotches, dark sipping rums, mescal, smoky tequilas, big red wines, and dark coffees and espressos."
For those that have already or will smoke the Perdomo Reserve 10th Anniversary Maduro, Nick Perdomo Jr. wants you to know that this cigar is a line extension of the Perdomo family itself. The average Perdomo worker has worked for the company an average of 19 years, and 10 months and that is the secret to the company's success, and the consistency of its products, something he is very proud of in addition to Perdomo's reputation for its attention to detail and passion for premium tobacco and cigars.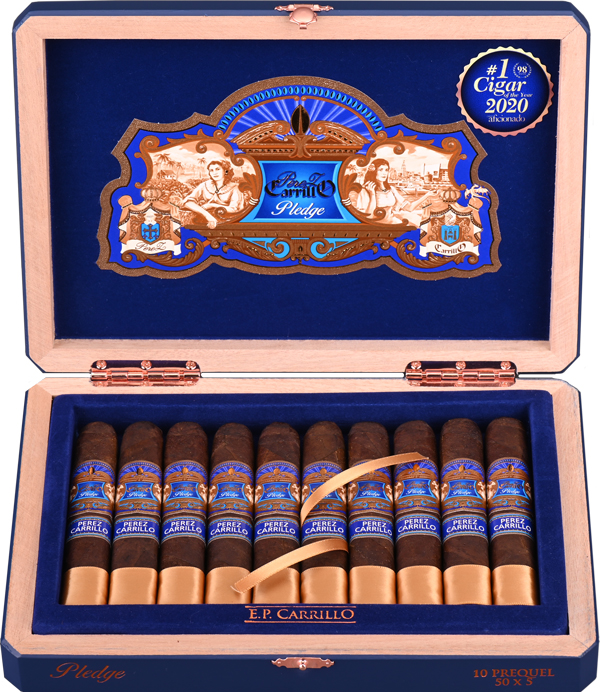 Dominican Cigar of the Year: E.P. Carrillo Pledge
Ernesto Perez-Carrillo crafted Pledge as a follow-up to E.P. Carrillo's La Historia and Encore. The blend began as a sample Perez-Carrillo had developed for a limited release but never used and had stored away in his humidor for two years before he smoked it. When his son, Ernie, smoked this particular sample, he proclaimed, "This is what I want, Dad. This is a cigar!"
With everyone on the E.P. Carrillo team in agreement on the blend, Perez-Carrillo moved forward with bringing Pledge to the market as the third installment in his company's Perez-Carrillo trilogy of cigars. His daughter, Lissette, went to work on the marketing and branding of the cigar and tapped Miami-based designer Dennis Hernandez to help visually bring the cigar to life.
"It was, it was something to basically try the wrapper," Perez-Carrillo says of the Pledge's blend. "I [also] wanted to use different binders. This is when I decided to use the Ecuadorian binder because it gave me that creaminess, and it gave me the strength that would make it different from the other two cigars—La Historia and the Encore.
It was decided that Pledge would be made available as both a Robusto and Toro, another departure from other E.P. Carrillo cigar lines. Originally, the plan was to release Pledge in March of 2020, but then the pandemic hit, forcing Perez-Carrillo to shut down his Dominican-based factory for two months. Before the closure, a few thousand sticks of Pledge had been made, but more would need to be rolled before the cigar had a proper release. It wasn't until September when E.P. Carrillo finally released Pledge, supported by a completely different approach to marketing than the company had taken with previous product launches.
"Even before the ratings, we were starting to see the growth in that particular line. It was really impressive. I have to give a lot of credit to Lissette and the gentleman that used to be with us, Selim [Hanono], who really did an outstanding job of promoting this cigar. I have to say this was really the first time that we promoted a cigar so heavily and in such an organized and so professional way. Before when we released cigars, we really didn't make that big of a deal of it, but this one's whole marketing aspect and promotions were just above anything we had done to date. It was a great marketing strategy, and the cigar community responded, which is a good thing. Everybody knew in the back of their minds that we had a winner here. We didn't think we'd get No. 1, but we knew we had a cigar that was going to be really special," Perez-Carrillo explains.
Pledge has quickly become one of E.P. Carrillo's most sought after and highly rated cigars. This year, Pledge was voted as the Dominican Cigar of the Year in the Tobacco Business Awards, an award that Perez-Carrillo notes is special to him due to how it was decided on.