"It's a great honor," Perez-Carrillo says of Pledge winning a Tobacco Business Award this year. "Every award has a special place in our heart and our company, but when you get something like this where it's voted on by the industry and by the consumers, it just tells you that all these years of hard work and what we've been doing for all these years going back to 1904, when my grandfather used to make penny cigars in the streets of Cuba … it's very special."

Honduran Cigar of the Year: Camacho Corojo
This year's Honduran Cigar of the Year is the Camacho Corojo, a cigar made with 100 percent genuine pure-strain Corojo leaves grown from vintage Cuban seed that was taken from the island and then slowly aged like fine rum. The Camacho Corojo made its debut back in 2000, marketed and released to be a disruptor at the time when the cigar market was dominated by mild to medium-bodied cigars. The team at Camacho Cigars wanted to give the U.S. cigar smoker a much holder and flavorful smoke, a goal it was able to achieve with the use of Corojo tobacco and the nuances it brings into the blend.
"This award is a testament to our team's dedication to the Corojo seed, which is the most important core component for the Camacho brand," says Dylan Austin, president of Davidoff Americas. "In our industry, new products normally garner the majority of the attention and accolades. Which is natural and understood. However, it is a real honor when a product that has been around for over two decades is recognized in such a manner."
The blend for Camacho Corojo was developed by Manuel Batista, general manager of Diademas Cigars. Batista is a 26-year veteran at Davidoff in the Dominican Republic who relocated to Honduras in 2016 to oversee the company's Honduras operation that includes farming and production. The Camacho Corojo contains authentic Honduran Corojo three primings filler tobaccos (Pennsylvania Broadleaf for the box-pressed version), a Corojo Ligero binder and a Honduran Corojo fifth priming wrapper. This cigar is available in seven different vitolas: Churchill, Figurado, Gigante, Gordo, Toro, Robusto and Machitos. The box-pressed version of Corojo Camacho also comes in a Toro and Robusto vitola.
Retailers were front of mind when Camacho developed the branding for the Camacho Corojo. In 2013, the branding and packaging for Camacho Corojo underwent a major revamping to make it more impactful and visually appealing. Camacho Corojo's red color correlates to the blend's bold nature that comes from its use of 100 percent Corojo tobaccos. This cigar is perfect for those seeking a cigar with a rich flavor profile and notes of leather, cedar wood and earth. It'll pair well with most rums that have a good amount of spice but aren't too sweet.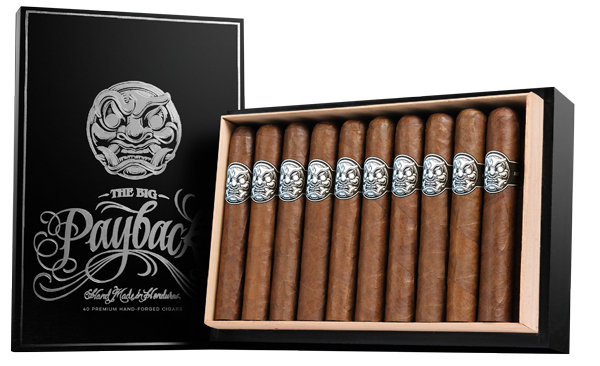 Value Cigar of the Year: Room101 Big Payback Maduro
When Matt Booth made his grand return to the cigar industry after a brief departure, he came back with several new releases and revamped versions of past brands he had released. Among those relaunched brands was the Big Payback, originally released in 2014 as a value-priced premium cigar product for those that preferred rich, hearty flavors and big ring gauges. Booth brought back Room101's value cigar brand in the summer of 2019 with the release of the Big Payback Maduro, which is made at a new factory and with an updated blend.
"This cigar is completely different from anything else in our portfolio," notes Booth, founder of Room101. "The Big Payback Maduro is currently the only product we are making in Honduras. We produce this product proudly with the team at HATSA in Danli, Honduras. Its blend composition is unlike anything else we offer. We use Connecticut Broadleaf as a wrapper and a mixture of Honduran and Nicaraguan tobaccos for the fillers."
This year, Tobacco Business introduced a Value Cigar of the Year category to the Tobacco Business Awards, which the Big Payback Maduro went on to win after all the votes were cast. This recent accolade serves as a testament to Booth and his brand's loyal following within the premium cigar industry.
"Honestly, we just keep doing what we need to be doing to continue to foster the growth of our brand and remain true to our ever swelling loyal consumer base—which we are forever grateful for," states Booth. "The byproduct is that we are receiving recognition in connection while 'keeping it movin.' It is not lost on me, and not only am I grateful for the recognition, I take it as indication that we are on the right path here. I'm tremendously excited for what is still to come."
The Big Payback Maduro offers fans of Room101 and Booth an affordable entry point into the brand with single Big Payback Maduro cigars having an MSRP that starts at just $6.50 per stick for the Robusto size.
In true Matt Booth fashion, he explains that this particular blend was developed for those that "like to party" and that the cigar will pair well with "tight pants, short shorts and autumn colors," though it's clear from its performance in the Value Cigar of the Year category that the cigar has mass appeal among cigar enthusiasts.
"This is one of the most consistent daily driver-style cigars in the market," proclaims Booth. "It should be a component of any intelligently curated selection of cigars."
When describing the flavor profile of the Big Payback Maduro, Booth states that it has chocolate and filling earth tones and "intergalactic funk notes" in the third quarter of the cigar. This cigar is currently available in a Robusto, Toro and Gordo.
This story first appeared in the July/August 2021 issue of Tobacco Business magazine. Members of the tobacco industry are eligible for a complimentary subscription to our magazine. Click here for details.