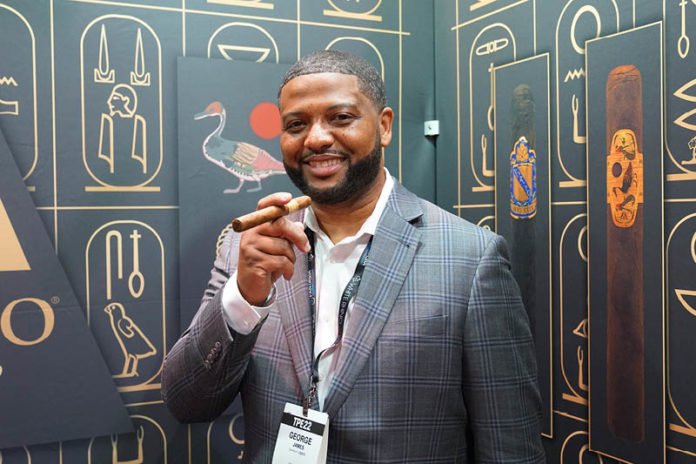 In a world where regulations prevent anything truly new from being released within the cigar industry, what does the term "innovation" even mean today? For George James, the owner and founder of Vorieo Cigars, innovation is not experienced in a product but rather in a process. There are two sides of innovation, he says. There's an idea, and then there's a vision. Businesses must begin with an idea before they can proceed to turn that idea into a manufactured process.
This is how James built his unique premium cigar brand. "I started with the idea," he explains. "The idea was, 'Hey, I can start my own company because I'm very intuitive.' I understood the flow of business, but I also knew how to build relationships as well. When it comes to communicating with people from all over the world, I can communicate with anyone. I just took that vision and explored opportunities. That's what I did with Vorieo Cigars—I came up with the idea, saw the vision and executed it."
Part of the execution involves keeping his focus on his own company rather than concerning himself with what others are doing. James focuses all of his efforts on perfecting Vorieo to the best of his abilities. This is done by monitoring the feedback he receives from retailers and consumers and making that his primary concern. Sometimes even the small things—such as changing the shape of his boxes to stand out more in the humidor or updating the hinges on the boxes—lead to better traction in the market.
Taking Care of Business
James grew up in a small town located outside of Tuscaloosa, Alabama. After graduating from the University of Alabama in 2006 with a degree in marketing, James went on to work for R.J. Reynolds Tobacco Company as a trade marketing representative. In this position, James was responsible for developing territories, leading the company's go-to-market strategy and consumer engagement. This job gave James a good understanding of how the tobacco industry really operated and how a company as big as R.J. Reynolds gained and maintained market dominance, something that would help him later in life when he launched his own company.
In 2009, he had his first experience with premium cigars as a consumer when an executive at the company he worked for gave him a Montecristo cigar to smoke. Smoking cigars as a team only happened during special occasions. For James, it was an enjoyable experience that he continued to explore on his own outside of work.
In 2010, James started working for a smaller tobacco company that produced cigarillos and premium cigars. Here he assisted with territory management, go-to-market strategy and training, and he also oversaw the development and advancement of distributors and wholesalers. In 2014, James made another occupational change when he left that company to start his own premium cigar brand, Vorieo, which was inspired by his love for premium cigars as well as his childhood.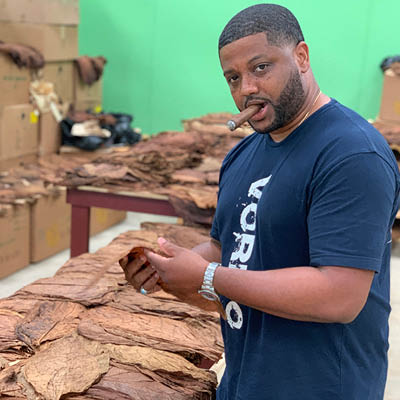 "Vorieo is a childhood name which means 'King of the Sun.' Anything involving the sun causes things to grow, and if the sun is not there, or if it's not available, then things won't grow," he says. "So when I was looking at the tobacco industry, I thought, 'Tobacco requires sunlight and requires good sunlight.' So that's where the name 'Vorieo' came from."
James runs his company based on his experiences of working within corporate America. This includes understanding the metrics that many corporations use to manage their business, such as the flow between domestic and international businesses. He also had a vision for what success looked like.
"I was reading about Robert L. Johnson. He started BET and various companies with a holding company. He was a billionaire—a Black guy that started his own business. He was my inspiration," says James.
From the start, James' main business objective was to establish a good working relationship with distributors and wholesalers alike. His past work experience had taught him the importance of figuring out and establishing good pricing, distribution and logistics early on. The early days of Vorieo involved him doing his due diligence and collecting all of the necessary information before releasing a single product. His biggest task at launch was establishing Vorieo's brand equity, which is defined as the perceived worth or value of the brand name, not just the value of the actual product.
"When it's a new company, people are very skeptical about bringing the product into the humidor. Plus, that humidor is already kind of at its maximum, says James. "So what I had to do was formulate a SWOT analysis—that stands for strengths, weaknesses, opportunities and threats. When I had that SWOT analysis, it gave me a clearer vision of focusing on quality over quantity."
Although the SWOT analysis was important and remains a key driver for how James set up and conducted his business, it did not eliminate all of Vorieo's early challenges of being a new brand. Every retailer is different and has to be viewed as a new opportunity. Understanding this and the importance of communicating the value of your brand to retailers is crucial for every company, especially those that are newer to the market. "You have to reestablish the relationship or rapport with those individuals, and you have to sell them on your brand equity," he says.
With the brand equity defined and the SWOT analysis complete, James had a good foundation in place for his new company. Now it was time to create a line of products that would set Vorieo apart from all the other cigars on the market.
The Magic Number
James knew how important it was to have as much control over the production process as possible. For that reason, he invested in his own cigar factory early on. While the Dominican Republic-based factory is small, it allows for him to produce his own cigars and to scale as needed. In the beginning, James made small quantities of cigars because he was unsure of how the market would respond to his new brand. Before any cigars were made, James made sure he had a good grasp on the basics of cigar production, such as what sizes were most popular in retail. After some research, he realized it was important to produce at least three or four different sizes of cigars for consumers to choose from.