Four years after that, Joel's brother, Edel, and their mother, Migdalia, a former cigarmaker at Partagas Cigars in Cuba, joined the business. In 2011, the family moved its operation to its current location in Esteli, Nicaragua. While stranded in Fort Worth, Texas, Joel and Edel spent the time waiting for their car to be repaired visiting the Silver Leaf Cigar Lounge, where they met Micallef. In the course of three days, Micallef struck up a friendship with the Gomez Sanchez brothers. When it was time for them to leave, they agreed to supply him with 1,000 cigars specially blended to his tastes. Six months later, the Gomez Sanchez brothers sent the cigars to Micallef, and he handed them out to friends. The overwhelmingly positive reaction those friends had to the cigars encouraged Micallef to order more and to start marketing them to premium tobacco retailers in the Dallas-Fort Worth area. That marked the beginning of Micallef Cigars.
"I smoked cigars my whole life but never thought much about how they were made before I got into the business," Micallef remembers. "I'm so used to dealing in hard goods, such as automotive parts and cattle—things that are very foreign to a consumable good like cigars. I was just interested in looking at another aspect of business in a product that I enjoy. When I had the opportunity to get involved, I thought, why not? There were a lot of surprises after I got involved, but I was committed to it after making the decision to do it."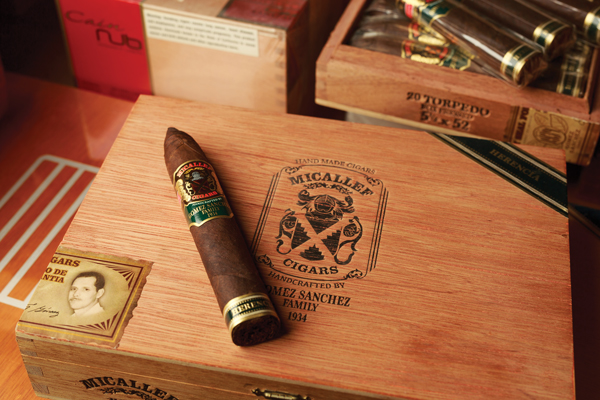 Those first cigars that the Gomez Sanchez family blended for Micallef became the Micallef Reserva Limitada Privada. The cigar is made with eight-year-old San Andres Habano wrapper, an eight-year-old Nicaraguan binder, and filler tobaccos from Honduras, the Dominican Republic and Peru, which are also eight years old. To reflect the cigars' ultra-premium quality tobaccos in the blend, Micallef placed an MSRP of $42 on them. Friends and cigar industry peers thought Micallef might be a little bit crazy to ask so much for his largely unknown cigars, but, according to Micallef, his confidence in the blend paid off.
"We started out with a very high-end product," Micallef explains. "It was my strategy to make the best possible cigar we could, rather than starting off with a value-priced cigar. People took notice of it, and there was some ridicule—people said we had a lot of guts to come out with a $42 cigar—but I wanted the industry to know us for top quality. That has seemed to work for us."
Indeed, Micallef Reserva Limitada Privada was named the "No. 1 Boutique Cigar of 2017" by Cigars & Spirits magazine. In the same year, Cigar Journal ranked the cigar as No. 22 in its listing of top 25 cigars. For 2018, the cigar received 17th place in Cigar Aficionado's top 25 listings.
This story first appeared in the March/April 2019 issue of Tobacco Business magazine. Members of the tobacco industry are eligible for a complimentary subscription to our magazine. Click here for details.
– By Stephen A. Ross, senior editor of Tobacco Business Magazine. Photos by Mikel Galicia.