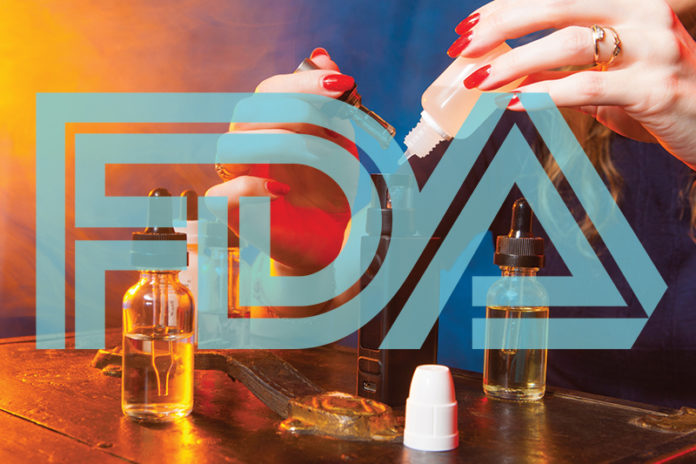 The U.S. Food and Drug Administration (FDA) has announced new policies impacting e-cigarettes and the use of flavors in tobacco products, including e-cigarettes and cigars. This policy shift comes as the FDA continues to look at ways to limit youth access to e-cigarettes and tobacco products and addiction to nicotine.
The FDA has released a draft of new compliance policy that could drastically impact the e-cigarette product category in the U.S. The policy shift the FDA is proposing would move toward stricter enforcement of the availability of not just flavored e-cigarette products but flavored cigars as well. With support from Secretary of Health and Human Services Alex M. Azar, the FDA is proposing an end to its current compliance policy as it applies to flavored electronic nicotine delivery system (ENDS) products other than tobacco-, mint-, and menthol-flavored products. This policy shift announcement comes with a warning to all manufacturers of these products: you may be subject to FDA enforcement for selling certain flavored ENDS products without authorization.
In a press release, the FDA revealed that it will begin a television ad campaign aimed at children to stress the risks of e-cigarette use. This is a move meant to drive down the number of youth who are vaping and using e-cigarettes, which the FDA believes to be at an "epidemic" level. The FDA states that if the 2019 National Youth Tobacco Survey continues to show that youth are using these products at a high level, then it will yet again change course in terms of policy and enforcement. It goes on to issue a warning that has come up several times in the past few months in regards to youth e-cigarette use: "We'll take all appropriate actions necessary to stop these rates from increasing."
The FDA addresses youth's use of flavored cigars as well, something that has only come up sparingly in the past year. Quoting a stat that says that nearly 1.3 million middle and high school students across the country were current (past 30 day) cigar users in 2018, the FDA has drafted new policies to address this use and have attributed the use of flavors to this growing trend. The press release goes on to state the following about flavored cigar products, its most hard stance on these products:
And research shows that, compared to adults (25 or older) who smoke cigars, a higher proportion of youth use flavored cigars. These data also indicate that eliminating flavors from cigars would likely help prevent cigar initiation by young people. Flavors are added to cigars and other tobacco products for various reasons, such as reducing the harshness, bitterness and astringency of tobacco products during inhalation and to soothe irritation during use.
Under the revised compliance policy, any flavored cigars (other than tobacco-flavored) that were on the market on Aug. 8, 2016, and that can be considered a new tobacco product, will be subject to enforcement. This means any flavored cigar product not grandfathered in would lack marketing authorization by the FDA and would be subject to the the August 2017 Compliance Policy. The FDA would move to prioritize enforcement of such products and manufacturers of these flavored cigars would need to seek premarket authorization from the FDA in order to be re-introduced tot he market. Going forward, the FDA will be proposing a rule to ban the use of all "characterizing flavors" in cigars going forward. This new policy would go into effect 30 days after the guidance is finalized. There are certain companies producing cigars with flavors that would be negatively impacted by this policy change.
The FDA already predicts that some flavored e-cigarette products will stop being sold once it begins enforcing harsher rules that will force retailers to comply to stricter age verification standards. For those flavored e-cigarette products that continue to be sold after these new policies go into effect, the FDA will be seeking premarket authorization by manufacturers by 2021. In terms of flavored cigars, the agency predicts some products will be removed from the market completely. For those hoping the recent resignation of FDA commissioner Scott Gottlieb would mean relief from the FDA's heavy hand and increasing regulations [read more here], the agency's closing statement indicates that no matter who replaces him, this line of action is the accepted approach by not just the FDA as a whole but for the entire Trump Administration:
Our pledge to reduce youth use of e-cigarettes is deeply rooted and has broad support within the Trump Administration. Nobody wants to see children becoming addicted to nicotine. Our dedication to this effort will endure and our commitment to advancing our comprehensive framework will continue. Our policies have been announced and advanced through a careful and deliberate process that involved the formulation of a broad consensus among those whose efforts are needed in making sure that these rules and guidances come to fruition. We won't tolerate a whole generation of kids becoming addicted to nicotine as a tradeoff for enabling adults to have unfettered access to these same unreviewed products, and we'll continue to put the full scope of our regulatory tools against this mounting public health crisis.
The FDA, an agency within the U.S. Department of Health and Human Services, protects the public health by assuring the safety, effectiveness, and security of human and veterinary drugs, vaccines and other biological products for human use, and medical devices. The agency also is responsible for the safety and security of our nation's food supply, cosmetics, dietary supplements, products that give off electronic radiation, and for regulating tobacco products.
You can read the FDA's full press release on its proposed policy changes by clicking here. A copy of the FDA's modified compliance policy for deemed tobacco products can be found here.
For all the latest legislation and FDA news impacting the tobacco industry, click here.