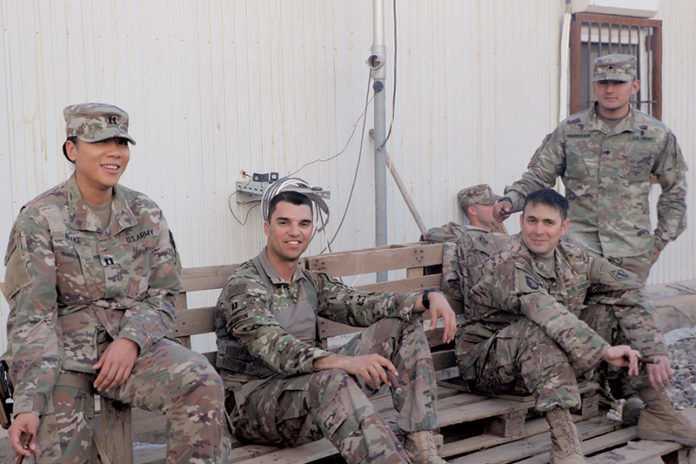 A 501 (c)(3) nonprofit charity, Operation: Cigars for Warriors has been sending premium cigars and accessories and other items, such as coffee and magazines, to U.S. service members deployed overseas in combat zones and those serving long-term deployments and floats in other areas worldwide since 2012. The all-volunteer organization depends exclusively on donated items to send to the deployed service members who request them.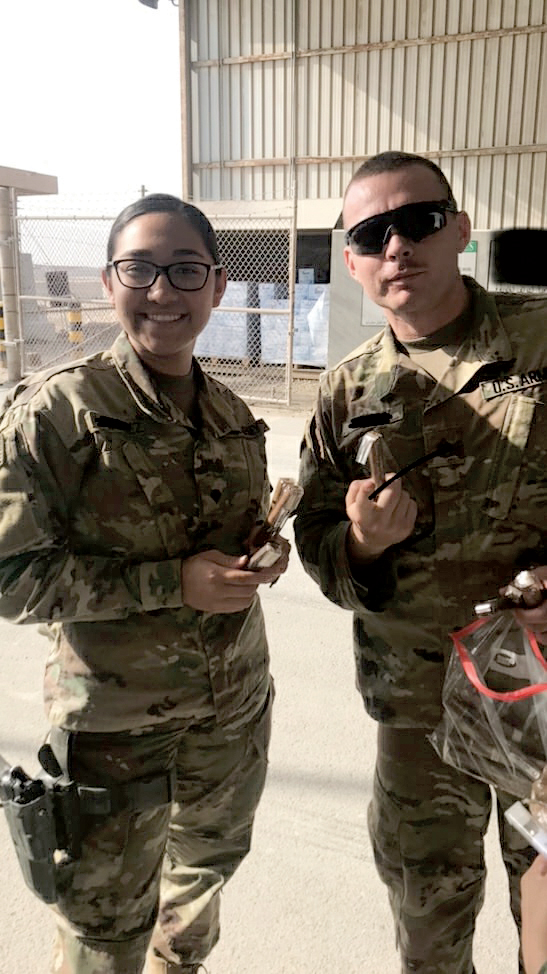 Operation: Cigars for Warriors was founded in 2012 when two former servicemen—Storm Boen and Ben Edmundson, a U.S. Navy veteran who served on submarines in the 1970s—
discussed how much cigars meant to them while they were deployed. The two men gathered a half-dozen others and volunteered to help an already established charity that sent cigars to troops, but, after about three months, they were unsatisfied with that charity's ethics. Discouraged, they might have walked away from their efforts to provide comfort for troops, but one of those other volunteers, Alaine DiBenedetto, remarked that the cause was too beautiful to let die. Boen, who serves as the organization's chairman, agreed and set out to establish Operation: Cigars for Warriors.
"One of the cornerstones of Operation: Cigars for Warriors has been that we operate with full transparency," Boen says. "We felt very passionate that if a person was going to donate a cigar, then they should be assured that it was going to a U.S. service member deployed overseas. The soldiers have to request the cigars. We never randomly send cigars. We only send them to the troops who want them. We set what I thought was an impossibly high goal for the first year of sending 800 cigars a month. We sent out a little more than 92,000 cigars that first year. We thought we would start slow, but we actually started full blast, and we haven't stopped since."
While Operation: Cigars for Warriors has always accepted donations from retailers and consumers, the organization has enjoyed a lot of support from cigar manufacturers and accessories companies. Boveda was one of the first organizations to support Operation: Cigars for Warriors, ensuring that all the cigars shipped overseas arrived at their optimal humidity levels thanks to the company's two-way humidity control packs that are included with each shipment. Xikar was another company that jumped on board, donating refurbished cutters and lighters to the charity. The biggest supporter has been Drew Estate and its president, Jonathan Drew, who guided Boen in the process of establishing the charity and also urged him to expand Operation: Cigars for Warriors into a larger operation than Boen had yet considered.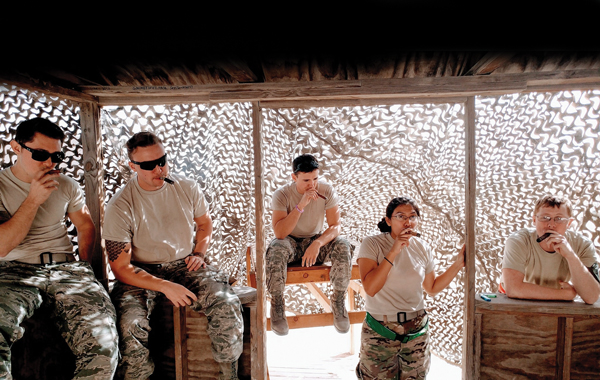 "J.D. [Jonathan Drew] has always been a big proponent of ours," Boen comments. "With his legal background, he pushed me to do all the necessary paperwork and ensure that we could answer all the questions that potential donors might have. That laid down the foundation for Operation: Cigars for Warriors. Since then, he's ensured that we have a presence at almost every cigar festival that Drew Estate participates in, including all of their Barn Smokers. That has helped us a lot, especially after 2016 when the FDA [U.S. Food and Drug Administration] declared that manufacturers couldn't donate cigars to troops anymore."
According to Boen, Operation: Cigars for Warriors experienced its best year in 2016, when the charity sent an average of 35,000 to 40,000 cigars per month to U.S. service members of each of the five military branches deployed overseas. Donations from manufacturers, retailers and consumers were so high that the charity's board was considering fulfilling requests from service members who were stateside. Then, in August 2016, the FDA placed the cigar industry under the 2009 Child Protection Act, better known as the Tobacco Control Act, which dictates that manufacturers can not donate products to charities. Donations plummeted as Operation: Cigars for Warriors' biggest donor pool dried up.
"In early 2017, our numbers dropped to as few as 700 cigars sent out per month," Boen recalls. "We had to shift our strategy and focus more on creating donation centers where retailers and consumers can donate money or cigars to send to troops."
More than 85 percent of Operation: Cigars for Warriors' donation centers are premium cigar retailers, though Boen says that hotels, radio stations, churches and breweries have also become donation centers. Becoming a donation center can mean just setting out a box in the location designated for donations or organizing events to raise money for cigars for Operation: Cigars for Warriors. Individuals are encouraged to do as much or as little as they want to help the cause. Through the donation centers and private contributions from consumers, Operation: Cigars for Warriors is now regularly sending nearly 20,000 cigars per month to troops overseas. Boen reports that Operation: Cigars for Warriors is getting even more requests than ever from deployed service members, so to ensure that everyone who requests cigars receives some, the charity is sending fewer cigars per package.
"The donation centers have helped us raise our numbers back again, but cigar retailers and volunteers creating their own events has helped us the most," Boen explains. "For example, someone might host a pool tournament, and the entry fee could be $5 or five cigars. We really try to have events that give our volunteers ownership of the charity. Then those events get better, and it helps spread our name across the U.S."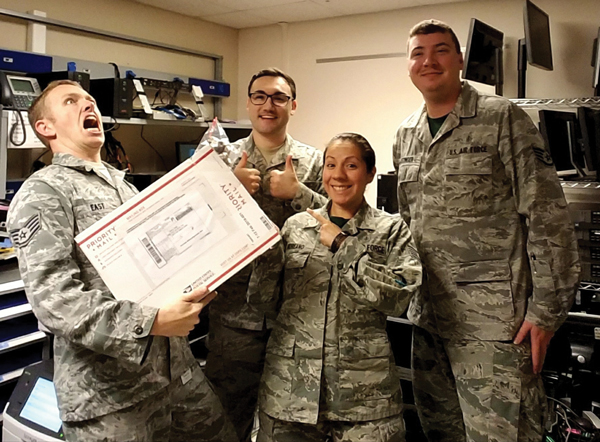 A Celebration for Heroes
For six years, Operation: Cigars for Warriors has hosted Catsfest, an almost nonstop three-day party that raises funds supporting the charity. Held over Memorial Day weekend every year, this year's Catsfest was held in Granbury, Texas, outside of Dallas-Fort Worth. The event included a pre-party; a Denim and Lace VIP dinner; a craft beer experience and competition; a sanctioned beard and moustache competition; a cigar round-up at which attendees could purchase highly discounted premium cigars; a bevy of chili competitions—including the Texas Men's State Championship and Junior Texas State Championship—a golf tournament; the Cigar Olympics, a series of cigar-oriented competitions, such as the longest ash contest, sponsored by Asylum Cigars and Cigar Press magazine; the Granburyradio.com Scavenger Crawl in which competitors scoured Granbury's historic town square and visited businesses on the square and sought clues while learning about the city; and a signature drink competition hosted by the city of Granbury.
"Catsfest is three days of fun, and it's our major fundraiser of the year," Boen explains. "Catsfest is an umbrella event containing multiple events. We host the third-largest chili competition in the U.S., the Texas Men's State Championship. We also host the Texas Junior State Championship as well as three other chili competitions. The military presence is amazing at Catsfest, which is a true social event all about supporting the troops."
Operation: Cigars for Warriors opens Catsfest to other military charities as well—organizations such as Veterans of Foreign Wars, the American Legion, Build a Flag, the Military Officers Association of America and many others.
"Catsfest is open to any military charity that wants to participate and raise funds for their own charities," Boen continues. "As long as the charity takes care of service men and women, it fits in with Catsfest."
While Catsfest has grown to be one of the largest annual cigar festivals in the United States, Boen is most proud that the event has maintained a strong family atmosphere. More than 35 percent of Catsfest attendees are women, and Boen says that the festival's family-friendly atmosphere welcomes cigar smokers of all stripes.
To become an Operation: Cigars for Warriors donation center or to find out ways that your store can hold a fundraiser for the charity, visit cigarsforwarriors.org.
This story first appeared in the May/June 2019 issue of Tobacco Business magazine. Members of the tobacco industry are eligible for a complimentary subscription to our magazine. Click here for details.
– By Stephen A. Ross, senior editor of Tobacco Business Magazine.