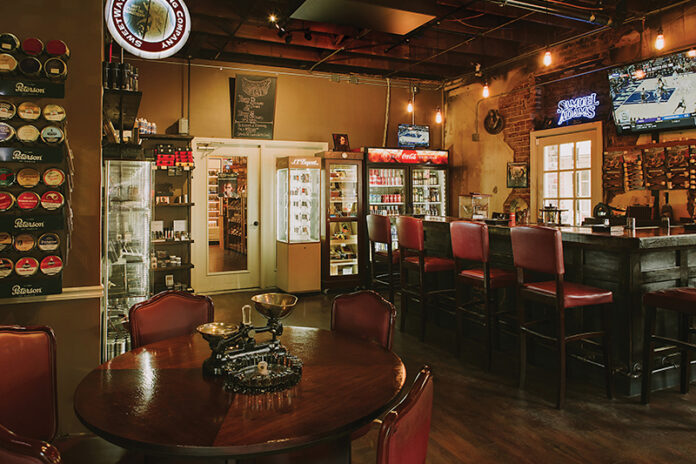 John Higgins has been a casual cigar smoker for many years, getting into the hobby with what he thought—at the time—were quality cigars. As he became more experienced and more familiar with premium cigars, he discovered there were even better cigars out there, and he continued his journey and exploration of premium cigars. It wasn't until he reached retirement that he decided cigars could be a good business venture.
Higgins had a long career in private equity and was able to retire early in life. Although he was leaving one career behind, he wasn't necessarily looking to slow down. Higgins started looking for something new to get into, and in his search he came across a cigar store in Tupelo, Mississippi, that had what he called "really good bones."
"When I say 'good bones,' I mean it had a real good attitude: how to treat your customers, a really good location, [and] it had developed a great following from the cigar community," Higgins explains.
That store, Spring Street Cigars, was located in Tupelo, the town made famous by being the birthplace of Elvis Presley. Higgins found out that the owner of the store was preparing to move and wanted to sell his business. Since Higgins liked smoking cigars and was looking for something to fill his time, he began having conversations about the possibility of taking over the business. The sale of Spring Street Cigars wasn't finalized until 2018, at which point Higgins' hobby suddenly became both his profession and business.
This was Higgins' first foray into retail as a business. Because the company had a good structure to it and an experienced staff, the transition to retail owner wasn't as difficult as it could have been. When Spring Street Cigars was acquired, it had extremely knowledgeable tobacconists like Mo Daher on staff. Higgins knew there was a lot he had to learn about the tobacco retail business and what it meant to be a tobacconist, so he leaned on Spring Street Cigars staff members like Daher to help him learn what was necessary to be successful. From his former career, Higgins knew how important growth was for any business and worked with his staff to focus on growth and cigars within the retail category.
In looking back at his early years as the owner of Spring Street Cigars, Higgins states that his business was really fortunate. Spring Street Cigars has thrived in small towns, and the COVID-19 pandemic had no real negative impact on it. Like every business, they followed the rules and regulations imposed during the pandemic, such as wearing masks and social distancing, and were able to continue to see growth during a time that was challenging for others in retail with brick-and-mortar businesses.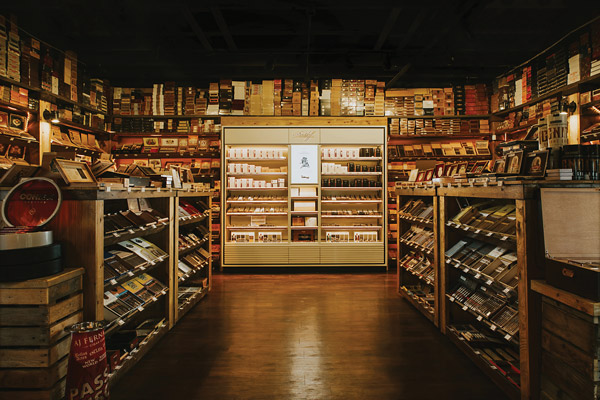 Building a Retail Culture
Even though Spring Street Cigars was able to prosper during the pandemic, a bigger challenge that Higgins has had to address in his business is the people aspect. "I tell individuals that anybody can buy and sell cigars. It really is not that hard to get a tobacco license. You get a relationship with a supplier, you buy some cigars, and you sell them. The key to success is your people. How are you going to sell those cigars, the experience, the knowledge? So our challenge has always been our people."
Spring Street Cigars has a very unique culture, Higgins goes on to say. It's the company's policy to treat everyone the same way. When selling cigars to customers, the Spring Street Cigars staff has been trained to treat customers as they themselves would like to be treated if they were the customer: with a warm welcome and inviting culture. This culture is key to Spring Street Cigars, although Higgins admits that, in any business, culture is really hard to cultivate and grow, and Spring Street Cigars is no exception to that rule.
"We've done a really good job of not only cultivating our culture but also being able to grow that culture," Higgins adds.
The solutions to most business problems are simpler than most think, Higgins explains. To address the people problem, Higgins turned his attention to the different processes that would help create good employees. He and his staff looked at the hiring, training and onboarding processes and figured out how to improve them, thus building a stronger workforce and culture within their stores. For example, when it came to training staff, new employees were put through Tobacconist University's certification program so that everyone working at Spring Street Cigars would have the same knowledge base. When opening a new store, Higgins never hires from the outside. Instead, he promotes and transfers someone already working at Spring Street Cigars to that new location. This helps spread the already established culture from one store to the new location. Higgins believes training and education are the best tools one can use to strengthen a culture and workforce within a retail business.
Dedicated and knowledgeable staff members are key to sales also. Even though manufacturers may support their products with in-store events, most of the time it's up to a store's staff to sell the products. This is why education and training are once again so important, Higgins explains. Spring Street Cigars offers its staff off-site training that is sometimes led by suppliers and manufacturing partners who will come in and train key staff members. There are so many new products being introduced to the humidor and store that it's easy for employees to become overwhelmed. Without proper training, the employees likely won't know how to sell or promote new products to the store's customers.
Consumers are part of the people equation that Higgins and his staff must focus on in order to be successful. The staff has to be ready to help the consumer find the cigar they're looking for. Some customers know exactly what cigar they want to buy. Others may come in with an idea of what they want; they may have read about a product online or seen something posted about it on social media. Others may have no idea at all what they're looking for. That's where the education is essential. The employee that understands the different types of cigars, different flavor profiles and what type of product certain manufacturers make can handle any type of customer and ultimately get the right cigar in their hand.
"The key goes back to what we talked about earlier—it's the people. That's what makes you successful. You train those people, and they can handle all questions really well," Higgins explains.
When it comes to promoting his business, Higgins has seen the biggest results coming from his focus on people. He uses more traditional forms of marketing for Spring Street Cigars, such as radio spots and social media, but says that the best form of promotion is word of mouth. Customers that experience the culture Higgins and his staff have been able to build and foster over the years become fans of Spring Street Cigars and their experiences and will then go out into their social circles and speak highly of the business. Word of mouth isn't something that can be bought, Mo Daher, Spring Street Cigars' general manager says. It comes from providing a great experience for the customer and ends up paying dividends over time.
A Cigar for Everyone
Without strong brands and products, Spring Street Cigars would not be able to be successful to the point of expanding to multiple locations. The Tupelo store's humidor is 900 square feet and hosts what Higgins describes as being a phenomenal selection of cigars. Other smaller Spring Street Cigars have humidors that are 500 square feet but are similar to the Tupelo store in that they each house a great selection of cigar brands. Variety is important at Spring Street Cigars, thus the humidor has a mix of major, mid-level and boutique cigar brands.
Some of Spring Street Cigars' product selection comes from the close partnerships it has built over the years. It is a Davidoff White Label account; it is also a Drew Diplomat retailer and a designated Opus X retailer with Fuente. Spring Street Cigars is also a member of the Tobacconists Association of America (TAA), giving it access to some very exclusive products. The store also offers cigar enthusiasts a wide range of products from other manufacturers that may be viewed as more boutique, including Tatuaje Cigars, Caldwell Cigars and Miami Cigars. The key to building out the humidor's selection is to give cigar enthusiasts an eclectic selection and flavor profile and price point for every smoker.
Customers come in with many questions about the products available at Spring Street Cigars, but the most common question that also leads to the biggest sales opportunity is, "Have you smoked this?"
"People want to know what your experience is with this cigar," Higgins explains. "That's where, once again, the education of the staff comes in. Knowing has to do with providing them these details about the cigar's makeup and its blending but also making sure that they've actually smoked the cigar so that when somebody asks, 'Have you smoked this?' you can say, 'Yes. It's got this particular profile, this particular flavor—this is what I find that you would like.' We might even give suggestions on pairings. We want to offer that type of support to the customers to give them as much information as we can."
Spring Street Cigars has different levels of customers in terms of the knowledge they have of cigars. Some are more casual in their smoking of cigars while others have a deep enthusiasm and passion for cigars and tobacco. As general manager of Spring Street Cigars, Daher has seen this at play in the stores where some customers simply want to know if a cigar is good or not. Other customers may seek out more information, including the cigar's blend breakdown and information on the manufacturer. Through education and ongoing training, Spring Street Cigars' staff is more than ready to handle whatever questions their customers may have.