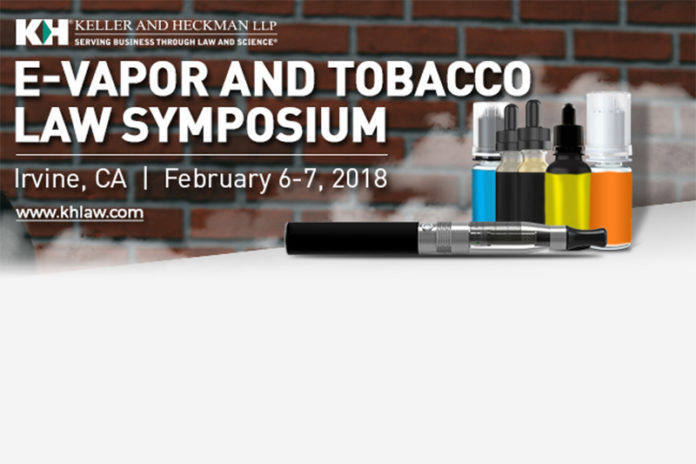 Keller and Heckman is pleased to announce its 2nd annual E-Vapor and Tobacco Law Symposium. This comprehensive two-day course will address regulatory issues relevant to vapor and deemed tobacco product manufacturers, distributors and retailers including FDA regulations, premarket applications and substantial equivalence reports, potential product standards on flavors and devices, environmental concerns for e-liquid manufacturers, business and intellectual property issues, Deeming Rule litigation, state laws, EU TPD and global regulations, and more!
Seminar Details:
Date: February 6-7, 2018
Cost: $899 if you register by January 16, 2018; $1,099 if you register after January 16, 2018
*register 3 or more attendees from the same company and receive a 10% discount
​Location:  Courtyard by Marriott Irvine Spectrum
7955 Irvine Center Drive
Irvine, CA 92618
For additional information, please contact Sara A. Woldai, CMP, Manager, Marketing Meetings and Events at woldai@khlaw.com. 
During this year's symposium there will also be a special session on CBD and cannabis regulations as well as a prestigious list of guest speakers, including:
California Department of Tax and Fee Administration (CDTFA) on Proposition 56 and Cigarette & Tobacco Products Licensing Act Requirements
Underwriters Laboratories (UL) on their new UL 8139 Safety Standard for Electrical Systems of Electronic Cigarettes and Vaping Devices;
EAS Consulting Group on Good Manufacturing Practices and FDA Inspections;
Cardno Chemrisk on Premarket Tobacco Product Applications;
ECigIntelligence on EU Market Impact from the Tobacco Products Directive;
Broughton Laboratories on Navigating the UK and MHRA Approval Process;
Americans for Tax Reform (ATR) on U.S. State Vapor Taxes; and
Indiana Smoke-Free Association, Not Blowing Smoke, NY Vapor Association and more on U.S. state laws.
Click here to view the agenda. To register, visit http://www.cvent.com/events/e-vapor-and-tobacco-law-symposium/event-summary-196736b5532049db8bfada680a996afe.aspx.