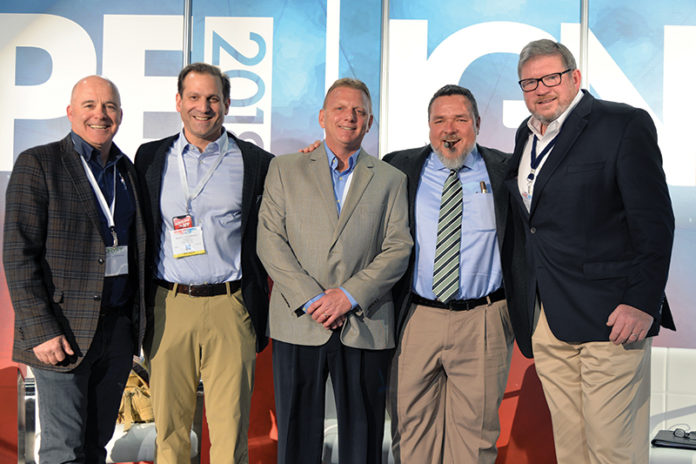 Evolution was a running theme among retail panelists who shared their insights during a seminar called "Winning in a New Tobacco World" at the 2018 Tobacco Plus Expo (TPE). As Randy Silverman of Klafter's Inc. pointed out, those who have been in the industry for a long time have weathered many seismic shifts that have rocked the retail landscape, from the Master Settlement Agreement and the State Children's Health Insurance Program to tax hikes and U.S. Food and Drug Administration regulatory action.
"In 2003, our cig volume based on costs was 82 percent; in 2017, it is 48 percent. When I look back, I think about how we got there, what has filled the gaps, and all the activities and events that occurred," said Silverman, who runs 16 stores in Ohio and Pennsylvania. "We have had to react to all of those, looking at them as either negatives or as opportunities, and now we have to continue to look forward."
Smoker Friendly International's Terry Gallagher pointed to the changes that have taken place in his company's stores over the years as evidence that rolling with the times is what keeps longstanding companies relevant and successful. "The first stores in our group were the typical cigarette store, a dumping ground for promotional activity that was not accepted in mass [merchant] or grocery," recalled Gallagher, whose company operates 103 Smoker Friendly and Tobacco Depot tobacco, gasoline and liquor stores in the mountain states and Florida. "Then the market changed, c-stores took a hard look at what was going on, and some grocery stores got aggressive. Through the early 2000s we created really a total tobacco store opportunity, whether in the cigarette category or RYO [roll-your-own], and we've continued to evolve. We were early adapters to e-cigarettes; then we got into premium cigars and added premium cigar lounges."
"This is a dynamic industry, and you have to be willing to change with the industry, agreed Darren Collett, president of Seymour, Indiana-based Collett Enterprises, owner of 28 retail tobacco stores.
So what are the opportunities that today's tobacco retailers need to embrace to stay current in changing times? Our panelists identified the following five:
Margin makeovers: Several panelists made reference to the fact that cigarette retailers have traditionally operated on razor-slim margins yet managed to turn a profit by selling high volumes. However, that business model is increasingly difficult to sustain as dollar stores edge into the marketplace. Panelists reported successfully combating that challenge by cultivating higher-margin categories, such as accessories, vapor products and premium cigars, to boost profits.
"When I look at the vapor category, our unit sales are up over 100 percent in 2017 and our gross margin is up 400 percent," said Gallagher. "We'd be remiss if we didn't talk about how good that category has been in our stores and the type of margin it is dropping."
Pushing premium cigars: From Corona Cigar Company, which built a business around coupling cigar sales with bar sales, to Smoker Friendly, which gradually eased into the premium cigar business, successful tobacco retailers across the board are finding premium cigars a profit center. For those just getting started in building a cigar clientele, Gallagher suggests consulting experts on outfitting shops with a filtration system and humidor and making sure the surroundings are appealing to cigar smokers.
"We work hard to make sure our signage is clean, and we try not to have empty or overflowing boxes," he says. "You also need to make that cigar customer comfortable. Within our stores with cigar lounges we don't allow anyone but cigar smokers to smoke in there."