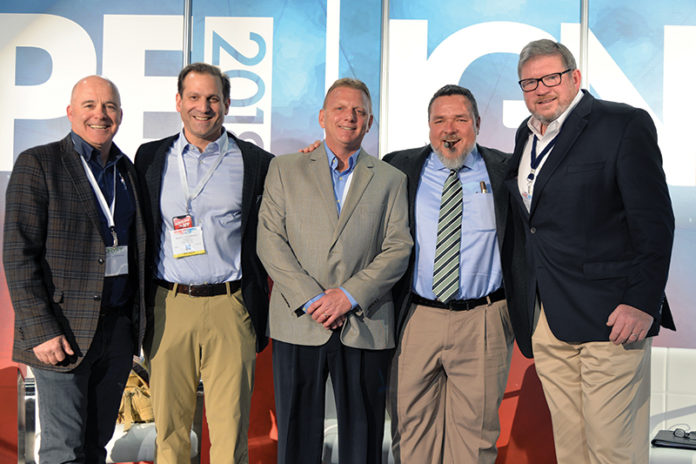 Evolution was a running theme among retail panelists who shared their insights during a seminar called "Winning in a New Tobacco World" at the 2018 Tobacco Plus Expo (TPE). As Randy Silverman of Klafter's Inc. pointed out, those who have been in the industry for a long time have weathered many seismic shifts that have rocked the retail landscape, from the Master Settlement Agreement and the State Children's Health Insurance Program to tax hikes and U.S. Food and Drug Administration regulatory action.
"In 2003, our cig volume based on costs was 82 percent; in 2017, it is 48 percent. When I look back, I think about how we got there, what has filled the gaps, and all the activities and events that occurred," said Silverman, who runs 16 stores in Ohio and Pennsylvania. "We have had to react to all of those, looking at them as either negatives or as opportunities, and now we have to continue to look forward."
Smoker Friendly International's Terry Gallagher pointed to the changes that have taken place in his company's stores over the years as evidence that rolling with the times is what keeps longstanding companies relevant and successful. "The first stores in our group were the typical cigarette store, a dumping ground for promotional activity that was not accepted in mass [merchant] or grocery," recalled Gallagher, whose company operates 103 Smoker Friendly and Tobacco Depot tobacco, gasoline and liquor stores in the mountain states and Florida. "Then the market changed, c-stores took a hard look at what was going on, and some grocery stores got aggressive. Through the early 2000s we created really a total tobacco store opportunity, whether in the cigarette category or RYO [roll-your-own], and we've continued to evolve. We were early adapters to e-cigarettes; then we got into premium cigars and added premium cigar lounges."
"This is a dynamic industry, and you have to be willing to change with the industry, agreed Darren Collett, president of Seymour, Indiana-based Collett Enterprises, owner of 28 retail tobacco stores.
So what are the opportunities that today's tobacco retailers need to embrace to stay current in changing times? Our panelists identified the following five:
Margin makeovers: Several panelists made reference to the fact that cigarette retailers have traditionally operated on razor-slim margins yet managed to turn a profit by selling high volumes. However, that business model is increasingly difficult to sustain as dollar stores edge into the marketplace. Panelists reported successfully combating that challenge by cultivating higher-margin categories, such as accessories, vapor products and premium cigars, to boost profits.
"When I look at the vapor category, our unit sales are up over 100 percent in 2017 and our gross margin is up 400 percent," said Gallagher. "We'd be remiss if we didn't talk about how good that category has been in our stores and the type of margin it is dropping."
Pushing premium cigars: From Corona Cigar Company, which built a business around coupling cigar sales with bar sales, to Smoker Friendly, which gradually eased into the premium cigar business, successful tobacco retailers across the board are finding premium cigars a profit center. For those just getting started in building a cigar clientele, Gallagher suggests consulting experts on outfitting shops with a filtration system and humidor and making sure the surroundings are appealing to cigar smokers.
"We work hard to make sure our signage is clean, and we try not to have empty or overflowing boxes," he says. "You also need to make that cigar customer comfortable. Within our stores with cigar lounges we don't allow anyone but cigar smokers to smoke in there."
Jeff Borysiewicz, founder of Ocoee, Florida-based Corona Cigar Company, encouraged tobacco outlets to delve into the category, noting that premium cigar smokers are not brand loyal—which means they'll pick up four or five different cigars at a time. However, they do have expectations. "Humidors are like a kid's playroom with Legos: You need to have someone picking up all the time or it's a mess—which doesn't work because when people come in for a luxury product they shop with their eyes," he said. "You also want to invest in a good filtration system for the water going into your humidification system. Otherwise your cellophane wrappers will be covered in white dust, and people will think that cigars that have only been there for a week have been languishing on your shelves for months."
Social media: Building relationships with customers has always paid off in retail, and social media offers an economical way to achieve them, noted Borysiewicz, who considers his four Florida locations to be the kind of lifestyle businesses that plays well on social media platforms like Instagram. "It's the showoff media; people like to share those moments of sharing a high-end cigar with a Pappy [Van Winkle whiskey]," he explains, noting that his cigar bars specialize in carrying seriously good spirits. "So we've been getting heavy into social media over the last eight years."
Loving luxury: Echoing research presented during the National Association of Tobacco Outlets (NATO) seminars held the day prior, panelists urged retailers to invest in showcasing premium brands and luxury items. Data presented by Management Science Associates' Don Burke suggests that excise tax hikes actually prompt some smokers to migrate to premium brands. For Smoker Friendly, adding an upscale display space for premium brands boosted sales of the category, reported Gallagher. "We decided to present our ultra-premium products to the consumer in a better way by putting in glass counters," he said. "By doing so, we are up 20 percent in that category over the last few years."
Consider cannabis: While some were initially leery of the nascent cannabis industry, panelists report success with accessories for that product category. "We have been in the glass [pipe] business for over a year," reported Collette. "I had a moral struggle with it until I realized how socially accepted cannabis really is. I encourage you to look at that category—customers are looking for that product, if not begging for it."
Klafter's got a wake-up call about the profit potential of peripherals early on. "We didn't carry glass pipes, but we asked our store managers what customers were asking for, and they kept saying 'glass pipes,'" says Silverman. "So we brought in a 12-inch by 12-inch display and hid it in the back of the store. All of a sudden, we were selling these high-margin pipes. Now when you walk in, there's a huge display. It's crazy, but I don't see it going away. These are the ways we've made up for the loss on other parts of the business."
Gallagher, who says that Smoker Friendly has been in the glass business for some time, advises those just entering the cannabis accessories business to focus on the under $10 pipes but include some higher-end items in the mix. "Under $10 pipes are 70 percent of our pipe business," he said. "We also trademarked Glassworks, as we did with our premium luxury cigarette sets. We are trying to build brand equity in the category as we sell the product."
Defend your business: Sometimes the best offense is a good defense, noted Frank Armstrong, president of NATO and president of Winston-Salem, North Carolina-
based Blue Ridge Tobacco Company, who urged retailers to be proactive about representing their businesses to legislators, particularly at the local level. "Legislation is what I consider the biggest threat to our growth, not just federal, but state and local," he noted, encouraging retailers to meet with their congressional representatives and be active in their communities. "You don't need everyone to love what you do; you just need more in favor than against. Showing up to the battle is 95 percent of the deal. As soon as you get behind the microphone at a city council meeting and start pushing back, you'll see a shift. And if you don't show up, you might go to bed on Monday night and wake up Tuesday morning to find out your business is illegal. That's how fast it happens."
The bottom line? Along with every challenge comes opportunity, whether in the form of a new category with growth potential or a trend that can be leveraged. "In this business you have to stay focused, work like hell and reinvest in your company, and not sleep a lot," sums up Borysiewicz. "That is the key to your business becoming successful while others die on the vine."
– Story by Jennifer Gelfand
This story first appeared in the March/April 2018 issue of Tobacco Business magazine. Members of the tobacco industry are eligible for a complimentary subscription to our magazine. Click here for details.