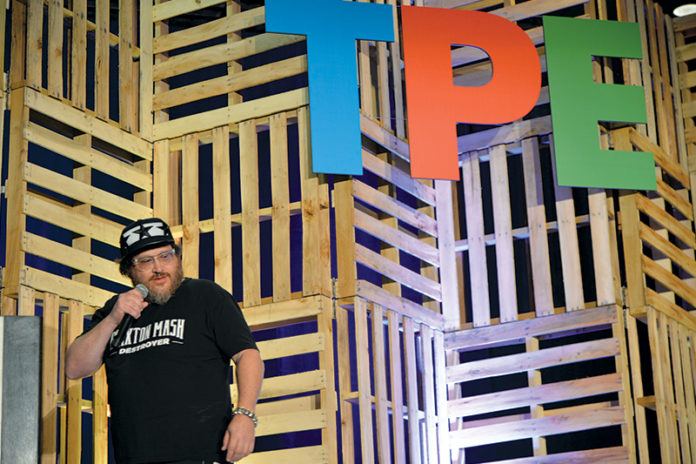 Jonathan Drew, co-founder of Drew Estate, regaled the audience at the 2018 Tobacco Plus Expo (TPE) by recounting the ups and downs his Nicaragua-based cigar company has experienced since its founding in 1996. Drew was well-known to the industry veterans in attendance as both president of Drew Estate—which produces popular brands such as Acid, Undercrown, Kentucky Fire-Cured and Liga Privada—and founder of John Drew Brands, a premium spirits company that produces Brixton Mash Destroyer, John Drew Rye and Dove Tale Rum. Drew delivered the keynote address that opened TPE 2018, and session attendees were riveted as he detailed his journey in the premium cigar world, from running a humble cigar kiosk in the World Trade Center in 1996 to establishing his own premium cigar factory in Nicaragua and creating his own spirits company.
More than 20 years after graduating from law school and entering the premium cigar industry, Drew changed the way people perceive premium cigars. Through brands like Acid, Drew Estate knocked down barriers to show that the cigar smoking hobby could be enjoyed by people from all walks of life. While Drew Estate's success is clearly evident today—the company employs approximately 1,800 people and owns roughly 15 percent of the premium cigar market as well as one of the world's largest cigar factories—the company's survival wasn't always assured, confided Drew.
Remember the Drew Estate brands Chateau Real, Sauza, Kahlua, Nosostros, Nirvana, Industrial Press, Mayorca or Drew Estate Classics? Drew described each of these brands as a failure in the market, yet each of these failures led to innovation and then success for other brands. Drew also shared a story from 2002, when he discovered that the cigars his factory was producing were too tight and weren't drawing well as a result. Drew sought help from Ernesto Perez-Carrillo, and the two men fired everyone in the factory. They learned why the cigars were too tight and began slowly rehiring workers to teach them the right way to make cigars. Drew also explained the evolution of the Drew Diplomat retailer program. The innovation occurred because some longtime Drew Estate customers could not get the Liga Privada cigars they wanted and canceled their accounts with the company. Drew Estate designed the Drew Diplomat retailer program to ensure that the best Drew Estate retailers got the cigars they wanted.
"Right when you think it is all so simple is when you undergo that baptism of fire," Drew told the audience. "These are the moments where you experience massive failure, and you can either give up or think about a solution to the problem, which leads to innovation, and innovation leads to success."
Swisher International bought Drew Estate in 2014, thus securing its future. Drew moved on to establish John Drew Brands, capitalizing on the complementary nature of cigars and spirits, before returning to resume leading Drew Estate as its president last year. As he concluded his address to the audience at TPE 2018, Drew shared a few of the lessons he's learned as a disruptor in the cigar and spirits industry: "You are who you are, and not everything you produce will be a hit. Understand who you are as a company, and make sure that everything you produce has a purpose."
– Story by Stephen A. Ross
This story first appeared in the March/April 2018 issue of Tobacco Business magazine. Members of the tobacco industry are eligible for a complimentary subscription to our magazine. Click here for details.