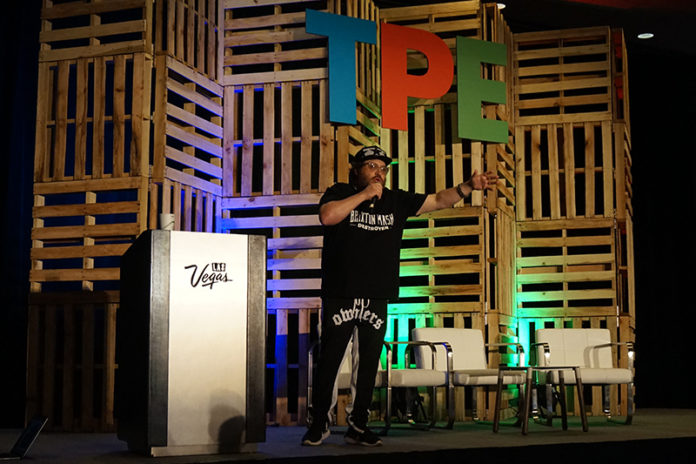 On Jan. 31, 2018, manufacturers and retailers spanning the tobacco, vapor and alternative industries all gathered in Las Vegas for Tobacco Plus Expo 2018. This year's keynote address was delivered by Jonathan Drew, president and founder of Drew Estate, a premium cigar manufacturer that has been in business for two decades. In what turned into a revealing recount of Drew Estate's beginnings to where it is today, Drew allowed the audience into his life as an entrepreneur and brand owner, revealing what many would consider to be private and personal accounts of what it took–and still takes–to be a success in today's tobacco industry.
HUMBLE BEGINNINGS
Drew kicked off his keynote by taking the audience back to his beginnings, showing a picture of himself taken back in 1996 while living in Brooklyn, NY.
"My mom was a nurse, my dad an antique dealer. Very middle-class lifestyle," Drew explained. "Each year you got a new pair of jeans-the huskies. So, middle-class means a lot, thinking from a Drew Estate positioning because we've always been a blue collar company, we've always been a company that speaks to the regular guy out there. As we've grown as a company and our life circumstances have changed, that's one thing we've always been able to stay in touch with in our roots."
After describing a less-than-stellar experience in law school, Drew realized that a career in cigars was another career worth pursuing since many of his friends came to him for cigars. In 1995, he opened up push kart within the World Trade Center where he sold cigars. It was the early days working as a retailer that gave him the foundation needed to become an independent representative selling cigars and later a wholesaler. Having experience from the consumer level all the way to the wholesaler level gave Drew the experience needed to be successful as a brand owner and manufacturer later in life.
Another pivotal moment which Drew focused on was moving to Nicaragua to create his own brand and company. He moved to Nicaragua with little money, unable to speak Spanish, and not a lot of resources to fall back on. At this time, Nicaragua was just emerging from a revolution and its cigar culture was in its infantile stage. Drew went on to describe how he and those at Drew Estate got the community around them involved in building not just the brand but the cigar culture that would make Nicaragua as competitive as Cuba and the Dominican Republic. While building the brand, the decision was made to keep the factory and what they were doing quiet and under the radar in the early days.
"Everything we were doing and the decisions we were making were very raw–they were really based on emotion, they were based in passion, and it was probably the most organic and holistic experiences that I had ever seen," Drew described.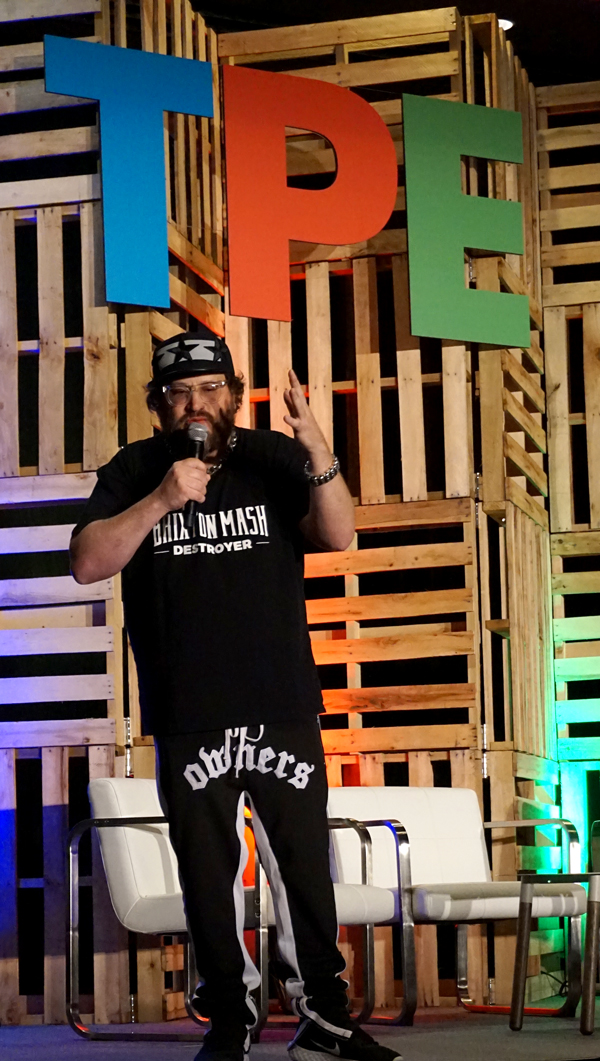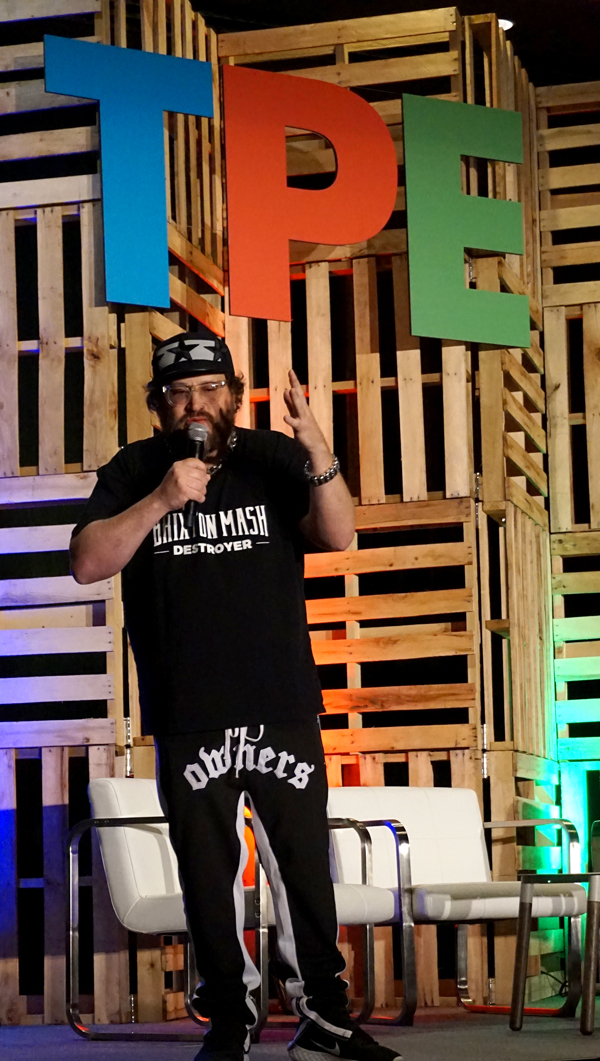 VALUE AND VALUES
"All of us have a value system. That value system, I was taught, changes every 6 months to a year," Drew explained to the audience. "It doesn't mean your ethics change, it doesn't mean you change a person, it means what you value putting your time into, your resources into, changes."
While Drew said he had his doubts about how frequently people changed, he came to realize it was true. Creating a values system for Drew Estate was incredibly important to the company's success, enabling it to become a cult brand and disrupt the cigar industry at the same time. On the topic of disruption, Drew delved deeper into what it takes to be a disruptor, a phrase that is often tied to him and his cigar brand. To describe disruption, he examined the phrase 'category killer' and how it related to snus products, a tobacco category that found much success and popularity but was sidelined and has yet to cover from the introduction of e-cigarettes.
"You remember when snus was going crazy? Where you could walk into any 7-Eleven or Wawa and there was this big brand of snus and that big brand of snus, some of it was chilled and some of it wasn't, this was going crazy–dollars to dollars, the hard push into snus. E-cigarettes come–donesville. Knocked out of bounds. It was disrupted. Completely 100 percent stopped in its tracks. That's disruption and that's what I think we as a company did and in an industry that was very old and traditional and those great parts of it we never wanted to mess with but that's the other piece to true disruption."
GETTING DOWN TO BUSINESS
Perhaps the most engaging part of the keynote was Drew talking about business and lessons he's learned from failure. Where many entrepreneurs would shy away from discussing failures, Drew embraced his and made them the centerpiece of his keynote. From a list of brands and products that didn't work to manufacturing mishaps that threatened to to put an end to Drew Estate, the audience was treated to a personal inside look and lesson in business that failure is just as important and valuable as any success one can have.
After playing a snippet of Wu-Tang Clan's "Can It All Be So Simple?", Drew talked about how after taking a 45 day vacation he returned to find out that his factory had been producing tight cigars, meaning they would draw no smoke. This was what he described as a brand killer, a major disaster, something that could have financially ruined him and his company. He used this failure to reach out to La Gloria Cubana's Ernesto Perez-Carrillo who flew out to Nicaragua and helped the company redesign, re-engineer and rebuild how it rolled a premium cigar. This is one of the things Drew feels his company does better than anyone in the industry and has become one of the company's core competencies.