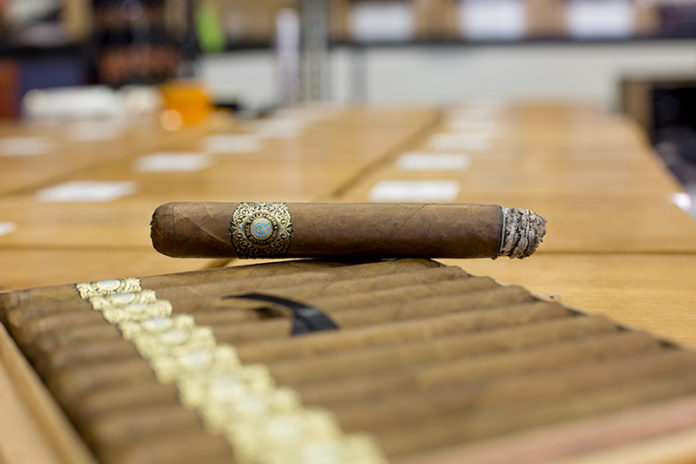 After a two year hiatus, Warped Cigars has announced the return of Sky Flower. First released in 2017, Sky Flower incorporated high priming medio tiempo tobacco that grows on only a small fraction of tobacco plants. This high priming leaf typically gets more sunlight and nutrients than the rest of the plant, giving it a much fuller flavor and strength than other tobacco. Sky Flower 2019 will be available at the following retailers:
Maxamar Ultimate Cigars (Orange, CA)
Famous Smokeshop (Easton, PA)
Fox Cigar Bar (Gilbert, AZ)
Casper Cigar Co. (Casper, WY)
En Fuego Cigars and Lounge (Las Vegas, NV)
R&R Cigar (Tuscaloosa, AL)
2 Street Cigar Co. (Edmond, OK)
Alliance Wholesale Cigar Distributor (Hauppauge, NY)
Ambassador Fine Cigars (Phoenix, AZ)
Anthony's Cigar Emporium (Tuscon, AZ)
Apex Cigar Lounge (Apex, NC)
Atlantic Cigar Co. (Online)
Beaufort Cigar Co. (Beaufort, SC)
Beehive Cigars (Salt Lake City, UT)
Biggs Mansion (Chicago, IL)
Billows and Blaze (Stratford, CT)
Blue Havana II Cigars and Gifts (Alpharetta, GA)
BnB International Cigars (Philadelphia, PA)
Boiling Springs Cigar and Wine (Boiling Springs, SC)
Burn Premium Cigar Specialists (Burnsville, MN)
Caravan Cigar Co. (Bath, PA)
Caribbean Cigar Co. (Miami, FL)
Churchill's Fine Cigars (Phoenix, AZ)
Cigar Distributors of Texas (Houston, TX)
Cigar Emporium (Houston, TX)
Cigar Emporium (Yonkers, NY)
Cigar Federation (Online)
Cigar Jones (Minnetonka, MN)
Cigar Pointe (San Antonio, TX)
CigarBox (Las Vegas, NV)
Columbia Pipe and Cigar (Briar Works) (Columbia, TN)
Corona Cigar Company (Orlando, FL)
Court Liquors (Long Branch, NJ)
Cypress Cigars (Winter Haven, FL)
Davidoff of Geneva (Atlanta, GA)
Davidoff Geneva (Houston, TX)
Davidoff of Geneva (New York, NY)
Dirty Dog Cigar Shoppe (McKeesport, PA)
Embassy Cigar Lounge (Stafford, VA)
En Fuego Cigars and Lounge (Las Vegas, NV)
Enzo's Cigar Lounge (Richmond, VA)
Fine Ash Cigars (Glendale, AZ)
Genuine Tobacco Co. (Columbia, PA)
Gilbertsville Cigar Factory (Gilbertsville, PA)
Governors Cigar Lounge (Westerville, OH)
Habana Port Cigar Merchants (Baton Rouge, LA)
Harbor Cigars (Destin, FL)
Harrisburg Beer N Cigar (Harrisburg, PA)
Havana Dreamin (Montgomery, AL)
Havana Dreams Cigar Lounge (Rego Park, NY)
Jack Schwartz Importer (Chicago, IL)
Jerry's Cigars (Tucson, AZ)
JR Cigars (Online)
K&S Cigars (Cary, NC)
Kirsten Pipe Company (Seattle, WA)
Knights Cigar Lounge (West Hartford, CT)
La Casa de La Habana (Ann Arbor, MI)
La Casa de La Habana (Toldeo, OH)
Lake Country Cigars (Delafield, WI)
Legacy Cigars (Rockwall, TX)
Ligero Tobacco House (Buford, GA)
Lone Star Tobacco (Houston, TX)
Low Country Pipe and Cigar (Little River, SC)
Lucas Pipe and Tobacco (Las Cruces, NM)
Mardo Cigars (Sarasota, FL)
Monte's Cigar Shop (Albuquerque, NM)
Mr. J's Havana Shop (West Warwick, RI)
Neptune Cigar (Miami, FL)
Omerta Cigar Co. (Oklahoma City, OK)
Peaceful Henry (Bluffton, SC)
Prime Cigar Company (Brookfield, WI)
Puros Cigar Shop (East Hartford, CT)
Puro Cigar House (Online)
R. Field Wine Co. (Honolulu, HI)
Renegade Cigars (Richardson, TX)
Royal 10 Cigar and Tobacco (North Royalton, OH)\
Rudy's (Fort Wayne, IN)
Santino's Cigar and Cocktails (Arnold, MO)
Secreto Cigar Bar (Ferndale, MI)
Senor Juan's Cigars (Belmar, NJ)
Smoke Manayunk (Philadelphia, PA)
Smokers Abbey TN (Nashville, TN)
Smokers Abbey TX (Cedar Park, TX)
Smokers Choice (Brownsburg, IN)
SmokingPipes.com (Online)
Sodie's Cigar and Pipe (Oak Park Heights, MN)
Sol Cigars Norway (Oslo, Norway)
Spring Street Cigars (Tupelo, MS)
Stogies Cigars and Lounge (Powell, OH)
Stogies World Class Cigars (Houston, TX)
Summit Cigars (Lafayette, CO)
The Cigar Box (Indianapolis, IN)
The Cigar Chapel (Bend, OR)
The Cigar Vault (Buda, TX)
The Owl Shop (New Haven, CT)
The Party Source (Bellevue, KY)
The Smoke Ring (Webster, TX)
The Smokey Cigar (Hendersonville, TN)
The Stash Smoke Shop, Ltd. (Milwaukie, OR)
The Train Car (Big Springs, TX)
The Vault 1905 (Meridian, ID)
Tinder Box (Mishawaka, IN)
Tinder Box Dublin (Dublin, OH)
Tobacco Grove (Maple Grove, MN)
Tobacco Junction (Longview, TX)
Tobacco Leaf (Lakewood, CO)
Tobacco Roads Fine Cigars (Arlington, TX)
Union Cigar Society (Seattle, WA)
V Cut Smoke Shop (Los Angeles, CA)
Virgin Cigars (Raleigh, NC)
Vitola's (El Paso, TX)
Watch City Cigars (Framingham, MA)
Winston's Humidor (Midlothian, VA)
Winston's Pipe and Cigar Emporium (Forth Smith, AK)
ZT Cigars (Oklahoma City, OK)
For contact information for these retailers and the latest news from Warped Cigars, visit warpedcigars.com.