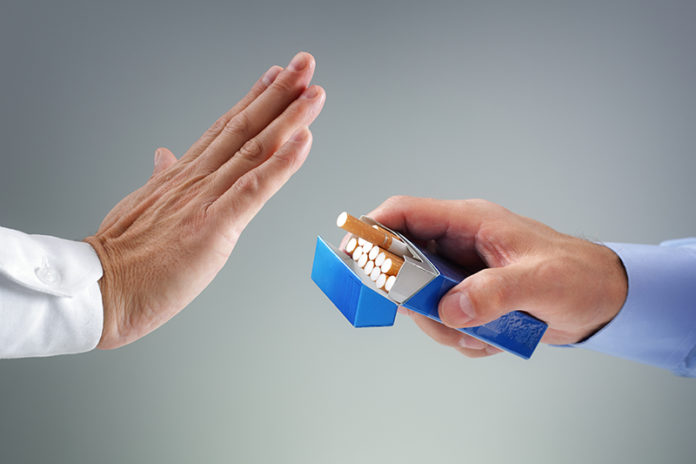 According to a recent report from the Centers of Disease Control and Prevention, the rate of cigarette smoking among adults in the U.S. is on the decline.
Recent data estimated that only 14 percent of U.S. adults are smoking cigarettes. This data was collected in 2017 and marks a downward trend from 2016 where the figure stood at 15.5 percent. This is the lowest number of cigarette smokers recorded in the U.S. and marks a 67-percent drop from 1965. Breaking down the numbers even further, those between the ages of 18 and 24 years accounted for 10 percent of cigarette smokers in 2017, down 13 percent from 2016.
The same study revealed that in 2017, one in five adults in the U.S. used a tobacco product. While cigarettes were the most used tobacco product, it was followed by cigars, cigarillos and filtered little cigars, e-cigarettes, smokeless tobacco and pipes and hookahs. An estimated 19 percent of U.S. adults used two or more tobacco products from the list with the most common combination being cigarettes and e-cigarettes.
This data was published in the Morbidity and Mortality Weekly Report and can be read in its entirety by clicking here.
While the data reflects the waning appeal of combustible tobacco products like cigarettes, it also shows the growing popularity of e-cigarettes. In 2018, the U.S. Food and Drug Administration (FDA) has been aggressively addressing concerns about the growth of the e-cigarette category, especially with its popularity among teens and minors. The FDA is expected to issue new regulations for flavored e-cigarette products, with restrictions on where these products can be sold in the U.S. [read more here]. It is also expected to propose a ban on menthol cigarettes [read more here], a move that could have an impact on U.S. smoking rates but also have ramifications on tobacco manufacturers who have seen their stocks fall on the announcement of this news in the past week.