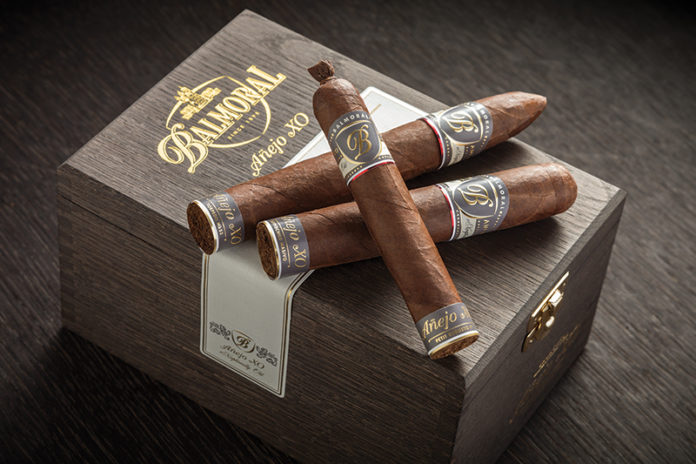 Tobacco Business: What product(s) will you be featuring at TPE 2018? What differentiates those products in the market?
Jaime Flórez-Estrada: We will be featuring the following core premium cigar products at the TPE 2018: the premium handmade Balmoral Añejo XO and Panter Premium Cigarillos. Balmoral Añejo XO premium handmade cigars are unique because they are the result of an intensive blending process with exceptionally aged tobaccos—an Añejo blend crowned with a sun-grown Brazilian Arapiraca wrapper to deliver notes of cedar wood, cacao, spices and an underlying sweetness.
Panter Premium Cigarillos are blended with a natural leaf wrapper and premium tobaccos to deliver a distinctive, smooth and flavorful cigar experience sure to satisfy any sophisticated palate. These are the best small premium cigars I have ever smoked. We will be formally introducing Panter Premium Cigarillos in an innovative box format at the show that importantly also delivers merchandising convenience to retailers, with a very special introductory offer of 40 percent more for free (14 premium cigarillos for the price of 10).
Why are you going to TPE? What do you hope to accomplish there?
As we just recently established our U.S. headquarters for Royal Agio Cigars U.S.A., we're attending TPE to continue building our relationships with our valued trade partners, increase awareness for our high-quality premium cigar brands and to discuss mutually beneficial ways to grow our respective businesses.
What have you done to prepare for a successful show?
We've been working with the collaborative team at TPE and Tobacco Business magazine to develop communication and promotional plans to help make retailers aware of our presence at the show, as well as aware of the exciting new products being introduced. We're really looking forward to the show.