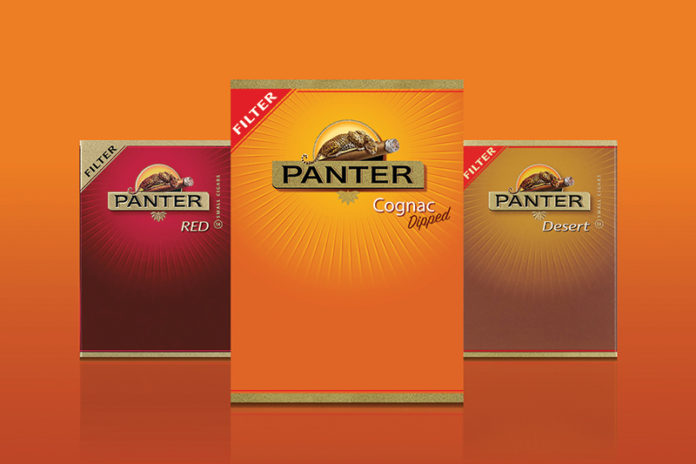 One of the new exhibitors at the 2018 Tobacco Plus Expo (TPE) will be Royal Agio Cigars. The Netherlands-based cigar manufacturer recently opened its U.S. headquarters in Bradenton, Florida, and plans to use TPE 2018 as an opportunity to launch a new product: the Panter Filter Box Premium Cigarillos.
Since 1932, Royal Agio Cigars' Panter brand has been designed to provide smokers with a shorter smoking experience while using premium-quality tobaccos. The new Panter Filter Box Premium Cigarillos will offer retailers and consumers the chance to enjoy a filtered version of the Panter brand in a new, attractive and convenient slide and shell box format.
"Panter is one of the world's best-selling cigars," explained Jaime Flórez-Estrada, vice president of marketing for Royal Agio Cigars U.S.A. "The new, innovative format offers retailers an opportunity to more easily merchandise popular Panter premium cigarillos, and [it] offers another convenient way for consumers with a preference for filters to enjoy the smooth and flavorful Panter cigar experience."
Premium cigarillos figure prominently into Royal Agio Cigars' portfolio of products. The manufacturer has made bringing a premium cigarillo to the market a focus over the years, and, now that the concept has caught on internationally, the company is hoping its success will carry over in the U.S. While Royal Agio Cigars' cigarillos are now machine-made, the quality and attention to detail of the manufacturing process has remained unchanged, and the company is urging cigar enthusiasts in search of a premium product that can be enjoyed in a shorter amount of time to give Panter a try.
"Panter cigarillos continue to be blended with a natural leaf wrapper and premium tobaccos to deliver a distinctive, smooth and flavorful cigar experience sure to satisfy any sophisticated palate," commented Flórez-Estrada.
Panter is crafted to meet Royal Agio Cigars' high quality standards and uses only premium tobacco blends. While Royal Agio's premium cigarillos were once made by hand, in recent decades the company has been able to leverage technology to transition to a machine-made construction process that both improved the quality and consistency of the cigars.
The new Panter Filter Box Premium Cigarillos will be available in introductory 14-count packs and in the following varieties: cognac-dipped, sweet vanilla red and coffee-flavored desert.
This story first appeared in the January/February 2018 issue of Tobacco Business magazine. Members of the tobacco industry are eligible for a complimentary subscription to our magazine. Click here for details.