How does one properly take care of or maintain a pipe? What added pipe cleaning or maintenance services might a retailer offer their pipe customers?
Every new customer will have much to learn about keeping their pipe in optimal condition—everything from cake development to stem and shank cleaning will take time to learn. Again, there is an excellent education available in TU's Accoutrements College, but many of these skills take time to learn, so every shop should have at least one tobacconist on staff that is experienced and can share their knowledge with customers.
Every pipe smoker will need pipe cleaners and a tamper and poker to get started and keep the pipe functioning well. Many pipe specialist tobacconists will have a buffing wheel in house and offer to buff their customers' pipes for free. This is a special process that may take some time to learn, but it helps distinguish you as a pipe specialist. Nowadays, it can also be a challenge to find good pipe repair people since this is not exactly a burgeoning industry. I suggest asking your vendors for recommendations in case you need to repair yours or your customers' pipes.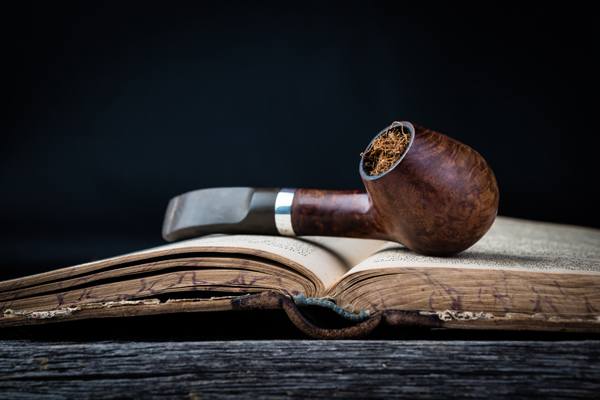 What are some typical problems or questions pipe smokers may have that retailers need to be ready to address?
First and foremost, a retail tobacconist has to be able to show a customer how to properly pack a pipe. This is best done in person since it is a tactile experience. This is yet another way retail brick-and-mortar tobacconists have a competitive advantage over those that are strictly internet-based. The second most common issue is cracked stems and shanks, so retailers should have a go-to repair person to recommend to their customers. Lastly, every pipe and tobacco has a nuanced and intricate story, so use your vendors—ask them questions and let them make you an expert on their products.
We all know how important humidification is to the quality of cigars. Is the same said of pipe tobacco? How should retailers store pipe tobacco in their stores?
Pipe tobaccos that come in tins or that are hermetically sealed in bags will typically stay in good smoking condition as long as the packaging remains intact. Bulk tobaccos that are stored in jars for retail display and packaging tend to dry out over time, so a small humidifier may need to be added if the inventory isn't turning. At TU, we recommend keeping your back stock in the cigar humidor if possible and feeding your display jars from the humidor stock as needed. While tobacco density and preferred humidity level will vary by customer, pipe tobaccos should be kept between 55-65 percent humidity in your shop. Fortunately, pipe tobaccos can be dried out or rehumidified easily so there is more flexibility when it comes to maintaining pipe tobaccos versus cigars. The most important thing is to not over humidify and allow mold to grow.
How might retailers sell or market pipes and pipe tobaccos to their existing cigar customers?
This is a great question because many of your cigar customers will get curious about pipes and tobaccos. The absolute best way to market pipe smoking is to be smoking a pipe in the store. Your cigar customers will get curious and start to ask you questions, and many of them will eventually buy in and take the journey! It is only natural for a cigar lover to want to try pipes, so take advantage of the opportunity. Many cigar customers will spend time in your store, and after months or years they will eventually gravitate to your pipe displays and start asking questions. Be ready to open up the doors of discovery for them!
In terms of merchandising pipes and pipe tobacco, what is the best manner tobacconists can use bring attention to these products in their stores?
If you are going to bring pipes and tobaccos into your store, you need to get ready with a completely new set of merchandising tools and tricks. You will probably need pipe pegs to hold your pipes for display, so find a vendor for these before anything else. If you're getting into bulk pipe tobaccos, you will need jars for display, a scale, mixing bowl, tongs, bags and labels to sell the product; make sure to know your local rules and laws about scale certification and potential sanitary procedures.
With regard to merchandising, TU recommends keeping like products together and making sure everything stays clean, organized and priced. You may want to purchase jewelry tags to price your pipes and baskets or some other vessel to house your basket pipes, so think ahead and be prepared. Lastly, you will need space to house backstock and boxes; many pipes come with bags, boxes and/or cases so these need to be put somewhere.
What will those completing the Tobacconist University program learn about pipe tobacco?
As always, TU teaches fundamentals. The world of pipes and tobaccos is extremely deep and nuanced. Pipe smokers spend a lifetime learning, but they will never know everything. So, like with cigars, be ready to be a student for life. The TU pipes and tobaccos curriculum will teach you everything you need to know to lay the foundation for your professional journey as a pipe specialist, including pipe tobacco varietals, types, pipe architecture, history and everything in between. After that, as always, there is no substitute for smoking and the experience that comes with that.
Learn more about pipes and other tobacco-related topics at tobacconistuniversity.org.
This story first appeared in the May/June 2021 issue of Tobacco Business magazine. Members of the tobacco industry are eligible for a complimentary subscription to our magazine. Click here for details.