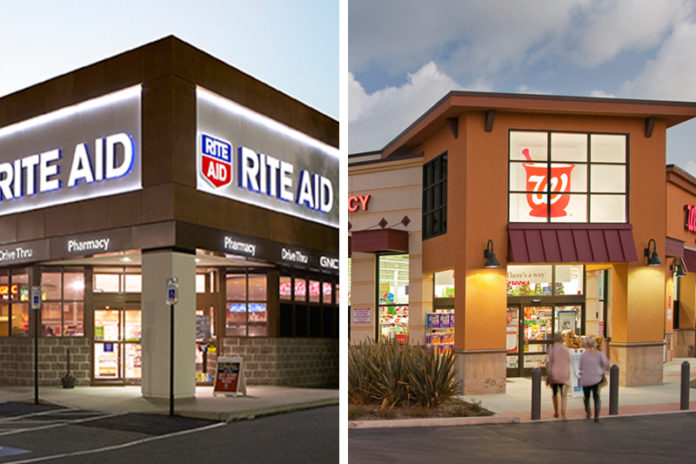 Pharmacy chains, with a heavy presence in many neighborhoods, were once an important retail outlet for tobacco manufacturers. While that hasn't changed, pharmacy chain's views of tobacco have and has left tobacco manufacturers without its once important retail partner. Rite Aid, one of the U.S.'s largest pharmacy chains, has announced that it will stop selling e-cigarettes and vaping products. Its reasoning has little to do with sales figures–they now feel these two product categories are contributing to the recent uptick in America's youth increasing use and addiction to tobacco products. This follows the recent focus and crackdown on these products by the U.S. Food and Drug Administration (FDA) [read more here].
In the past week, Rite Aid revealed that it would be removing these products from its more than 2,4000 stores over the next 90 days. The New York Times reports that Rite Aid will continue to sell other combustible tobacco products, a move many anti-tobacco advocates are now questioning.
"We're concerned about some of the alarming statistics regarding the use of e-cigarettes and vaping products by children and teens," said Bryan Everett, Rite Aid's chief operating officer, on a recent earnings call. He acknowledged that many view these products as having certain benefits to adults who are trying to quit smoking but that these product's popularity among underaged smokers made the move necessary.
Some anti-tobacco advocates feel Rite Aid's move could actually lead to an increase of tobacco use in teens who will turn to combustible tobacco products as e-cigarettes and vaping products become scarce. This is why they also feel Rite Aid should follow CVS' lead, who stopped selling all tobacco products in their stores in 2014. As Rite Aid gets out of one product category, it will begin testing the sale of CBD (cannabidiol) products in some of its stores. Everett revealed that Rite Aid will be introduced CBD topicals (lotions, creams, balms) in the states of Washington and Oregon.
Another pharmacy chain making changes to its handling of tobacco products is Walgreens, which recently announced that while it has no plans to remove tobacco products from its stores, it will be testing out tobacco-free stores in Deerfield, Illinois, and 17 locations in the Gainesville, Florida. This comes as Walgreens continues an initiative to help adults quit smoking. For now, the company does this by making smoking cessation products accessible and available in its stores and by directing its employees to direct customers to these products. Walgreens has also made an effort to make the tobacco products it does carry less visible in some of its locations. Walgreens efforts come as the FDA named it as one of the lead violators in selling tobacco products to minors [read more here]. In February 2019, five Democratic senators urged Walgreens to stop selling tobacco products in its stores all together.
"This is unacceptable," senators wrote in a letter addressed to Walgreen's CEO back in February. "Given that your company is either unwilling or unable to keep tobacco products out of the hands of kids who frequent your stores, we once again write to urge you, as a health care pharmacy, to put children over profits and immediately stop selling dangerous and addictive tobacco products at your stores."
As the war against e-cigarettes and vaping continues to ramp up as well as the FDA's evolving stance on various smokeable products changes, the presence and handling of tobacco products in pharmacy chains can also expect to see further changes.