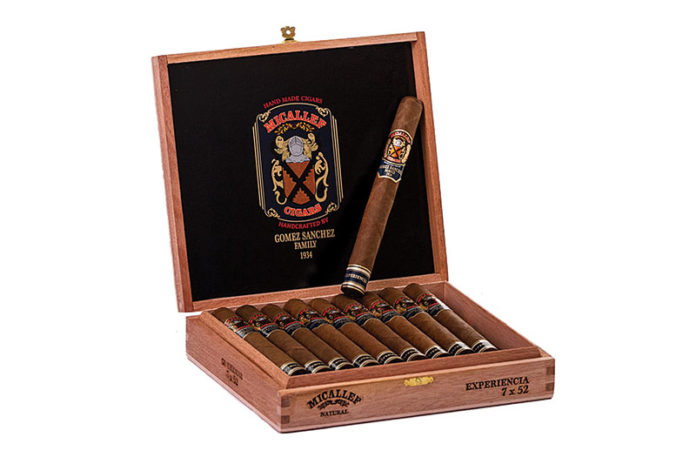 Micallef Cigars has announced that it is expanding 3 of its existing lines with a total of 6 new vitolas that will be introduced at Tobacco Plus Expo (TPE) 2019 in Las Vegas, Feb. 11-13, 2019. The new vitolas will expand the Migdalia, Connecticut, and the Experiencia La Crema lines.
Pre-release versions of these new vitolas were given out at Cigar Aficionado's Big Smoke weekend in Las Vegas. Over 500 of the Migdalia Toro were unveiled at the event during a special VIP luncheon hosted by Micallef Cigars and Cigar Aficionado.
"Feedback by the experts and passionate cigar smokers regarding the original Migdalia (4×46) has been tremendous. We have received many requests to expand this line. They asked and we delivered," said Al Micallef, president and founder of Micallef Cigars. "Everyone at the Big Smoke VIP luncheon that had an opportunity to sample the cigar thoroughly enjoyed it, with much excitement about the cigar being released in Q1 of 2019."
Migdalia
Wrapper: San Andrés Habano
Binder: Sumatran
Fillers: Nicaraguan and Dominican
Vitola: Toro (6 x 52)
MSRP: 24-count box, $10 per cigar
Connecticut
Wrapper: Ecuadorian Connecticut
Binder: Nicaraguan Habano
Fillers: Nicaraguan and Dominican
Vitola: Toro (6×52), Gordo (6×60),
MSRP: 25-count box, $10 and $12 per cigar
Experiencia La Crema
Wrapper: San Andrés Sumatran
Binder: Ecuadorian Habano
Fillers: Nicaraguan, Dominican and Panamanian
Vitola: Robusto (5×54), Toro (6×52), and Gordo (6×60)
MSRP: 20-count box, $11, $11.50 and $13 per cigar
The new vitolas will begin shipping to retailers immediately following the conclusion of TPE 2019.
For all the latest news from Micallef Cigars, visit micallefcigars.com.