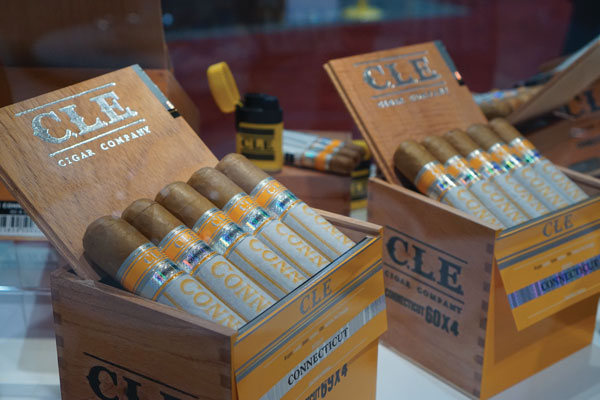 Investing in People
Christian Eiroa has a lot going on. When he's not coming up with new blends for C.L.E. Cigar Company and Asylum Cigars, he's overseeing the production side of his family's business from seed to shelf. While having a profitable business is on his agenda, it's not his endgame. He explains that when he was younger, success was defined in monetary terms. Today, success is defined by family—raising his three boys to be respectable men—and by giving back. Drawing inspiration from the Fuente family, Eiroa's C.L.E. Foundation was founded to have a positive impact on people's lives. His company invests in its community by giving back, including contributions to the Honduras Breast Cancer Foundation, an effort that Eiroa says has been limited but will increase with time.
As a leader, Eiroa puts the welfare of people before profits. He explains that he strives to produce a product that's great in quality and sold at a fair price. He also wants to make sure that the people who help make those products great are taken care of.
"Be fair and be honest with your employees, your customers and your end consumers," he advises. "I value each person on our team as their own person and never lurk over their shoulders. Respect each employee and allow them to develop. Invest time in them, but then you also have to know that there comes a time when they will either fly or fall off the nest. Companies need to be built with transition in mind because you never know what comes next. If you have a crew that is well-trained and can keep the business going and growing, you can be sure the company and all the jobs it generates will remain around for the next 100 years."
He has some parting advice for professionals: Read the book The Richest Man in Babylon by George Samuel Clason, a collection of parables set in ancient Babylon that dispense financial lessons told through characters' experiences in business and household finance. His next piece of advice is to find a mentor and learn from them. His last piece may seem bad for business, but Eiroa encourages everyone to make mistakes and to stop being fearful. It's OK to fail and to fail big—it's in those instances that you may find your biggest successes yet.
This story first appeared in the January/February 2019 issue of Tobacco Business magazine. Members of the tobacco industry are eligible for a complimentary subscription to our magazine. Click here for details.
– Story by Antoine Reid, an editor and digital content director for Tobacco Business Magazine. You can follow him on Instagram @editor.reid.