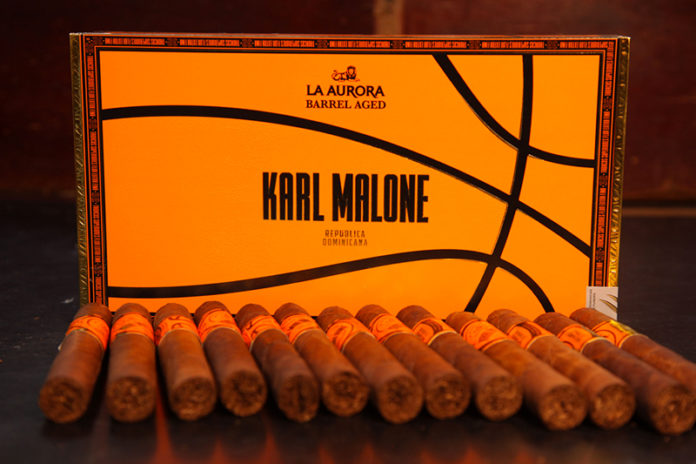 It was one of the most talked about cigars of this year's International Premium Cigar & Pipe Retailers Association (IPCPR) trade show. Famed basketball player Karl "The Mailman" Malone, known for spending 18 seasons as a power player in the National Basketball Association (NBA), teamed up with leading Dominican cigar manufacturer La Aurora for Barrel Aged by Karl Malone, a special cigar that had the entire show floor talking.
Through a close family friend, Malone was introduced to the Hernandez family, led by cigar industry veteran Eudaldo Hernandez. Together they approached La Aurora Cigars with the desire to create a cigar blend that would match Malone's dynamic, rugged attitude. This cigar would have to also reflect his personal taste in cigars: bold with accents of wood and creamy flavors. It took several blends before Malone found one that he approved of. Because of the unique barrel aged process the tobaccos used in the cigars underwent, they settled on the name La Aurora Barrel Aged by Karl Malone.
All of the tobacco used in the cigar, with the exception of the wrapper, was aged in rum barrels for 6 months. The tobaccos were then aged for 6 years in bulk before undergoing another 6 months of aging in rum barrels to give the final cigar the aromatic notes of barrel aging and notes of toasted wood. In a press release, the company states that he cigars start with a dominant black pepper spice flavor before opening up to more complex and delicate notes. The presence of wood is evident during the entire smoke along with hints of cinnamon and dried fruits. The cigar finishes with a potent and creamy flavor.