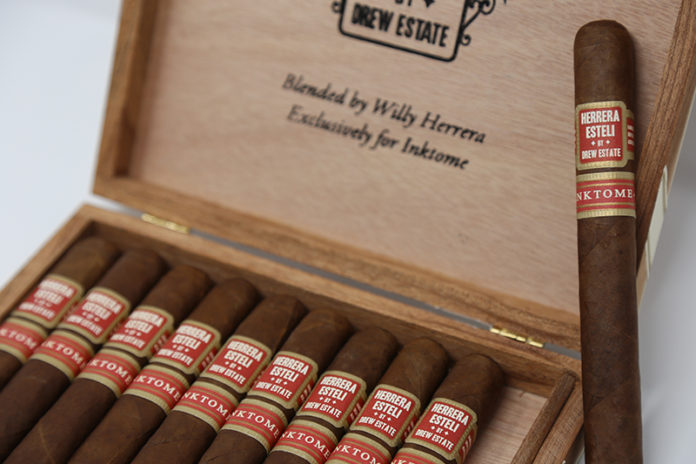 Drew Estate has announced the second release of Herrera Estelí Inktome, the Exception. Herrera Estelí Inktome is a shop exclusive for Maxamar Ultimate Cigars and its online counterpart, Small Batch Cigar (SmallBatchCigar.com).
The first release of Herrera Estelí Inktome came in 2016. After its release, Drew Estate's master blender Willy Herrera continued to experiment with different presses and how the smoke hits the palate to provide a nuanced experience.
"The Herrera Estelí Inktome Exception is a departure from mundane routines and is the epitome of everything we believe in: providing exceptional experiences every single day," Sid Andrew Considine, Head Cigar Smoker at SmallBatchCigar.com. "We are excited to continually work with Drew Estate in the development of the Inktome series."
Herrera Estelí Inktome Exception was made using a stronger press to help differentiate it from the first release. "I truly enjoy working on this project with Andrew as it allows me to bring a unique twist to my Herrera Estelí blend. Now the Inktome Exception smokers will be able to see how small variations of shape can create dynamic shifts in flavor profile."
Only 10,000 Herrera Estelí Inktome Exception cigars were produced. Each cigar retails for $7.99. You can order yours at SmallBatchCigars.com.
For all the latest news from Drew Estate, visit drewestate.com. You can also learn more about Herrera Estelí and other Drew Estate brands by downloading the Drew Diplomat app at drewdiplomat.com.