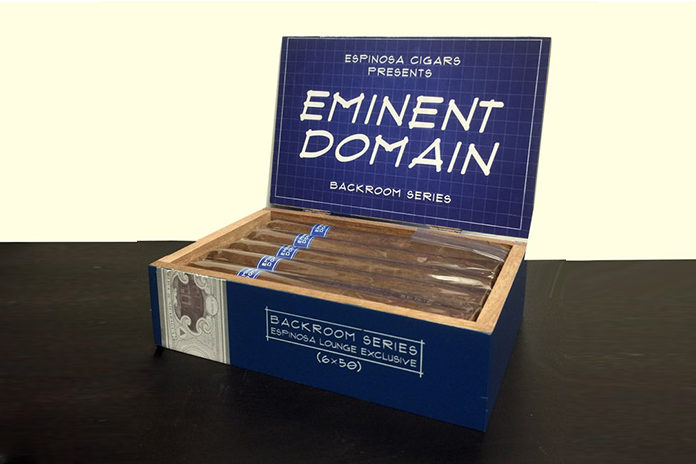 Espinosa Cigars has begun shipping Eminent Domain, the second release of its Backroom Series. Available at a select number of retailers in the U.S., Eminent Domain will be available in one vitola, a 6 x 50, and will sell for $9.50 per cigar and will be available in 10 count boxes.
Espinosa's Eminent Domain will be available at the following retailers:
Smoke Inn (Margate, Fla.)
Cordovas (Pensacola, Fla.)
Executive Cigar (Simpsonville, Ken.)
The Stogie Smoke Stop (Dayton, Ohio)
Pipes and Pleasures (Columbus, Ohio)
Allegheny Smoke Works (Allegheny, Penn.)
Blue Smoke of Dallas (Dallas, Texas)
ZT Cigars (Oklahoma City, Okla.)
Burn Premium Cigar (Burnsville, Minn.)
West Coast Cigars (San Jose, Calif.)
Details on the blend of Eminent Domain are scarce other than it being medium-bodied and featuring a rustic habano wrapper. It will be made at Espinosa's La Zona Cigar Factory in Estelí, Nicaragua.