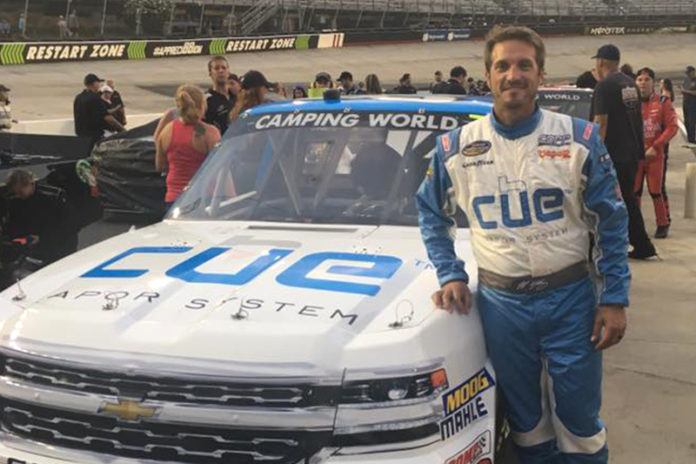 E-Alternative Solutions (EAS), a sister company of Swisher International and the exclusive distributor of Cue Vapor Systems, will sponsor the No. 83 Copp Motorsports Chevrolet driven by J.J. Yeley in the upcoming NASCAR Camping World Truck Series race at Bristol Motor Speedway. The race will be held on Aug. 16, 2017.
Through this unique partnership, adult racing fans will have the chance to win exclusive J.J. Yeley memorabilia through Cue Vapor System's social media channels. They will also have the chance to meet J.J. Yeley at the Cue Vapor Mobile Unit located on Bristol's Earhart Campground. Cue's 40-foot Mobile Vapor Unit is the first ever mobile vaping lounge highlights the Cue product and is outfitted to maximize vaping satisfaction.
"I'm thrilled to have Cue on the #83 Copp Motorsports Chevy, and to kick back with fans at the Cue Vapor Mobile Unit in Bristol," Yeley said. "It's going to be another great race at the half-mile track, and I'm looking forward to a great showing."
Jacopo D'Alessandris, CEO and President, EAS, added: "As longtime fans of racing and J.J. Yeley, EAS is excited to support J.J. and the #83 Copp Motorsports truck team at Bristol, the organization's first Camping World Truck series sponsorship. It's an honor to be a part of the great racing tradition at Bristol Motor Speedway. We're looking forward to a great night and a great race."
Cue comes in a variety of vibrant colors, as well as five aromatic flavor categories – tobaccos, mints, desserts, fruits, and drinks – that are available in three nicotine levels (0mg, 3mg and 6mg). The closed system enables consumers to sidestep the complicated, and sometimes messy, process of using typical vaping devices. Users simply click the pre-assembled, disposable cartridges into the Cue device and vape.  Cue is available for purchase online with appropriate age verification by visiting cuevapor.com.