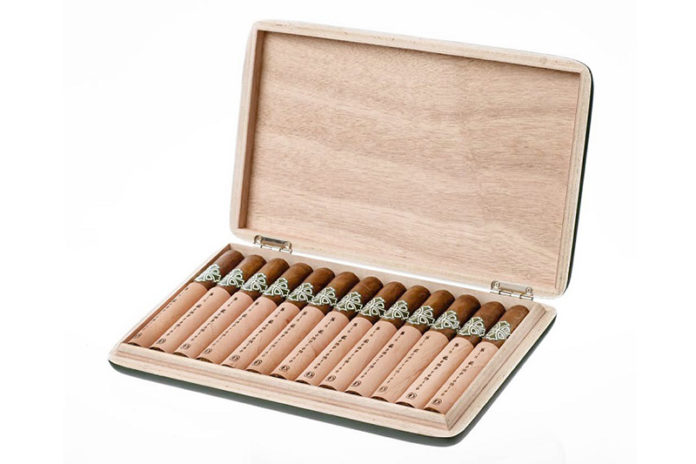 Dunbarton Tobacco & Trust's Steve Saka recently took to social media to release some information regarding his company's upcoming release of Sin Compromiso cigars at the upcoming IPCPR Show in July.
Sin Compromiso is Spanish for "Without Compromise," and Saka wrote on his Facebook account that the cigar is "the 'killer' for me, the perfect liga, my absolute best ever, bar none. I am in absolute love with this cigar. I really have no clue at the moment if I can ever make a better cigar."
"Sin Compromiso is the result of over three years' of experimental black tobacco harvests in Mexico, Ecuador and Nicaragua and the culmination of my experiences as a cigar blender," states the founder and Master Ligador, Steve Saka. "The marquee's name translates to 'no compromise' and that is the exact approach I took when creating this cigar. This blend is a direct reflection of all the skills I have learned and developed over the last twenty plus years and I am genuinely excited to share it with my fellow cigar smokers.
"Sin Compromiso is a truly unique, complex cigar that is simultaneously smooth, yet strong. It delivers a captivating and entrancing smoke for the experienced palate with flavors that are constantly swirling and changing from puff to puff. At its core is an inherent sweetness paired with a savory spiciness, but hidden within its layers are notes of cocao, espresso, loam and even a hint of smoky chicory root. I spent over three years meticulously crafting and tweaking this blend and I can say without reservation it is personally my very best liga ever bar none. I have never experienced such an intriguing and satisfying smoke."
The cigars are made at the Joya de Nicaragua factory in Esteli, Nicaragua. Saka describes them as sweet and spicy, medium-full-bodied, smooth and rich. The development of Sin Compromiso took hundreds of hours and included working with three years of experimental wrapper tobaccos and finding unique filler tobaccos from small, independent farmers.