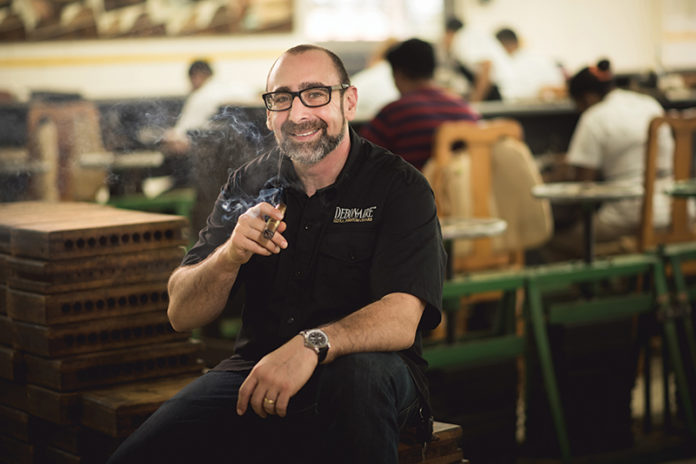 Philip S. Zanghi remembers watching his father smoke cigars around his house and in his offices with friends and business partners. He also recalls that his grandfather smoked cigars and remembers a particular photo that was taken after his christening, in which all the men in the photo with him were holding cigars in their hands. Needless to say, cigars and tobacco have always had some part in Zanghi's life, which is what set him on the path that led him to creating his own brand, Debonaire Cigars.
Zanghi understands that creating a premium cigar is a process that starts with an ideal and a concept, not a finished product. Zanghi's unique "Debonaire Ideal" philosophy is not proprietary—anyone who works in the tobacco industry or any creative field can apply and benefit from it. In the interview to follow, he reveals how to apply this unique philosophy to your business and career, and shares lessons in business that he learned while launching his Debonaire Ultra Premium Cigars and Indian Motorcycle-licensed cigar products.
Tobacco Business: What is the Debonaire Ideal and how does it apply to your business?
Philip Zanghi: We've been working diligently on communicating this exact message. We've simplified it to this doctrine, which we firmly believe in: The Debonaire Ideal is the alchemy of oneself, driven by the pursuit of unattainable perfection and the aspiration to constantly portray authenticity. The Debonaire Ideal is the constant refinement of one's actions and values. Combined, these refinements lead one to the transformation that is self-betterment. The Debonaire Ideal at work can be recognized in the celebratory actions and reflections of one's daily accomplishments and blessings. The Debonaire Ideal within Debonaire Ultra Premium Cigars is simply the process of trying to make the very best cigar I can, not just a smoke but a reason for the people to enjoy their lives.
What were the challenges you faced when starting your cigar brand?
Well, I just got up and moved to Honduras, not speaking the language, not knowing tobacco, not knowing the art and business of making cigars. I had to learn it all, root to fruit, and how to make that attractive to the U.S. and world markets. Tobacco is unique—a lot of it is about how long you can and are willing to hold onto your money. Many don't like to talk about this, but the financial investment of a tobacco endeavor is pretty serious, which to me meant: a lot of money to make a little, in the beginning. Now I see this as investing.
I lived in a tobacco era where it was like the Wild West. I'm there riding horses in Central America and making cigars. It's a shame, but that era cannot happen again. Still, those trials contributed to where I am today. It was wild, and everything was hands-on: the learning, the bartering, the selling. Very humbling stuff. Many challenges today are the same, but the timing of everything has changed. Marketing and media are totally different. There are many great competitors—a lot of them actually—and the laws and legislation are way different now. In the end, the challenges are very similar, just different sized, and they occur with a different date and answer attached to them.
What role does collaboration have in your business?
Collaboration for Indian Motorcycle Cigars is key. The sharing of the trademark, the creating and manufacturing of a product worthy of the American icon, these are things that matter in each and every step along the way. More so than ever, collaboration is key for the new Indian Motorcycle Cigars Dealership Program, where we are facilitating a product for Indian Motorcycle dealerships across the globe. Polaris is a huge company; it is such a blessing that they are willing to not only work with me but come to where I am in terms of tobacco production and business in order to learn how they can be better partners. For a big company to do that just humbles me.