The Masterpiece humidor Series 1, released this September, embodies a calmness by using harmonic clouds embellished with golden leaves in an abstract representation of a sunset. Saneuil combined exclusive materials such as gold leaves, tobacco leaves, mother-of-pearl, parchment and woods from sycamore, walnut and wedge trees to create this humidor. The body of the humidor was crafted from pear wood in a grey tint. The Masterpiece Series II, out in November, was designed with a shimmering effect, while the combination of darker colors of tobacco with vibrant golden hues reflects warmth. Each humidor is equipped with three proprietary Davidoff De Luxe regulators that are guaranteed to maintain a stable humidification level between 70 and 72 percent. The capacity of the Masterpiece humidors are between 190 and 250 cigars.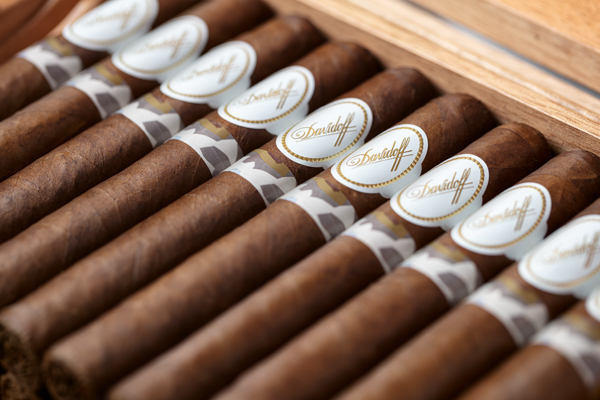 Both Masterpiece sets will come with 50 unique Davidoff cigars blended exclusively by Davidoff's master blender for these humidors. These cigars have notes of spice, leather and wood derived from the well-aged Dominican filler tobaccos. The aroma is described as sweet with elegant notes of toffee and the retro-hale reinforces the woody and spice notes of the blend. The second third of the cigar features an interaction between the Ecuadorian wrapper and the binder, delivering creamy and black coffee notes with hints of prune. The last third of the cigar becomes much more creamier with notes of wood, spice and cacao. The cigar will have a Habano Ecuador wrapper aged for 5 years, 702 Ecuador binder aged for 7 years and San Vicente Ligero, San Vicente Seco, Piloto Ligero, Hybrid 192 Volado, and Yamasa Visus filler tobaccos.
For all the latest news from Davidoff, visit davidoff.com.