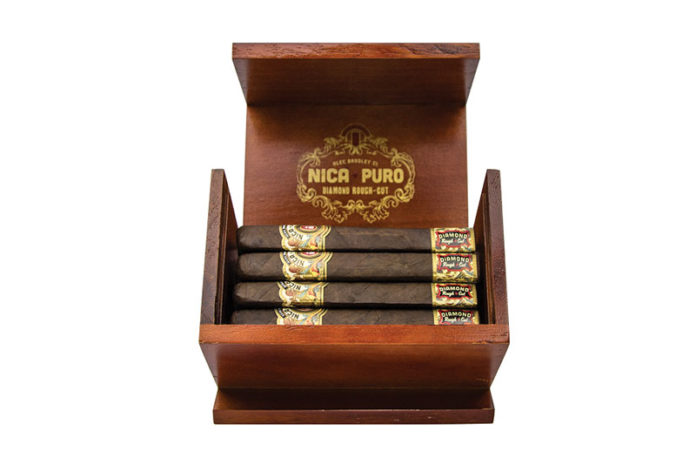 Alec Bradley Cigars has begun to ship the perennial fan favorite Nica Puro Diamond Rough-Cut to tobacconists worldwide. This cigar was first unveiled in 2014 and has since become a fan favorite and earned critical acclaim among cigar enthusiasts.
"The Nica Puro blend is smoking incredibly right now," said Alan Rubin, founder of Alec Bradley Cigar Co. "Enthusiasts and tobacconists ask for the Nica Puro Diamond all year round, but the cigars aren't easy to make. Due to the unique shape we only have the ability to produce 1500 boxes per run, so it's an exciting time at Alec Bradley when we have the opportunity to present Diamonds to our fans."
Alec Bradley's Nica Puro Diamond Rough-Cut was first conceived at Plasencia Cigars as an homage to the triangular shaped Alec Bradley Trilogy cigar line that Rubin created years before. The innovative shape caught the attention of many in the cigar industry. Rubin describes Nica Puro Diamond Rough-Cut as a well balanced cigar with a bold flavor, distinct richness and natural sweetness. "The blend represents my take on a Nicaraguan puro," Alan continued. "Nica Puro, in general, and the Nica Puro Diamond Rough-Cut are must tries for Nicaraguan cigar lovers!"
Nica Puro Diamond Rough-Cut is a 6 1/4 x 54 ring gauge cigar crafted from all Nicaraguan tobaccos. Outside of the shape, the cigar is differentiated from the rest of the line by adding an extra leaf of ligero for added body and flavor. This year, 1,500 16-count boxes of this cigar will be released to participating Alec Bradley retailers. MSRP per cigar is $9.38.
For all the latest news from Alec Bradley Cigars, visit alecbradley.com.