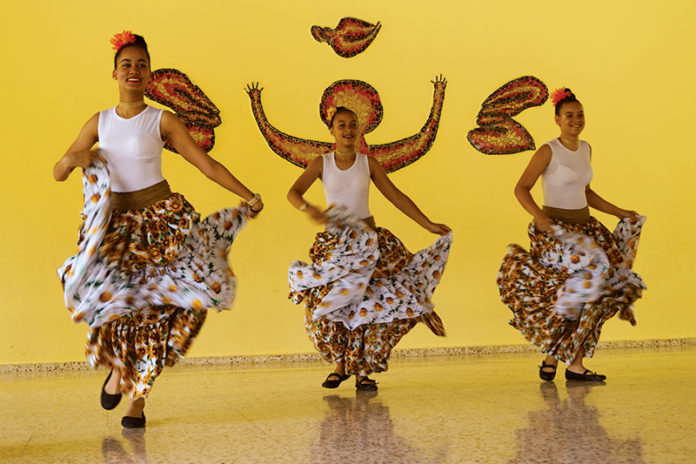 Collaborations in the cigar industry are nothing new, but one in particular has had a profound impact on the people of the Dominican Republic. During a trip to Chateau de la Fuente back in 2000, Eric Newman noticed a group of children who were playing in the streets and wondered why they weren't in school instead. That's when Carlos Fuente Jr. informed him of the lack of classrooms in the Dominican Republic and the inadequate educational opportunities for young children living in the area. As the day went on, Newman also noticed young girls carrying jugs of water on their heads and again asked Fuente what was behind this odd scene. Fuente informed him that for most people living in the Dominican Republic, water was a luxury, and they had to travel up to two miles to fetch it from a nearby river—and even that water was unfit to drink. Newman was troubled by these scenes of poverty and decided then and there that his family and Fuente's family could do something to improve the lives of those living in the Dominican Republic.
Like many other cigar companies, J.C. Newman Cigar Company and Arturo Fuente had benefited from the growing popularity of premium cigars in the U.S. during the Cigar Boom of the 1990s. They had new customers, new interest in their products and bigger profits. Both companies had ties to the Dominican Republic, where their products were hand rolled by Dominican artisans, and they owed part of their recent success to the hard work and contributions of their Dominican-born and Dominican-based workers. Giving back to their community was not just an option or an afterthought—it was an obligation for both companies to reinvest in the community and the people who had helped to put them and their cigars on the map.
Corporate social responsibility is part of many cigar manufacturers' business plans, and it ranges in scale. For Newman and Fuente, their aspirations and vision for the Dominican Republic and its people quickly evolved from just a desire to help to a full-on commitment that would not only pave the way for a project within their manufacturing community but also plant the seeds for a movement that would inspire social action both within the Dominican Republic and abroad.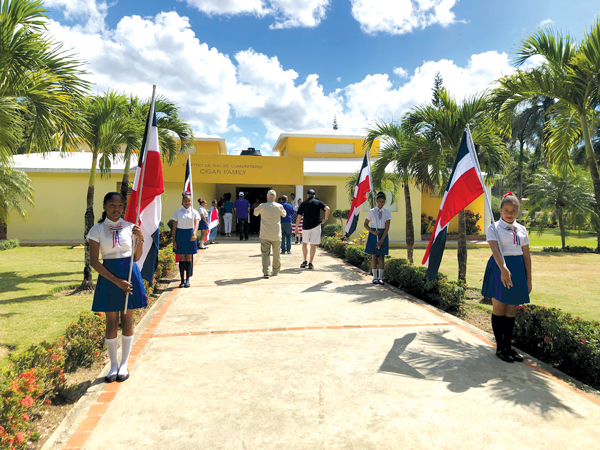 Building the School
Both men witnessed two particular problems that they wanted to take on: the lack of educational opportunity and lack of access to drinkable water. They decided they wanted to build a new wing onto a school to provide children with a better place to learn and to alleviate the overcrowding many experienced in the schools that were already in the area. They also wanted to provide clean drinking water to the community so that locals wouldn't have to travel over two miles for water that still wasn't drinkable. Fuente turned to David Luther, executive director of the Instituto Dominicano de Desarrollo Integral Inc. (IDDI), and told him of their plans. Luther, whose organization was already doing philanthropic work in the area, told the two men that they needed to take a different approach. Rather than going through the Dominican government to achieve their goals, Luther told them that their best course of action was to build their own school.
This was easier said than done. First, they had to purchase the land to build a school on. The first deal fell through due to land title issues. They had found a 23-acre plot suitable for a school, though the price for the land went up once the seller saw the "Fuente" name come up during the purchase. As if that weren't enough of a challenge, convincing the local community of their good intentions was an even bigger task. There was a mining company also operating in the area that made many of the locals wary of outsiders. When Fuente and Newman arrived and told them of their plans to build a school, the villagers were skeptical of their intentions.
"They didn't believe us," recalls Newman. "We had a town community meeting. We had representatives from about five communities here because we wanted to explain to them what we were doing, and they started lambasting everybody. They said, 'Nobody's here to help us—everybody just wants to take, take, take.'"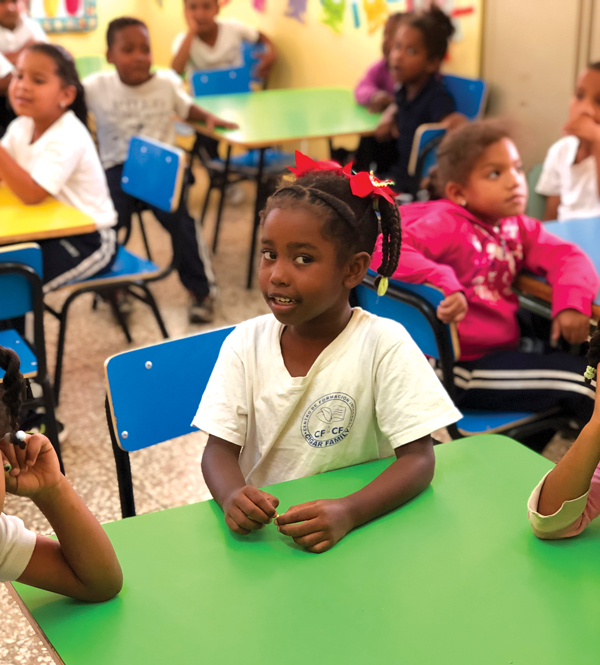 Fuente and Newman went on to name their service project the Cigar Family Charitable Foundation. In 2004, they opened the doors to the Cigar Family Charitable Foundation School. Similar to the scene they witnessed years before, Newman and Fuente were walking back from the tobacco farms at Chateau de la Fuente and saw a school bus arrive in the afternoon. Unlike in the U.S. where some children run excitedly toward buses because they are excited to leave school, the Dominican children were instead running off the bus and excitedly rushing into the classrooms. Over the years, these scenes have become common at the Cigar Family Charitable Foundation School, and Newman attributes the students' excitement and enthusiasm for education to their acknowledgement of the significance of the opportunity they now have.
"These kids are wonderful kids," Newman says. "They haven't been spoiled by materialism. They don't know what they don't have. They're poor materially, but they must have been raised with a lot of love. They're happy kids. They're learning, and they're excited! A lot of them may not even have electricity or running toilets [at home], but they're raised with a lot of love, and we just continue that at the school. All they needed was an opportunity to get an education to reverse that cycle of poverty. I'm so proud of the kids, so proud of the school, so proud of our Cigar Family community, and I'm so proud of you guys for helping to tell our story because we can't do it alone."
Retailers Give Back
For both the Fuente and Newman families, the Cigar Family Charitable Foundation is a way for them to give back. At the school, you will not see the name "Fuente" or "Newman" anywhere, but the children light up at the sight of Newman and Fuente and know them by name. The Cigar Family Charitable Foundation is an investment of time, money and resources, and both families rely on each other—as well as retailers and cigar consumers—to help support their vision of love. Newman reveals that it takes just shy of a million dollars a year to fund the foundation and all of its initiatives, and half of that money actually comes from tobacconists. The retail partners play a major part in raising funds for the foundation each year, many doing so without actually having seen the school in person. Each year, the two companies release a co-branded Toast Across America sampler pack that contains a Fuente Fuente Opus X cigar and one of J.C. Newman Cigar Company's Diamond Crown cigars. This special sampler sells for $50 and is truly unique in that the retailer makes no money from selling it—all proceeds from this sampler go toward the support of the Cigar Family Charitable Foundation.
"It is awesome, and quite amazing, that retailers—whether philanthropic or not—would actually sell something that not only do they make no profit from, but it may also prevent [customers] from buying cigars they would normally buy. This is truly a group effort with the industry," says Newman.
Since the Cigar Family Charitable Foundation is classified as a 501(c)(3) nonprofit organization, it also relies on simple donations and grants, both of which can sometimes be negatively impacted due to the organization's name and its perceived connection to tobacco.
"We've had the opportunity to get money from grants, but they've wanted us to change the name of our foundation because 'tobacco' in some circles is a dirty word. We said that we can't do that for a bunch of reasons—we are who we are. Fuente has been in the tobacco business for 108 years. We've [J.C. Newman Cigar Company] been in the tobacco business for 124 years. More than that, there are retailers who believe in us, and a cigar family by nature is inclusive, not exclusive. Anybody who smokes cigars and anybody who believes in supporting kids is part of our cigar family," he explains.
The idea behind the sampler pack also runs through how the families run the organization. Whereas some nonprofits disperse donations to cover operations and business needs, the Fuente and Newman families cover all the overhead expenses for the Cigar Family Charitable Foundation. While this is a major investment, it allows for every dollar donated to the organization to go directly to the school and to the children within it. It's the support of the global cigar community and the allegiance between retailers and the two families that have enabled the school to give Dominican-born children an opportunity of a lifetime since it opened on Sept. 6, 2004.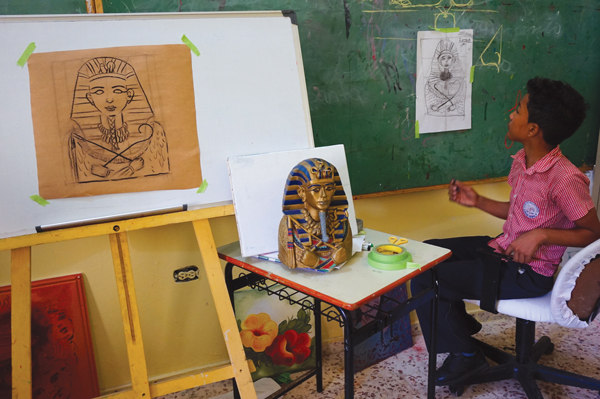 Vision for the Future
The success of the Cigar Family Charitable Foundation has had reverberations far beyond the island nation of the Dominican Republic. In addition to expanding the school to include a medical and nursing program, Newman reveals that Fuente has ambitious hopes of starting a branch of the foundation in Estelí, Nicaragua, where he's currently building a new cigar factory. Newman has also seen and heard of other tobacco companies starting schools or simply giving back to their communities.
"Nobody's got a lock on helping people," he says. "If we can be a catalyst for opening people's eyes to helping their own community, that's great."
To carry on the work he and Fuente have begun, Newman says much will come down to the efforts of the next generation. It has taken a lot of time and energy to make the Cigar Family Charitable Foundation what it is today. With both Fuente and Newman's children now involved in the industry and a new wave of social responsibility being embraced by many business professionals today, it's their new ideas, spirit, energy and perspective that will keep that original vision and sense of obligation to give back alive and active well into the future.
This story first appeared in the July/August 2019 issue of Tobacco Business magazine. Members of the tobacco industry are eligible for a complimentary subscription to our magazine. Click here for details.
– Story and photos by Antoine Reid, senior editor and digital content director for Tobacco Business Magazine. You can follow him on Instagram @editor.reid.