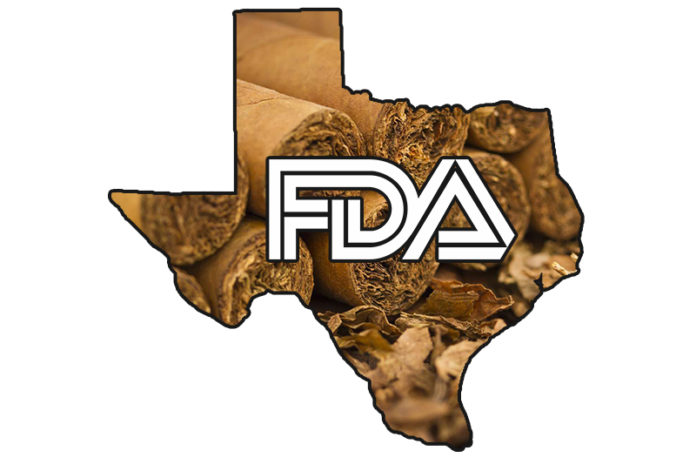 Texas is emerging as a new battlefront in the ongoing fight over the deeming regulations imposed by the U.S. Food and Drug Administration (FDA) and the cigar industry. In early 2018 several Texas-based cigar businesses filed a lawsuit against the FDA's deeming rules [read more here]. Weeks ago, the FDA attempted to not only move the lawsuit out of Texas to Washington, D.C., but also made a request to consolidate it with the lawsuit filed by the International Premium Cigar & Pipe Retailers Association (IPCPR), Cigar Association of America (CAA) and Cigar Rights of America (CRA) [read more here]. If that wasn't enough, a new lawsuit has been filed by those Texas businesses, this time seeking relief from the FDA's warning requirements.
The Texas businesses–including En Fuego Tobacco Shop, El Cubano Cigars and Texas Cigar Merchants Association–make claim that the FDA's new warning requirements violate their First Amendment rights. While cigar packages today already include a warning message that was established by the Federal Trade Commission back in 2000, the FDA looks to add even more requirements for manufacturers and retailers to adopt. Under the new law, warning labels will over 30 percent of two display panels of the packaging (boxes) and 2o percent of advertising, websites and social media posts directed toward consumers, making marketing and communications for retailers even more challenging. Manufacturers and retailers must also submit a plan for their warning messaging a year in advance and get approval from the FDA before proceeding, another hurdle that will make it challenging for retailers and manufacturers to promote their businesses and products. You can read more about warning label requirements here.
The lawsuit also argues that the warning label messaging is not based on fact and are misleading, citing the FDA's own acknowledgment that further studying and research needed to be done and that they were reevaluating its regulation of premium cigars with the issuing of a new advanced notice of proposed rulemaking (ANPRM).
The Texas businesses are hoping to keep their lawsuit separate from that of the trade associations, despite being members of the IPCPR. For now, the Texas businesses are asking the court to delay the FDA's warning plan requirements until the FDA finalizes its reevaluation of premium cigars. As of now, the warning label requirements will go into effect Aug. 10, 2018.