"Be yourself," Wood advises. "We got into this business out of our love for cigars, and our authenticity and transparency in the industry goes miles. Not really feeling a cigar that just came out but has a huge hype? Guess what? I'm going to tell you what I thought and be completely honest. We're not here to just sell you stuff; we're here to guide you through the journey with the things we've picked up along the way, which make us nerd out, get excited and fall in love with tobacco all over again."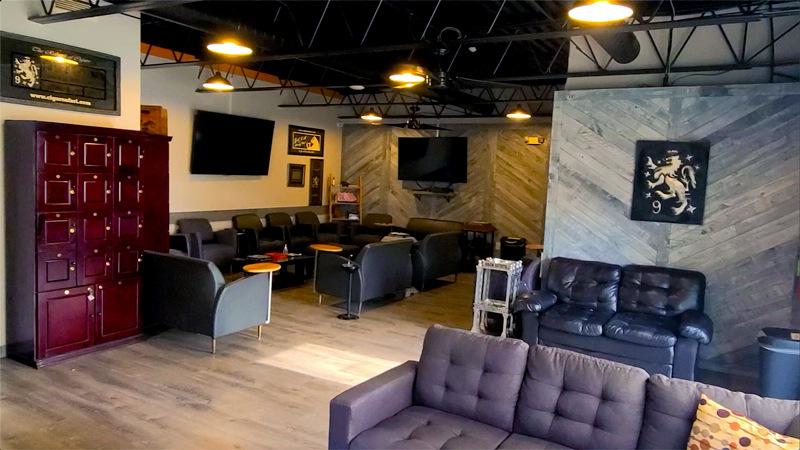 Another way Wooden Indian Tobacco Shop stays front of mind with its customers is by creating various touchpoints for engagement. There are cut-and-light events that feature different manufacturers mingling with and teaching customers about their products. There's also the store's Liga Privada lounge, which is open to all during regular business hours. Through a membership, customers then have 24-hour access to the lounge, which is decked out with five televisions, comfortable seating, a vending machine and games that encourage members to interact with each other. In-store merchandising is also very important to a customer's shopping experience.
"The merchandising part is important, but really it's all just aesthetics: being simple, clean, organized, approachable," says Wood. "The real merchandising comes from the staff. It doesn't ultimately matter how many displays there are when you have your own personal shopper to guide you along the wide aisles and educate you on all things tobacco."
Beyond the physical store, technology helps Wooden Indian Tobacco Shop communicate and engage its customers beyond the physical store. With many of its customers using social media, Wooden Indian Tobacco Shop works hard on its own social media presence. Through Instagram and Facebook especially, the store regularly posts information on featured products, deals, store events and other updates to customers that follow the store on its various social media sites.
Another important touchpoint is Wooden Indian Tobacco Shop's online store. Before the COVID-19 pandemic, Wooden Indian Tobacco Shop had an e-commerce store that served as a complement to the physical store. Once the pandemic took hold of the economy, Wooden Indian Tobacco Shop pivoted and focused more of its attention on improving its e-commerce platform so that it not only served its current customers but would also reach and serve cigar smokers from all over the world.
"Most tobacconists are hesitant to get into e-commerce because the competition is 'lowest price is best.' We truly believe selection is key. E-commerce creates a virtual humidor for anyone to access, and we wanted a way for more people to be able to see what we had to offer, not just the locals."
Wooden Indian Tobacco Shop's online store allows it to remain relevant in a retail world that's been reshaped not only by technology but also by the pandemic. Not establishing the e-commerce store sooner is the one thing Wood says the team would change if given the chance due to the value e-commerce brings to the store's efforts to grow its customer base.
"It's so rewarding to hear someone in California absolutely adored our cigars," he says. "The online marketplace really allows us to make that kind of difference for cigar enthusiasts from all over."
Bring Them Back
Education plays a key role in being a great tobacconist. Learning and educating often is directed toward consumers, but in Wood's opinion, education begins with retailers. Retailers must learn all they can about the life cycle of tobacco—from seed to shelf—and they also need to stay on top of the latest information and interests of customers. This is the only way retailers will be able to provide their customers and communities with the best experience and service possible.
In addition to having a vision for your business similar to what Mayer had for Wooden Indian Tobacco Shop, Wood has a final piece of advice for those tobacco retailers who are interested in growth: You should absolutely treat your customers and staff like family.
"The brotherhood, sisterhood and overall love of the leaf is a feeling unlike anything else I've experienced in my life," he says. "I would wish this feeling on anyone. It's from a real and honest place. We all have such respect for this mighty leaf and what it provides. Imparting that sentiment and love on how you interact with customers will resonate. They will get pulled in and fascinated as much as you are with tobacco, and it will bring them back for more."
This story first appeared in the November/December 2021 issue of Tobacco Business magazine. Members of the tobacco industry are eligible for a complimentary subscription to our magazine. Click here for details.
– Story by Antoine Reid, senior editor and digital director for Tobacco Business Magazine. You can follow him on Instagram @editor.reid.