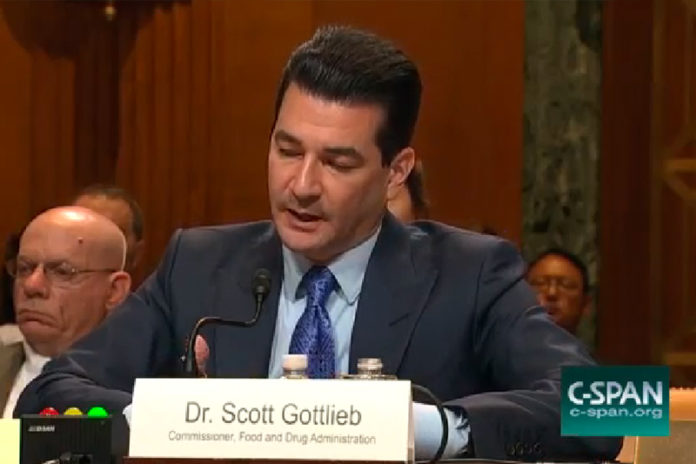 The recently appointed new head of the U.S. Food & Drug Administration (FDA), Dr. Scott Gottlieb, made some of his first public comments about the FDA's stance on the new deeming regulations and premium cigars.
Sen. Marco Rubio (R-Fl.) asked Gottlieb about the deeming regulations as it impacts many small businesses that deal with premium cigars. Rubio, nearly stating that the premium cigar industry was at stake because of the new federal rules, outlined an argument that many in the premium cigar sector have made, stating that it's already illegal to sell tobacco products to anyone under age but that the new rules–which will change how premium cigar and other tobacco products are manufactured, advertised and promoted–will have a potentially negative impact on the tobacco industry and what plans were there to reevaluate the inclusion of premium, hand rolled cigars from the deeming rules.
In his response, Gottlieb responded, "We're currently looking at aspects of the rule. Whatever we do in this regard is going to need to be science-based of course. But, we're cognizant of the challenges faced by small business. I also understand there are a number of legislative measures to exempt premium cigars. If Congress were to act, we'd be happy to work with legislators to mitigate any unintended consequences of these measures."
Tobacco Business has reported on the extension of compliance deadlines brought on as a result of the ongoing litigation surrounding the FDA deeming rules. In the past, Gottlieb has spoken out against the mandate and powers given to the Family Smoking Prevention and Tobacco Control and the ability for the FDA to regulate all tobacco products. Also, Dr. Tom Price, who is the new secretary of of the department of Health and Human Services and Gottlieb's supervisor, supported bills as a congressman that sought to exempt premium cigars from FDA regulation.
Here is a clip from C-SPAN showing the discussion between Rubio and Gottlieb at the Senate Appropriations Subcommittee.