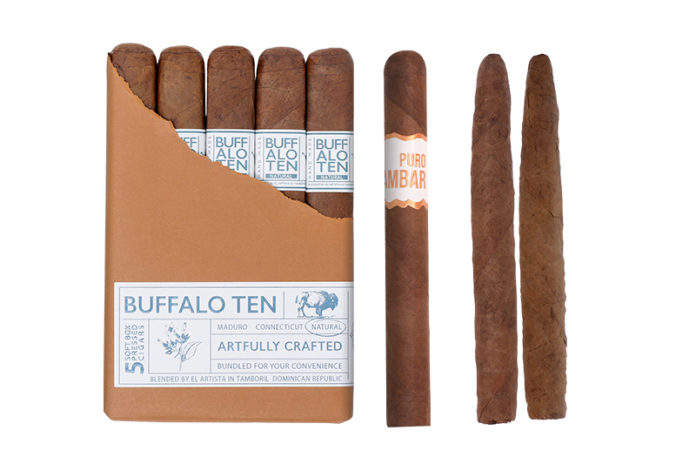 Tabacalera El Artista has several new releases that are scheduled to debut in the final months of 2020 including Buffalo TEN Natural, Puro Ambar and Fugly Claro.
Puro Ambar
Puro Ambar has been part of El Artista's original lineup since 2011. Due to difficulty in getting the original material necessary to produce the cigar, the company had to make a decision on the future of the brand. Puro Ambar features El Artista's own premium Habano wrapper, a proprietary blend of Aristo-grown Criollo tobaccos and Dominican Olor leaf. In addition to the new blend, the band and box have also been redesigned to have a retro-modern vibe.
"Early in 2020 we asked our sales staff about the brand and we were surprised when our all-female sales staff pointed out many female shop owners as well as female cigar consumers are the primary purchasers of Puro Ambar. After some careful consideration we discovered the majority of the brand's smokers were in fact women. We began a research project to identify flavor profiles, cigar shapes, and packaging that appeal to today's female smokers. What we settled on is a medium-bodied blend with a sweet, smooth, and clean finish with hints of exotic spice and nuances of charred oak," commented Kevin Newman, El Artisa's head of marketing and sales.
Puro Ambar will be available in three sizes: Corona, Robusto and Toro with the MSRP ranging from $6-$7 per cigar, before applicable taxes. Each size will come in 20-count boxes with gold and bronze accents.
Buffalo TEN Natural
The new Buffalo TEN Natural features El Artista's own Ecuadorian-grown Habano wrapper, an Indonesian Sumatra binder, and a proprietary blend of Nicaraguan, Dominican and USA filler tobaccos.
Ram Rodriguez, president of El Artista Cigars, commented: "The outstanding sales performance and consumer response of the original Buffalo TEN Maduro meant we had to do a strong follow up. The process was complicated because we wanted a cigar that felt like a Buffalo TEN but was a new smoking experience and not just a clone in a different wrapper."
Buffalo TEN Natural will be offered in just one size–a 6 x 50 soft-box pressed Toro. It will be offered in both a 5-pack for an MSRP of $22.50 per pack or as a single cigar in a 40-count tray for $5 per cigar.
Fugly Claro
One of El Artista's high performing releases of 2019 and 2020 has been its Fugly Cheroots, which the company calls a "break-out success."
"We had no clue this strong and frankly ugly hand-rolled cheroot would take the U.S. by storm, but here we are," commented Newman. "For the follow-up Fugly we wanted to keep the cowboy-style theme but offer it in a whole new way."
Fugly Claro is anew blend that stays true to the Fugly concept of the freehand cowboy-style cigar. It features El Artista's own Dominican Corojo Claro wrapper, no binder and a combination of strong long-leaf ligero tobaccos from the U.S. and the Dominican Republic. Priced at just $3 per cigar, Fugly Claro comes in a 100-count chest style rough-hewn box. Fugly Claro is freehand rolled and its size ranges from 37-40 ring gauge and is generally 5 inches long.
Each of these releases are available to U.S. retailers now. For all the latest news from El Artista Cigars, visit elartistacigars.com.