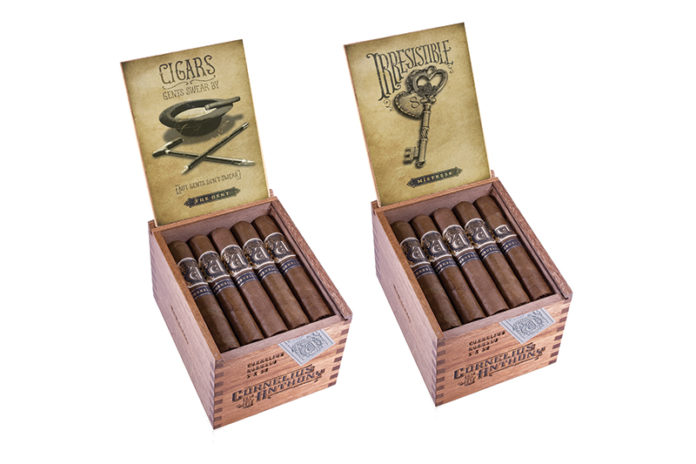 The Bailey family has been involved in the tobacco business since 1866. For almost 130 years, the family focused on growing tobacco on their Southside Virginia farm, but in 1994, Steven Bailey and his father Mac established S&M Brands and began producing cigarettes such as Bailey's, Tahoe, Riverside and Lex 12. In 2015, Steven, a longtime premium cigar enthusiast, launched Cornelius & Anthony Cigar Company, naming it after his great-great-grandfather Cornelius, who started the family's tobacco tradition more than 150 years ago.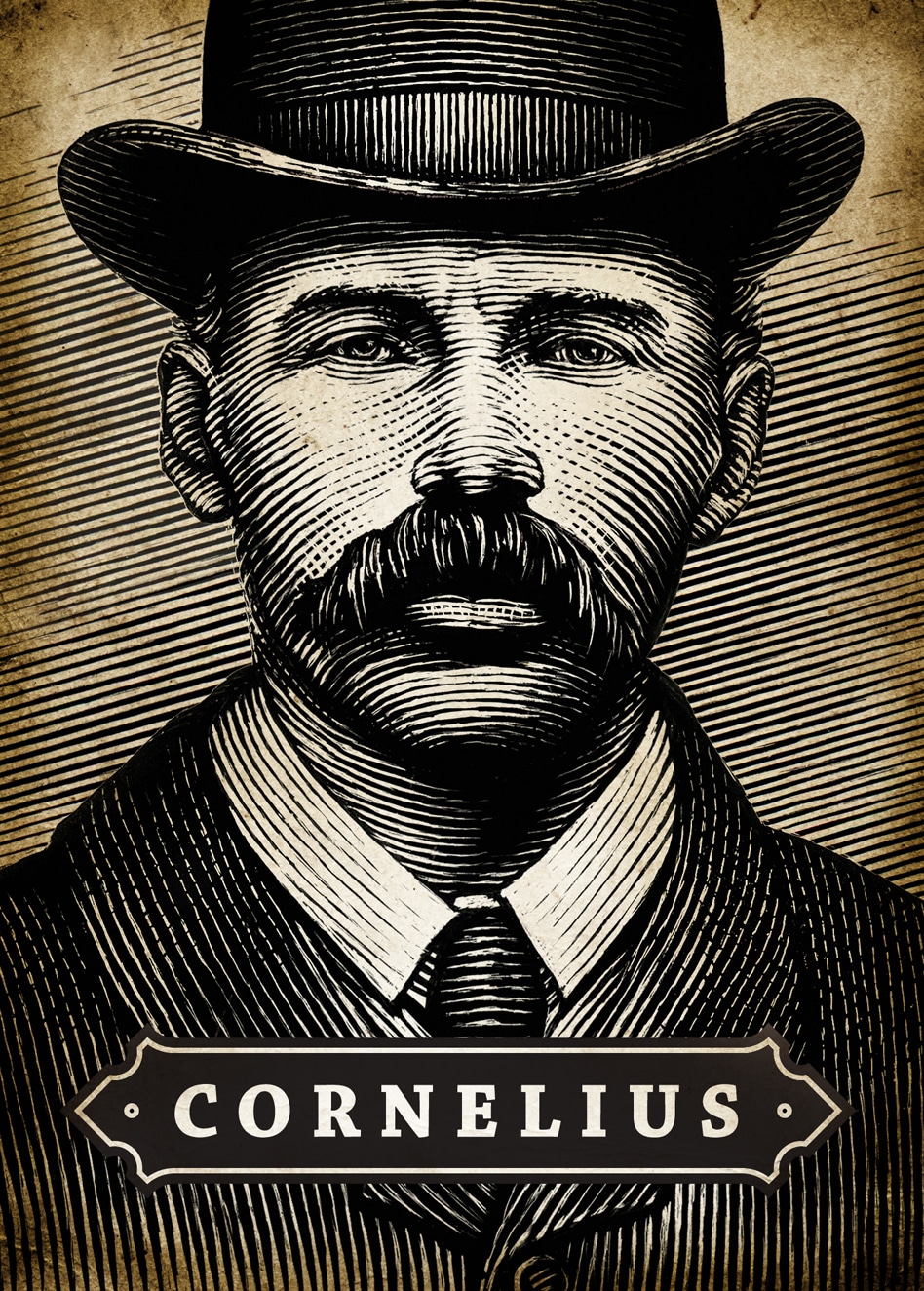 Since the launch of Cornelius & Anthony's first cigar line in 2016, the company has become known for producing cigars accompanied by interesting and sometimes whimsical marketing and packaging details that draw on the Bailey family's long association with tobacco. Cornelius & Anthony's cigars not only satisfy their consumers' palates but also provide unique and interesting stories accompanied by steampunk-inspired graphics on the boxes and bands.
The boxes for the company's Vengaza line feature an image of the 1876 patent drawing of the Bailey (no relation) Machine Gun. Meridian boxes have artwork that depict an octopus' tentacles rising out of the sea to snatch a ship. Daddy Mac boxes include an image of Mac Bailey on a tractor, working the family farm. Cornelius' artwork offers a drawing of Steven Bailey's great-great-grandfather wearing a derby hat. Senor Esugars features the family dog—also wearing a derby hat. And the company's Aerial cigar boxes depict a hot air balloon in flight.
"All of our artwork has an 1800s feel because that's when the Bailey family got into growing tobacco," explains Courtney Smith, Cornelius & Anthony's director of brand development. "All of our lines tie back to Steven's family, our sense of humor or someone in our company. Every piece of artwork plays to all of our senses of humor. We can't help it because it's so much fun, and having fun is the whole reason we make cigars in the first place."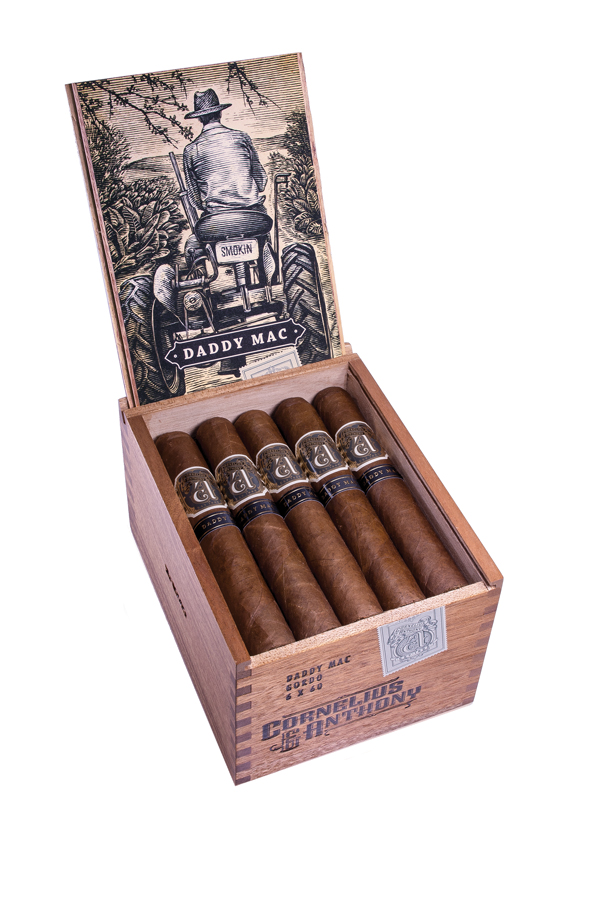 A former premium cigar retailer, Smith has been with Cornelius & Anthony almost since its inception, and she has played an integral part in creating many of the company's cigars and the artwork that accompanies them. Smith is especially excited about the two cigars Cornelius & Anthony will debut at this year's International Premium Cigar & Pipe Retailers Association (IPCPR) show—Mistress and The Gent—because, according to Smith, they not only taste great but also continue Cornelius & Anthony's storytelling tradition through cigars.
"The Gent and Mistress are a matched set, and they balance each other," Smith says. "The Gent is box-pressed, or straight-edged, like you would think a gentleman should be. The Mistress isn't box-pressed, so it's curvy, like you think a woman would be. The Gent is a very sophisticated blend and something that you can smoke at any time of day. The Mistress is really bold and powerful."
Both cigars are made at Erik Espinosa's La Zona factory in Esteli, Nicaragua, and will be available in four sizes: Gordo (6 x 60), Toro (6 x 50), Corona Gorda (5 1/2 x 46) and Robusto (5 x 52). The Gent features an Ecuadorean rosado wrapper, an American-grown broadleaf binder, and Nicaraguan and Honduran filler tobaccos. The sophisticated medium-bodied blend offers gentle spicy notes balanced with sweetness. "The Gent exudes elegance and sophistication from the very first puff," Smith says. "It is refined and opulent and offers consumers the luxurious experience they deserve."
Mistress, which is wrapped in Ecuadorean Habano tobacco, has an American-grown broadleaf binder and a robust blend of Pennsylvania broadleaf ligero filler tobaccos. While the presence of so much broadleaf might lead one to think the cigar will be extra strong, Smith assures consumers the cigars have been blended to provide balance.
"The Mistress cigar is incomparably balanced and delivers vivid flavor from start to finish," Smith says. "Mistress has unmatched depth and character. Our motto for it is: 'Variety is the spice of [cigar] life.'"
The Gent cigar's artwork includes the derby hat seen on the packaging of the company's Cornelius and Senor Esugars cigars. This time, the derby is turned upside down and is being used as an ashtray. A walking stick that has been snapped into two pieces lies nearby, and the picture is accompanied by the phrase, "Cigars gents swear by (but gents don't swear.)" While elegant, sophisticated and maybe a little bit foppish, Cornelius & Anthony's gentleman evidently has a backbone.
The Mistress' artwork includes a room key below the word "Irresistible." While on the surface the cigar's name and iconography hints at a possible extramarital affair between The Gent and the Mistress, Smith says the imagery is intended to invoke a completely different story.
"The name pays homage to all the women who don't appreciate that their husbands or boyfriends go off and enjoy a cigar by themselves," Smith says. "They feel abandoned, and in that sense a cigar might be seen as a mistress for their men. That's the angle we were going for, anyway."
No matter what conclusions consumers may draw about the relationship between The Gent and the Mistress, they'll be treated to a good story over the enjoyment of a pair of premium cigars. Neither Smith nor Steven Bailey would have it any other way.
"The Gent and Mistress tell a story," concludes Smith, "and we're all about a story."
This story first appeared in the July/August 2018 issue of Tobacco Businessmagazine. Members of the tobacco industry are eligible for a complimentary subscription to our magazine. Click here for details.
– By Stephen A. Ross, senior editor of Tobacco Business Magazine.