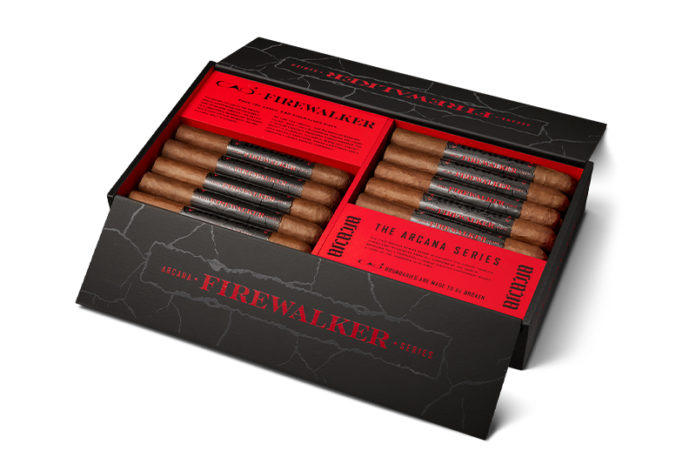 General Cigar continues to focus on old-world processing methods with another release within the CAO Arcana series. For 2022, CAO will be releasing the CAO Arcana Firewalker, a blend that is inspired by the Chincagre method of aging tobacco. This cigar will be presented in just one limited edition size.
Chincagre is a very old process used to age tobacco used by local tobacco farmers in Western Nicaragua. In the region of Masatepe where Firewalker's filler tobacco is grown, the tobacco is placed into a pilón that is buried deep in volcanic soil. The subterranean conditions allow the tobacco to ferment naturally and locks in a sweet and aromatic quality to the tobacco. After two months have passed, the Chincagre process is considered complete, and the pilón is then transferred to the factory for nine months of secondary fermentation.
"The Arcana series is an opportunity for us to unite CAO fans with rare tobacco methods they might not otherwise learn about on their own. This is our way of sparking conversation about what it takes to make a great cigar. We hope it also speaks volumes about our passion for tobacco and the lengths we'll go to deliver exciting cigars to our fans," says Rick Rodriguez, blender and brand ambassador for CAO cigars.
The CAO Arcana Firewwalker is wrapped in an Ecuadoran Habano Rosado tobacco leaf and has a Nicaraguan-grown binder and and filler tobaccos. This is a medium-bodied cigar with layers of spice and vibrant savory notes of Ecuadoran tobacco and earthy-sweet quality brought out and enhanced by the Chincagre aging the Nicaraguan filler undergoes.
CAO Arcana Firewwalker is handcrafted at American Caribbean in Nicaragua and will be available in just one size measuring 6 1/2 x 56. The cigar will come packaged in 20-count boxes with each cigar having a suggested retail price of $11.99. Only 5,000 boxes of this cigar will be produced and distributed exclusively in the U.S.
For all the latest news from CAO Cigars, visit caocigars.com.