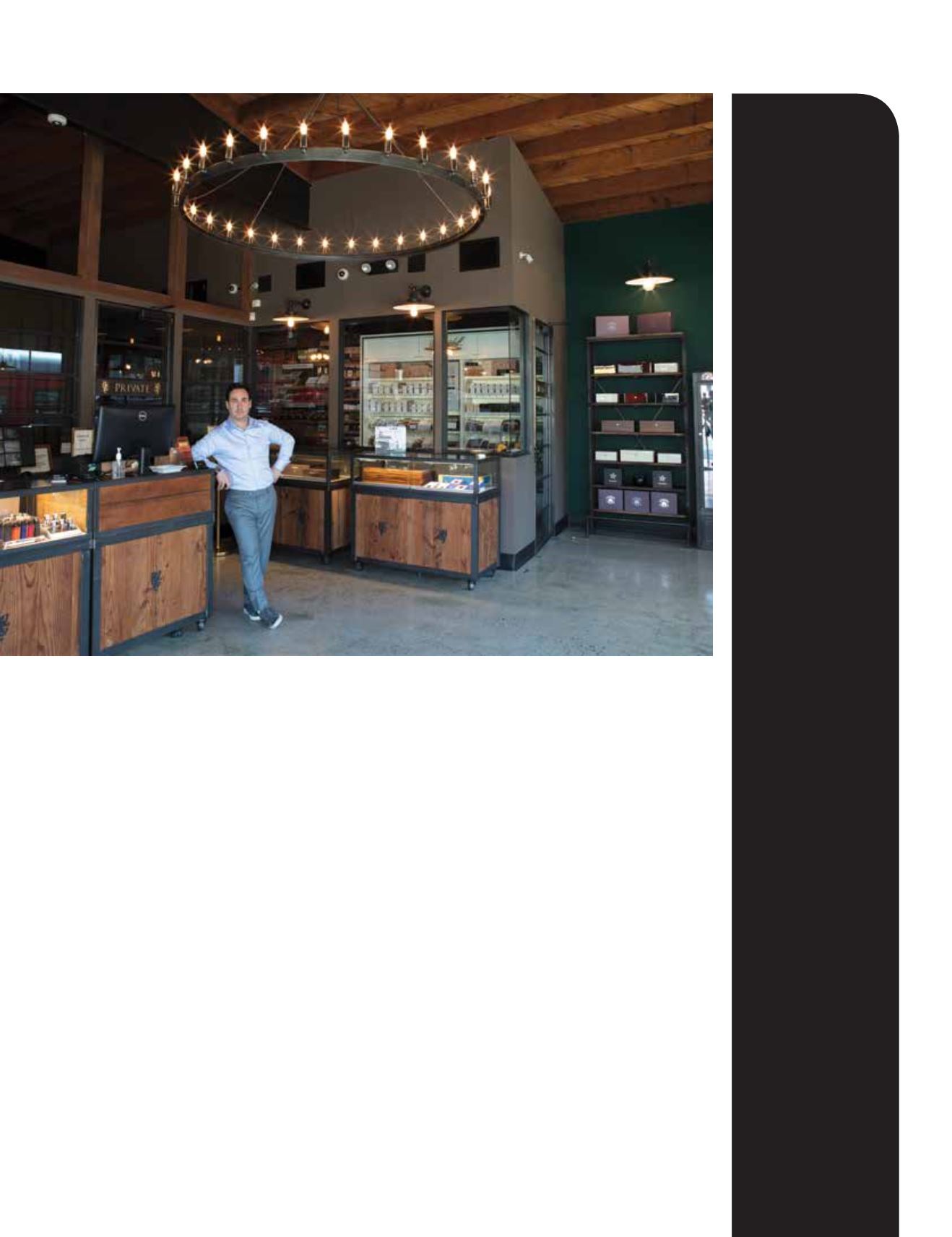 David Weiss
Continued
[ 70 ]
TOBACCO BUSINESS
[
SEPTEMBER
/
OCTOBER
|
17 ]
Leveraging Longevity
With roots that date back to 1893 (see sidebar, "124
and Counting"), the Lone Wolf Cigar Company is no
stranger to rebranding and reinvention. The compa-
ny operates as a trilogy—with manufacturer, retailer
and lounge operator components. Since 2014—when
the 3,000-square-foot retail space opened in West L.A.,
housing the Lone Wolf Cigar Lounge—the company
embarked on its most recent rebranding phase. Today,
it's in a position to offer the expanded smoking space
that smokers crave.
"I remember back when I was single and we only had
the small store in Santa Monica; I would make it a point
to invite other 'lone wolves' to the store's little lounge on
holidays like Christmas and Hanukkah," recalls Weiss.
"Those of us with no friends or family nearby would
hang out and smoke cigars, and be alone together."
The new lounge is now home to a lot more cigar
camaraderie in "upscale vintage" surroundings that
inspired a new logo and website, as well as the short- and
long-term plan for more locations of its kind under the
Lone Wolf banner.
Great Global Goal
"My plan is to expand as a great luxury brand global-
ly," Weiss maintains. "Anywhere you go, you will be
honored as a lone wolf—that's my goal. I would say a
combination of company stores and franchises are like-
ly in our future, with the expansion of our wholesale
and distribution operations."
Currently, there is another facility in California under
negotiation that Weiss can't comment on yet. He fore-
sees expanding throughout California first—ideally with
three to five new locations over the next three to five
years. "It depends on the location, but our first focus will
be on building multiple lounges," he says. "We are also
willing to open more boutique stores."
Design elements of the West L.A. lounge—all done
in-house, according to Weiss, who likes to get his "ama-
teur builder" hands dirty—include a dropped ceiling,
metal-welded furniture with brown leather touches, rich
green walls, vintage door closers, metal windows, vin-
tage books and an overall warehouse-district/downtown
London/New York/Chicago vibe, circa 1910. "We took
the handcrafted, squeaky-hinge approach," he relays.
Weiss got his inspiration from pictures that he found
of the original late-1800s store, with horses and bug-
gies parked out front. "We wanted to create something
more tangible and real in our iPhone-infatuated soci-
ety," he states.
Like many successful cigar lounge operators, Weiss is
cognizant of creating a space where cigar smokers from all
walks of life feel welcome, "from a Montana ranch crowd
to the Four Seasons world. You launch more effectively
124 and Counting
There's good reason
why the Lone Wolf Cigar
Lounge in West L.A. fea-
tures turn-of-the-century
(20th century) decor with
modern conveniences.
The Lone Wolf Cigar
Company, based in Santa
Monica, California, dates
back to 1893, when it was
established by Sargent
E.E. Baracks as one of the
first tobacco stores/news-
stands on the West Coast.
It didn't take on the
Lone Wolf name until
1996, when it was re-
established by cigar-loving
celebrities Chuck Norris
and James Belushi
(Norris starred in the
1983 action film "Lone
Wolf McQuade.")
In 2000, it was re-
established once again,
by its current leader and
founder David Weiss, for-
merly of the talent agen-
cy/corporate entertain-
ment world.
Within the borders
of the historic district in
downtown Santa Monica,
the flagship LoneWolf
Cigar Boutique keeps the
1893 spirit alive, with a
high-end, vintage approach
to selling cigars. Original-
ly, this 1,000-square-foot
location had a small lounge
within. However, in 2006,
rising anti-smoking regula-
tion sentiment convinced
Weiss "to make life easier
for my landlord and neigh-
bors," by "canning the
on-premise smoking"
and keeping it just as a
retail space.
In 2013, after a
seven-year hunt for the
"perfect lounge place,"
Weiss found the
single-tenant rustic
building in West L.A. By
late 2014, it had opened
as the 3,000-square-foot
second-store location,
housing the private Lone
Wolf Cigar Lounge.
And the Lone Wolf
won't stop there. Plans
are to expand its lounges
within the state
and beyond.