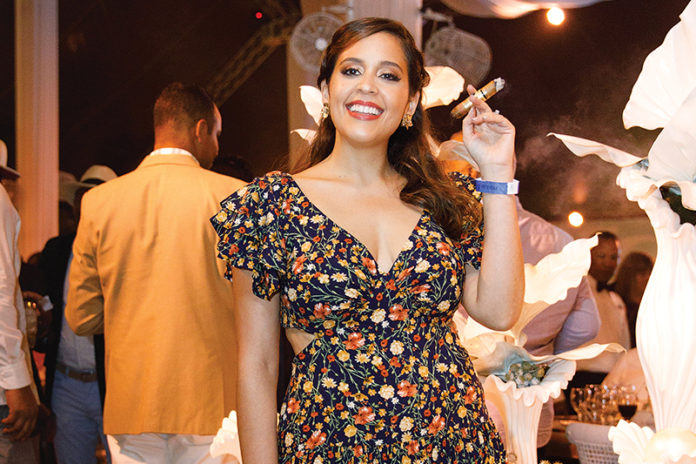 While the previous six generations of her family were involved in growing tobacco and making cigars, Nirka Reyes imagined a different career for herself. Growing up, Nirka developed an intense love for reading and devoured any book she encountered. She also developed an interest in finance, banking and economics. She was indeed a fortunate young woman who was raised in a loving home by parents who encouraged her interests and taught her that everyone was equal regardless of their gender, race or economic background. While she respected her family's history in tobacco and cigars—which began in the 1850s when the family immigrated to the Dominican Republic from Spain—Nirka thought that she wanted a career in banking. A year spent abroad as an exchange student in Switzerland, however, became the first chapter in the story of her transition to a career in the premium cigar and tobacco industry.
"Patrik [Martin, the owner of Patoro Cigars, which is based in Switzerland] used to pick me up and take me to his store in Olten," Nirka reflects. "There I met people who enjoyed cigars, and I thought that was very interesting because I had only seen the factory and the fields. I had never seen the consumer engagement side, and that brought a whole new level of appreciation and interest in my family's business."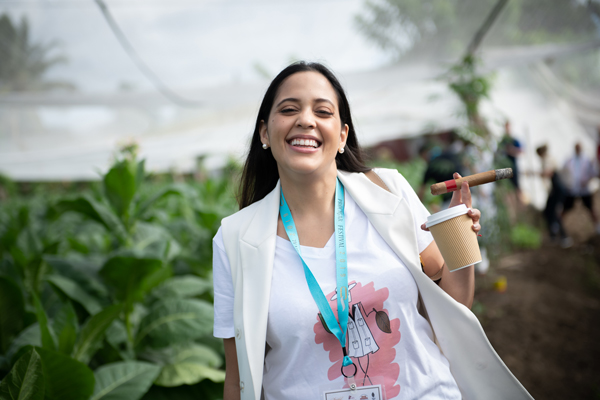 Thirteen years after that experience as an exchange student, Nirka is now president of her family's premium cigar company, De Los Reyes Cigars, which produces its own cigars—Saga, Saga Short Tales and Don Julio—and makes Patoro, Puros de Hostos, Debonaire and Indian Motorcycle cigars for other companies. She is also the administrative vice president of Swisher Dominicana and serves as secretary of Procigar, the association of Dominican cigar manufacturers. At 31 years of age, Nirka has become something of a renaissance woman who is intimately involved in many different pursuits. Often working 13 hours a day between De Los Reyes Cigars and Swisher Dominicana, she is an important contributor to not only her family company's success but to the overall well-being of the premium cigar industry. She is an articulate and devoted advocate for women's equality and frequently writes about issues that women face on her blog. Furthermore, Nirka is active in several charitable organizations in Santiago, Dominican Republic. She describes herself as a "rhino who sees a wall and wants to knock it down" and as a "passionate storyteller" who appreciates that, while she had initially envisioned a different path for her life, being in the cigar business has turned out to be the right journey for her all along.
"Amazingly, something I never thought I would do brought me back to me," she says. "I will always appreciate that."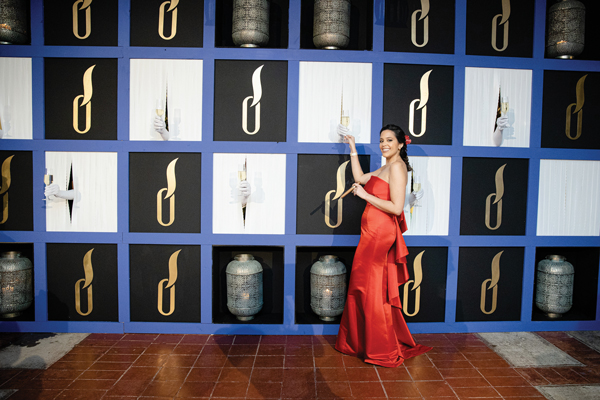 Starting the Journey
It's a tradition for some members of the Reyes family to gather at the De Los Reyes Cigars factory every Friday afternoon to enjoy cigars, drink coffee and share their experiences from the week with each other. When Nirka returned to the Dominican Republic from her exchange student experience in Switzerland, she asked her father, Augusto, if she could join the informal weekly gatherings. He agreed, but when she told him that she would like to start working at the factory, he told her to focus on her studies instead. Augusto's refusal created a wall that separated Nirka from her wish to work at the factory. True to her rhinoceros-like nature, she strived to knock it down.
"I wouldn't accept that," Nirka explains. "I went to human resources, and I applied for a job. The human resources manager hired me as her assistant, and I started working at the company as I completed my education."
Once Nirka had completed her university education, she left her administrative assistant position at De Los Reyes Cigars for a job in banking and finance—what she thought she always wanted—but the career wasn't quite as fulfilling as she had hoped. She hated it. She was so miserable, in fact, that Augusto could read it on his daughter's face and invited her back to work at De Los Reyes Cigars. This time, Nirka would work in all the areas of the cigar factory and tobacco fields and dive into all of the processes that go into growing excellent tobacco and making great cigars. The opportunity changed her life and eventually changed the course of the company.
"Our general manager told me that although I was Mr. Reyes' daughter, I had to learn from the ground up," Nirka says. "It was fantastic. I went to the fields and the processing center to learn [about] fermentation. I worked with the box-makers. I sat down with the employees and learned from them. I sat with Uncle Leo [Reyes, who runs the family's tobacco growing operation] every Friday and drank coffee and smoked cigars and learned to grade tobacco. The more I learned, the more I got engaged into the process and the industry. I now believe that I wasn't going to do anything else in my life except be in the cigar business."
Making Her Own Mark
Nirka became so involved in the process and the industry that a year after she rejoined De Los Reyes Cigars Augusto promoted her to run the factory. While the Reyes family had been tobacco growers for generations, the family's cigarmaking operation is a relatively new development. Augusto started making cigars in 1992 when he established Corporacion Cigar Export (CCE). CCE mostly made cigars for catalog companies such as Thompson, though it also had a few brands of its own. By the time Nirka received a promotion to the position of factory manager in 2013, CCE produced 12 million to 13 million cigars annually and employed hundreds of workers. While producing so many cigars for mail-order companies proved profitable, a key ingredient to the company's overall success was missing.
With Augusto's blessing, Nirka decided to stop producing cigars for all of the mail-order cigar companies. For the customers that CCE would no longer be making cigars for, Nirka agreed to continue production for their brands for one year in order to give them time to find other suppliers. Instead, the factory would produce its own brands and cigars for a select few customers, such as Debonaire and Patoro. Reducing production meant making difficult decisions regarding staff as well. More than a few of the employees wondered what this "little girl" who they watched growing up was doing. Yet she had the support of her father and the rest of the family.