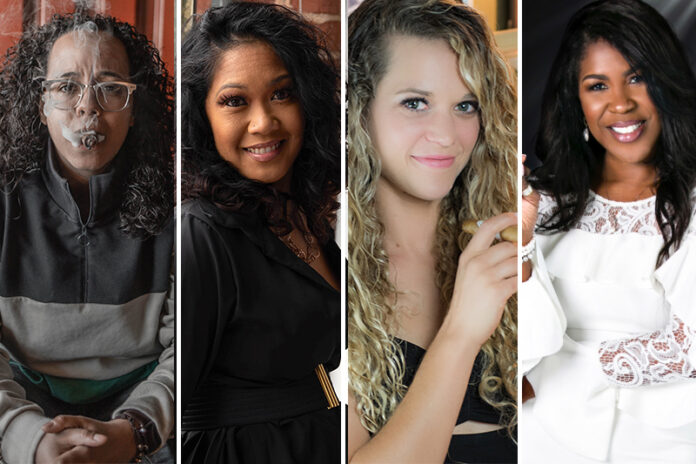 For a second time, Tobacco Media Group (TMG) hosted "Sisters of the Leaf," a popular TPE Ignite educational panel that was held online in January. Moderated by Erica Arroyo, host of The Lounge Experience (TLE) podcast, the panel featured Temi Bush of Emperors Cut Cigars, Riley Clark of Shore Thing Cigars and Janelle Lamar of ATL Cigar Co. The panelists discussed the role of women in today's cigar industry, some of the issues that are keeping many women from achieving equality within the industry, as well as what needs to be done now to make the industry more inclusive and welcoming to people of all genders and demographics.
Owning Their Place
Long-held stereotypes and beliefs that the cigar lifestyle is dominated by and exclusive to men plague many women who are working in the cigar industry today. For that reason, Clark says the most important action women can take right now to address this issue is to exude confidence and show others that women belong in this industry just as much as their male counterparts.
"The first step that we need to take is that we need to own it, and we need to have the confidence," said Clark. "Here I am, this is what I do, this is what I provide, and that's what I'm here for. Communication-wise, I would say be open with who you are, and be proud of that and own it. Image-wise, present yourself the way you want to be seen. There's no expectation that we have to be dressed up or look a certain way. We're all beautiful women who love cigars, and that's that. We just need to own that and make sure that's what we're presenting to the world."
Bush, adding a manufacturer's perspective to Clark's comments, notes that women make up anywhere from 80 percent to 90 percent of the workforce in cigar factories, something many retailers and consumers unfortunately don't get to see or hear about on a regular basis.
"We touch the cigar so many times as women that we should be able to enjoy it right alongside everyone else without feeling some type of intimidation," said Bush. "We are at the table now, and it's important for us all to know that. It's important to see other women in the industry who have the knowledge, the know-how, and [who] are educating us on a regular basis so that we can feel more confident when we walk into the environment and partake in the same craft."
The actions women can and should take as they strive for equality in the cigar industry isn't an easy question to answer, according to Lamar. "I think that it's treated as an either/or situation. Either you're hypersexualized and it's all about the show, or you're not a sex symbol. You're just good for what you know and for your experience," she stated as she addressed this complex issue. "But we're not an 'either/or'—we can be both."
While all of the panelists encouraged women to take ownership of their sexuality, they also urged women in the industry to consider what they're posting on social media and how those posts not only influence how others view them but how they also view all women who work in the industry and smoke cigars. Women should post reviews of cigars and also share their knowledge with others without feeling like the post has to be sexualized in any way to be "liked" or read by others.
"The keyword for me about this is intention," said Lamar. "What is the intention of the post? Your intention will help you share the right message. Be thoughtful in your messaging. Is it right for you and your values? Does it speak to the larger values of women as multifaceted beings within this industry? Just be thoughtful and mindful of your intention."
"I always think of my daughters when I try to send a message across," added Bush. "What will they think when they look at this? Did I send the right message? That helps me. Whether you have daughters or not, make the best decision for women as a whole."
Lamar, who is also a mother, says it's also important to teach sons early on that although there may be differences between the sexes, men and women are equal and should be treated accordingly.
Another issue that doesn't often get spoken about is how there is some division among women within the industry. "A lot of people don't realize a lot of women in the industry are kind of going against each other as well," Arroyo stated. "You could be doing the most fantastic thing in the world—you could have a cigar line or run a retail shop—but a lot of women are just not really as supportive of each other as you would think."