Another stereotype that had to be accounted for was the idea that all lounges were stuffy and full of smoke. They didn't want people to leave Eight Lounge smelling like cigar smoke and opted for a good ventilation system that continually cleaned the air and the use of needlepoint bipolar ionization that would eliminate visible smoke in the room so that it never had a haze to it.
Another key component of Eight Lounge is its hospitality program, something most Vegas businesses rely on for success. Eight Lounge's staff continually tracks the details, whether big or small, that will allow them to connect with the customers enough to get them to return. This could be accomplished by remembering what drink they preferred with their cigars or when their birthday is, for example.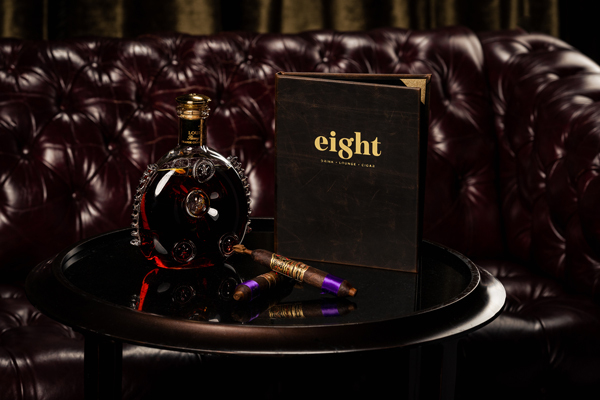 "We live by the philosophy that everyone is a VIP, but we also know that the more we know about our guests, the better we can provide an excellent experience for them," Bravo explains. "We really try to get to know them on a personal level so we can better understand their needs and keep them happily coming back."
Eight Lounge's humidor is populated by many well-known brands, including Drew Estate, Montecristo, Fuente, Padron, Ashton and My Father Cigars, among others. When building out the lounge's cigar offerings, Bravo and Chesnoff wanted to ensure that Eight Lounge had a wide range of strengths represented in its humidors and that they also had a few infused options. The goal was to have a selection that would accommodate everyone, from those having their first cigar to the more seasoned cigar smoker. Outside of cigars, Eight Lounge has a selection of different lighters, cutters, ashtrays and personal humidors.
Whether you are someone that enjoys smoking cigars each day or only on special occasions, Bravo is confident that the experience you'll have at Eight Lounge will be unlike any other you'll have elsewhere in Vegas. For now, Eight Lounge's best marketing tool is word of mouth. It's the hope of everyone at Eight Lounge that each visit will be so good that guests will go home and share their experience with friends and family, generating interest in others to visit the lounge when they're in Vegas. Bravo plans to measure Eight Lounge's success by the feedback it receives from its patrons. Generally, if people are happy with the experience they have while at Eight Lounge and want to come back again, that will be viewed as a success.
This story first appeared in the January/February 2022 issue of Tobacco Business magazine. Members of the tobacco industry are eligible for a complimentary subscription to our magazine. Click here for details.
– Photography courtesy of Eight Lounge