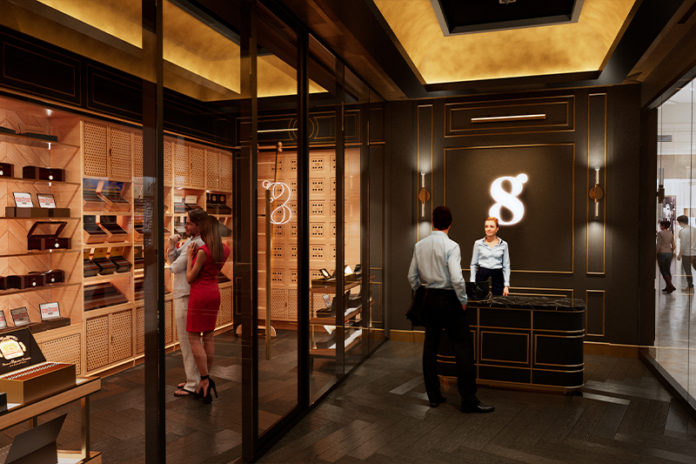 Eight Lounge is at both an advantage and disadvantage being located in Las Vegas since it's located in a casino with over 3,000 rooms and millions of people traveling to the city in search of an experience like the one Eight Lounge is offering. That being said, the biggest challenge the new cigar lounge faces is competing with all of the other businesses and experiences available in Vegas. These factors all inspired Bravo and Chesnoff to create a venue with a high level of detail, service and offerings to separate their cigar lounge from others in the city.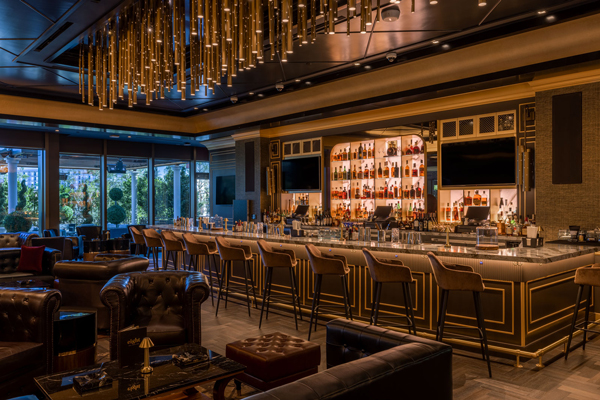 The Details
Bravo and Chesnoff partnered with Resorts World to bring their lounge concept to life. "We have a great relationship with the president, Scott Sibella, and felt that the newest property on the Strip was the best place to fill this need," Bravo explains. "We believe that the biggest differences between Eight and the other cigar bars and lounges are the level of service, products offered and overall experience we will provide. We are the only cigar lounge on the Strip with both liquor lockers and private lockers in the humidor. Also, our ventilation system is the best on the market. Most cigar lounges recycle air and use a filter to clean it whereas we take 100 percent new air from outside and exhaust the air in the room out every four minutes. Finally, we have a patio on the Las Vegas Strip that gives people an intimate outdoor experience."
"Eight" was chosen as the name for the new lounge because of its perceived luck and good fortune in the Asian culture, according to Bravo. "I am a very superstitious person, and eight has been a very important number to me for my whole life. I try to put it in anything I do. From the amount of cushions on my couch to my phone number, I utilize the number as much as I can."
Throughout the opening process, Bravo and Chesnoff did plenty of research and had many conversations with people within the cigar industry. As with any new venture, they received mixed reviews and feedback. Some advised them to be cautious of the industry as a whole due to more cities and casinos going smoke-free. Others, however, were positive and thought the concept of Eight would be a home run with cigar smokers.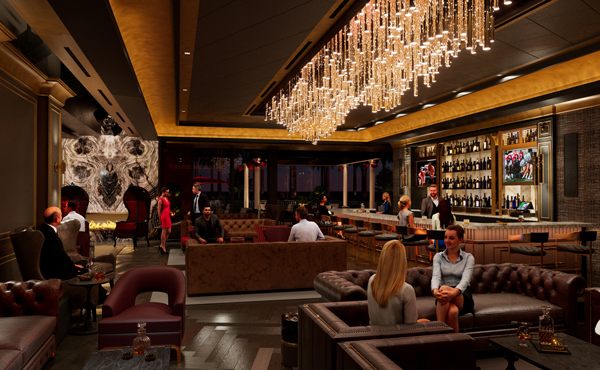 When Eight Lounge was a go, Bravo and Chesnoff partnered with Clique Hospitality, a business that had a proven record of creating unique experiences. First, the group worked to identify what would entice avid cigar smokers to come to this new lounge. To attract new customers, it was discovered that educating people about cigars and removing the stigma that some people have about cigars was key. One stereotype that had to be accounted for was the idea that cigars were just for men. Every aspect and detail of Eight Lounge was carefully selected with the aim of creating a space that was inviting to everyone, from the cigar selections to the lounge's cocktail menu.
"Cigars are typically marketed to men, so we are bringing in cigars that are softer on the palate, and we're creating cocktails that pair well with them to create a great experience for everyone. In addition, with features in the venue like the ventilation system, our goal is to create an experience where anyone can feel comfortable to come in and not smoke a cigar," Bravo explains. "I want you to feel as if you are in an old-school study with a modern twist but still accessible to anyone that comes in. Details were everything. From the chandelier to the phone chargers at the bar to the brass trim on the liquor lockers, everything has a purpose. Also, as I said, the number eight has great significance to me, so you will find that many details have the number incorporated into them, such as the number of sections in the humidor, the octagons on the exterior and the design of the fireplace marble."