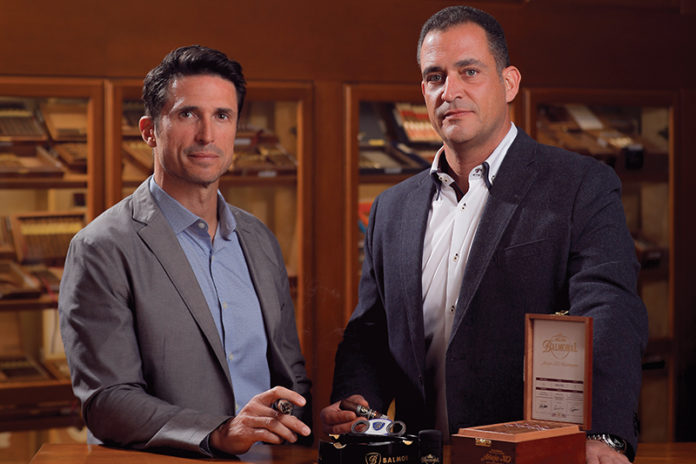 George Margioukla and Jaime Florez-Estrada possess nearly 40 years of successful experience in the tobacco industry. Margioukla, president of Royal Agio Cigars U.S.A., started his own business to put himself through college, and that business eventually grew to employ nearly 300 people worldwide. In 2000, he joined Philip Morris, now known as Altria, where he augmented his entrepreneurial leadership skills in all phases of the business—working in the cigarette, cigar, moist snuff and vapor divisions—in sales, sales leadership, national accounts, trade marketing, operations, brand management and strategy development. He managed both small and large teams and was intimately involved in launching Altria's first vapor products. In 2015, Margioukla became president of Royal Agio Cigars U.S.A., a startup division of Royal Agio Cigars based in the Netherlands that is now a part of Scandinavian Tobacco Group.
The arc of Florez-Estrada's career is equally impressive, and it includes leadership roles in strategic planning, business development, brand management and sales. He joined Altria in 2002 after spending three years at Unilever, where he developed new products, activation plans and a global brand campaign for Dove. At Altria, he developed and introduced new products, promotion plans and consumer-engagement initiatives for several brands, including its flagship brand, Marlboro. After Altria acquired John Middleton Co., Florez-Estrada spearheaded the integration of both companies' marketing organizations and led the strategic development of Black & Mild's growth plans both in the United States and internationally. He came to the premium cigar industry through Drew Estate, where he developed long-term marketing plans that focused on strengthening existing brand equities, developing an extensive pipeline of new products and enhancing consumer engagement strategies. He then joined Royal Agio Cigars U.S.A. as executive vice president of marketing in 2017 to help build the company and develop strategies and plans to establish legitimacy for lesser-known brands such as Balmoral in the highly competitive U.S. premium cigar market.
With so much varied experience behind them, they both agree that the most effective marketing campaigns and the best ways to develop a business focus on the people who matter most—the end consumers, or as Florez-Estrada puts it, "where the rubber meets the road." After all, consumers are the people who ultimately decide if a business and its products will have staying power. Both Margioukla and Florez-Estrada reflect on the tools and strategies that tobacco businesses should use to build relationships with consumers and thus create stronger companies.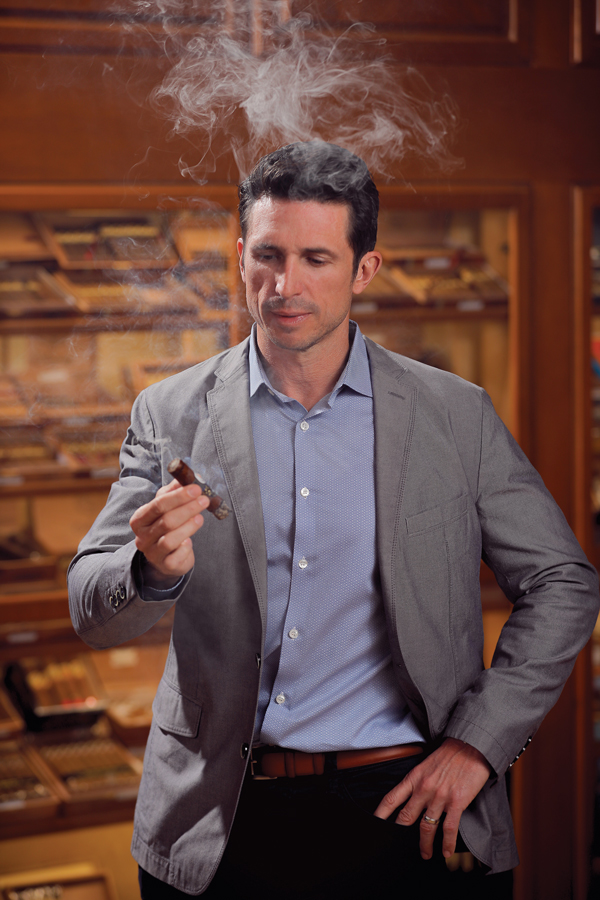 Tobacco Business: What are some best practices for a cigar company of any size to adopt for connecting with consumers in the 21st century?
Jaime Florez-Estrada: Cigar companies should be deeply entrenched in the world of social media, if they aren't already. Digital media is the primary source for industry news for cigar smokers, and it will only continue to increase in importance over time as these channels continue to offer more powerful ways to engage with consumers. The real opportunity for companies within the digital space is to be strategic about what is communicated within these platforms and how it leads to building the brand over time. The messages and images posted should all align with the overall brand essence and use a tone of voice that resonates with their intended audience. Too many companies today use it solely for posting random images and thoughts that don't add any real value to—or are inconsistent with—the brand message, which can be a waste of resources.
George Margioukla: Focus on being genuine and transparent while sharing the brand story. Too many times, companies fall into the trap of trying to replicate a competitor's success versus sticking to their own DNA and their point of differentiation. By understanding your brands' unique points of differentiation, this gives you permission to then invite others into the brand and the journey. Marketing should always be a key part of any business development, and the two should always be coordinated. In order to be successful, they should be consistent and connected. The marketing aspect is merely the vehicle to communication, and as such this is critical when you think about developing any business or business opportunity.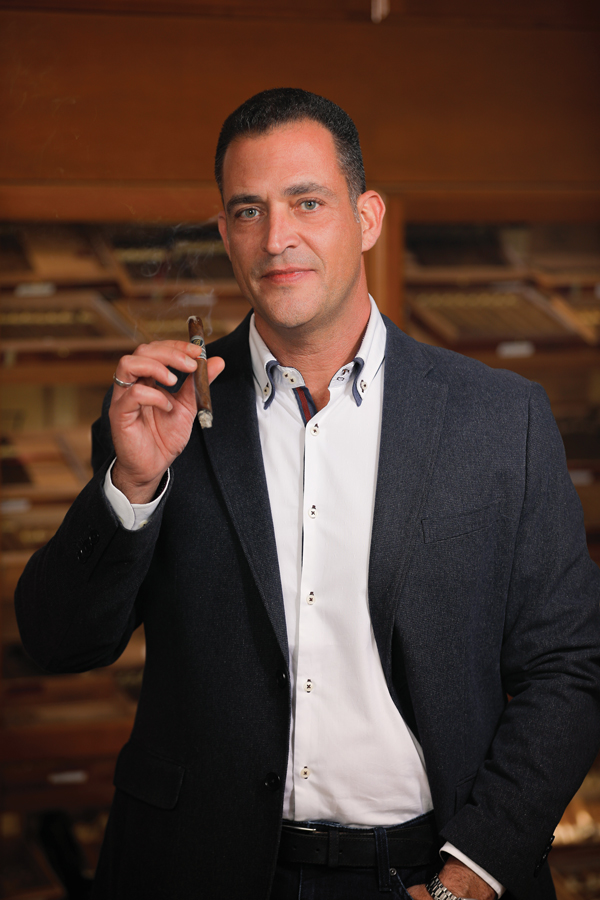 How do you develop a consistent brand voice and then measure the brand's voice resonance in the market?
Margioukla: Build a consistent presence and personality that's easily recognizable. A brand's voice should be the personality or the perceived personality of the brand; this is then integrated into all communications across the company. Your brand's voice should be able to cut through all the noise and make a lasting impression on the end consumer. If you do this successfully, the brand will increase in demand.
Measuring the results is critical, and we do this in many ways. I refer to it as the underlying "health indicators," which include a growing monthly/quarterly/annual volume measure; similar measures for increasing points of distribution and reorder rates; and trade, media and consumers talking about your products. The most prestigious measure is receiving compliments from other manufacturers on how great your cigar is. This is truly the ultimate compliment, and it doesn't occur often, but when it does, you know you have something special.
Florez-Estrada: When it comes to building any business, without successfully building a brand you risk fading into a sea of "unbranded" competitors that are misunderstood and thus more easily dismissed. Developing brand identity is one of the first steps any company should take in order to help define what they really stand for today and desire to stand for in the future. What makes them different from everyone else? And how do they bring unique value to the marketplace? Only then can a company or brand begin to develop a voice and related communications that will build upon a foundation that will ultimately make it stronger and more differentiated over time. Importantly, when building a brand, you need to work toward building a positioning for the brand that is unique/ownable and cannot be easily replicated by a competitor.
When developing a marketing campaign, it must be anchored in a brand's identity and bring to life, in an engaging way, the most important aspects of the brand. This means prioritizing the most important points you want the audience to take away. A successful campaign must also deliver consistent messaging across formats, whether you're talking about print or digital marketing, point-of-sale materials or event-related communications. It's really a 360-degree approach, and it takes time for your audience to internalize it, so a campaign must live for at least a few years to gain traction. It's never a bad idea to refresh a campaign every few years; however, be cautious not to give in to your desire to be overly creative in the process to the point where your brand message gets diluted or lost.
Measuring a brand campaign's success includes both qualitative and quantitative measures. On the quantitative side, it's difficult to measure the direct effect of a campaign on actual sales since, most often, there is significant lag time between when a consumer sees an ad and when they decide to make a purchasing decision. However, at the same time, advertising is an important method for generating broader brand awareness and interest. Digital platforms, on the other hand, can more directly gauge consumer engagement with your brand's campaign via comments or posts, click-throughs and website visitation data.
Additionally, you are able to gauge ongoing general brand interest via media exposure and at frequent face-to-face events where you get to spend more time speaking one on one with consumers. So, whether quantitative or qualitative, you want to ensure you are gathering data along the way to help determine the state of your brand health and then make decisions about how to strengthen it moving forward.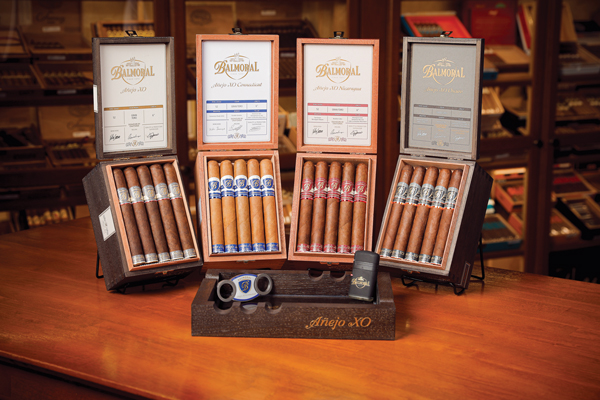 How can premium cigar companies continue to innovate in areas outside of new products?
Florez-Estrada: Innovation is typically associated directly with new products; however, it can come in many forms, from more simple to more complex, that can help companies stand out and increase engagement with key stakeholders. The idea of innovation really centers on adding incremental value, no matter the form. The range can span from creating enhanced consumer-centric brand experiences—products, packaging, events, websites or social media—to offering unique incentive items to promotions that actively engage consumers. Strategic innovation on a broader level can help keep brands fresh and exciting in the minds of the trade and consumers, as well as drive incremental growth and profitability.
Margioukla: One thing that has worked well for us is starting with the highest-quality product possible. From there, it then becomes about developing infrastructure to help you leverage your uniqueness as a means to stand out from the crowd. Always surround yourself with great people. They will help you realize diverse thoughts and ideas, and that only makes a company stronger.
There is no mold to replicate, at least not one that I have found in my 20-year career. This is similar to developing a product—you must always start with high-quality ingredients. Once you have this, leading becomes fun and easy. Success is not always—and should not only be—measured by short-term results. It should be measured by a combination of short- and long-term results. The best way to become really good at something is to be never satisfied and always be curious and constantly looking for ways to improve. This process may also lead to failure from time to time, but through failure comes the best learning and experience. Having the "right people" on the team is paramount, as not all people are willing to embrace failure as easily as they do success. The key to a successful organization is to ensure that you have the right people onboard. A few key indicators I always look for are intelligence, passion, dedication, motivation and drive. If your organization possesses these behaviors, success will almost always naturally occur.
This story first appeared in the March/April 2020 issue of Tobacco Business magazine. Members of the tobacco industry are eligible for a complimentary subscription to our magazine. Click here for details.
– Story by Stephen A. Ross, editor-in-chief of Tobacco Business Magazine. Photos by Law Ream.