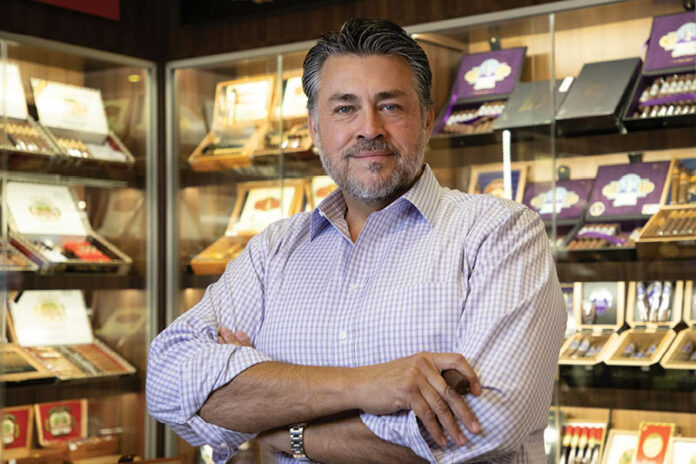 When Ramón Torres was a teenager, his family operated a duty-free store located along the U.S./Mexico border in California. Like many who work in family-run businesses, he was stocking shelves and cleaning bathrooms. His older sister made sure that kept him busy and out of trouble. At the time, the duty-free store didn't offer cigars, but it did sell a lot of cigarettes and other tobacco products. Later on in life, Torres moved to Las Vegas, where he became a consultant for a cigar lounge that he eventually took over completely. Today, he runs Interluxe, which operates two cigar stores located at Harry Reid International Airport in Las Vegas (LAS): Luxe Cigar Boutique at the Terminal 1 baggage claim and Interluxe at Terminal 3's international departures area.
Operating a cigar store within an airport is unique, to say the least. First, there are very few repeat customers, and even with more than 50 million passengers flying in and out of LAS each year, you still have to get them into your store. Although Luxe's location within the airport gets more foot traffic in a year than Disneyland, it still must appeal to the traveler who isn't necessarily looking for or thinking of buying a cigar in an airport. Most passengers are more preoccupied with getting their luggage and moving on to their destination on the famous Las Vegas Strip. Luxe is a very unique business that must capitalize on trends, impulse purchases and the all-important convenience factor in order to be successful.
Interluxe has also taught Torres to keep an open mind when it comes to different opportunities within his stores. Even though cigars are the store's main attraction, Torres has brought in other products based on what each store's customers were requesting. Luxe has found success with offering nontobacco products as well, such as Formula 1 fan gear, Ferrari-branded products and luxury accessories. Torres has learned that, in retail, no two businesses are exactly the same. Location and customer demographics can dramatically influence a store's "personality." Retailers must understand this and know their customers in order to better position their businesses for success.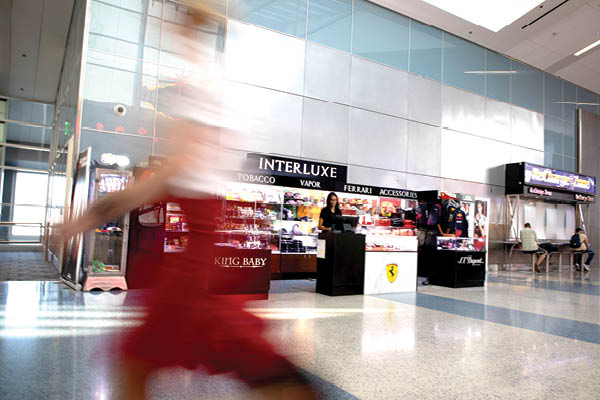 Adapt and Conquer
In the early 2000s, Torres was looking to expand his business, and at the same time, the Las Vegas airport had launched an RFP (request for proposal) process for the stores and businesses it wanted to bring to the airport—with a cigar-related business being among them. LAS had a long history with cigars that dated back to the 1990s and had worked with various operators and contracts over the years. In 2010, Torres submitted a proposal for a cigar store and won it, paving the way for Interluxe and Luxe Cigar Boutique. Torres knew that Luxe's location within the airport would require a far different business model and structure than the typical cigar store, and his experience working in duty-free stores and other unique retail venues helped him come up with a plan to set his new airport store up for success.
"I was already involved in another large business at the airport, and I'm so passionate about cigars and the industry [that] it made sense to operate a world-class cigar store there as well," he says.
Originally, the contract Torres won was for a 2,500-square-foot cigar store and lounge that was set to be located within the then-newly built Terminal 3 at LAS. The concept included a full retail store, VIP smoking lounge and more. Once the terminal opened and its traffic could be monitored, it was determined that, despite the excitement and big plans, this concept was not going to work for this particular space. Also, from an engineering perspective, the concept would be cost-prohibitive due to the extensive exhaust system the smoking lounge would require.
Once it was determined that this concept wasn't going to work, Torres and those involved began to consider other plans. Adjustments were made, and Interluxe's first retail location within the airport finally opened in 2014 in Terminal 3, the airport's international terminal. Later, a second location opened in Terminal 1, in the baggage claim area. These two locations each have their own distinct clientele: international departure passengers for the first location in Terminal 3 and everyone else arriving in Las Vegas for the newest location.
"Interluxe was created as a luxury cigar lifestyle concept boutique catering to international passengers flying out of Las Vegas," Torres explains.
It opened as an S.T. Dupont signature shop and also offered edgy silver jewelry handcrafted in Los Angeles, men's watches, a personal line of Spanish leather goods, luxury pens and other unique luxury accessories very much in the style of an upscale duty-free store.
"Luxe Cigar Boutique is an extension of our original store. Just like that store was designed with the international passenger in mind, Luxe was designed for the domestic passenger visiting Las Vegas. Luxe is very unique to Las Vegas. I don't know that this concept would work at any other U.S. airport," says Torres. "Luxe has a very small footprint compared to other stores. but it is still one of the largest dedicated airport cigar stores in the world. Typically, one would find an airport shop or duty-free store with a cabinet humidor or two offering a limited selection of cigars as part of their overall operation. Luxe is primarily a cigar boutique."
Another thing Torres has learned over the course of his years spent working in retail is that opportunity can present itself when you least expect it.
"We listen to our customers and always test what they request, and Ferrari-branded items kept coming up at our first store," he says. "It all started with Ferrari pens, which evolved into a first-of-its-kind airport Ferrari shop-in-shop as part of the cigar store, and now it's evolving yet again into a unique Formula 1 store. You wouldn't expect to go to a cigar store to pick up Formula 1 apparel, which shows the uniqueness of airport retail and the importance of surveying your customers in any setting."
The success of the Netflix series "Drive to Survive" and Mexican Formula 1 driver Sergio Perez have created a perfect storm for Torres at LAS. "The growth has just been amazing, and we're fortunate that we can quickly respond to hot trends like this," Torres says.
Las Vegas will host a much-anticipated Formula 1 race in 2023. Interluxe is currently the only retailer of Formula 1 licensed merchandise at the airport, and plans are underway to spin off the Formula 1 shop to other terminals at LAS.