Since we left TPE, we have had nonstop meetings with other companies that were at the trade show that now want to support CFW, either through the Synergy Program or in some other tailor-made program. The next upcoming CFW partner will be Caldwell Cigars, with the release set for July 4, 2021. This release will be part of Caldwell's successful MoFo line, and will be called the "Minutemen." We are all very proud and excited about this release, and I personally cannot wait for you to tell me your thoughts on this cigar. Robert Caldwell will be donating 100 percent of the profits of this Toro cigar to CFW to benefit our deployed troops. Other Synergy Program releases include releases from Cavalier Cigars, Oscar Valladares Cigars and Mi Havana.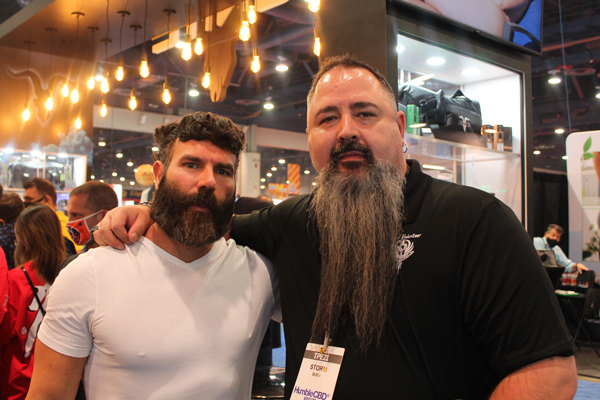 Sadly, I only had time to walk part of the non-cigar section of TPE, but what I saw was incredibly diverse, interesting and quite literally fun. Previously when I thought of companies with products like kratom, Delta 8, hemp, pipes, hookah pipes and shisha, I always wrongly assumed that they wouldn't be interested in a charity for troops, at least not like those companies in the cigar industry. I was extremely wrong. All of the few non-cigar exhibitors we had a chance to visit all wanted to get on board one way or another to support CFW. Hopefully you will see, very soon, some very fun non-cigar releases as part of the Synergy Program.
Through my eyes, this being my 34th trade show since we started CFW, was a different perspective than our other seven volunteers that came to work the tradeshow. Before I go further, I will answer the question many of you have, and it is no. CFW doesn't pay for volunteers' expenses to travel. Every volunteer chooses to spend a lot of money, to work their buts off. That is true passion.
Now that you have an idea of what the tradeshow means to me personally, I would like you to see the trade show through the fresh eyes of a few of the CFW volunteers that worked the show this year. CFW doesn't pay for volunteer's travel expenses. For complete transparency, the charity does have the ability, case by case, to give someone a stipend that can be reviewed by the travel committee.
RJ Witcher CFW Marketing Director: "For me, the trade shows are among the most important events that I attend every year. During the show, people are able to get one on one time with manufacturers to get business done face to face. It is one of the only times that I get to see friends and co-workers from all over the country. TPE, in particular, has allowed me to extend our charity's reach outside of the cigar industry, and those connections will allow us to further our mission. TPE allowed us to open up opportunities that would [have] been much more difficult to open if there was no show. It was one of the proudest moments of my life when I saw CFW's booth completely set up the way John [Chernogorec] and I envisioned it. Seeing all the new marketing materials that I designed after many hours of work laid out perfectly was a very humbling experience."
Kris Ford, CFW Chief of Operations, (former U.S. Army): "This was the first major trade show I have had the pleasure of working at. Having multiple industries under the same roof brought many more opportunities to expand CFW's contacts and outreach. It was exciting to meet with so many people that have strong and positive feelings about the troops. I always knew the trade shows were intense, but seeing it firsthand gave me a whole new respect for the volunteers that have worked the trade shows over the years."
Abigail Willcox, CFW Social Media Administrator: "TPE was an amazing experience with the mix of all the products. It was a very new kind of learning experience for me that I loved. I really enjoyed the employees who we worked with during the setup and tear-down, they were super friendly and helpful. People never think about all that it takes to put a show like this together. TPE has put together an amazing team of people that literally build an outstanding trade show! I truly do believe this will soon be one of the largest trade shows based on the wide variety of products for cigar shops, other various types of retailers, and most importantly the integrity and respect that TPE's staff showed everyone from the single person exhibitor to the enormous exhibits."
Major Kimberly Chernogorec, CFW's Military Liaison (LNO): "TPE, for me, was the opportunity to spread the word about CFW to retailers and manufacturers. I was excited to go to a show where CFW had our own space and our own identity. I feel like that is showing people that we are a professional organization not tied to any one specific manufacturer. Many in the past have thought CFW was a Drew Estate program, and while DE has donated hundreds of thousands of dollars and even more cigars to Cigars for Warriors, we are an industry-wide charity. As a major in operations within the U.S. Army, I was quite impressed with how the TPE staff handled such a large and diverse show, and stayed professional the entirety of the show."
Peter Totaro, CFW's Assistant Chief of Logistics, NJ: "In the world of COVID-19, to finally have a face-to-face event and convention was the best prescription for all of us in this awesome industry. We all have been through so much, whether being confined to our homes, or experiencing a family member who became sick. We all needed to come together again so that we could start the process of getting back to normal. After almost a year and half, I finally got to meet up with my friends and colleagues in the industry. The support they all have shown to Cigars for Warriors is absolutely amazing! TPE put on a fantastic show and still followed all the safety guidelines—and additionally it was a lot of fun to attend. I'm looking forward to next year!"
Paul Hinman, CFW's Executive Administrative Assistant: "After attending the last TPE show, and then this year's show, I have realized how important networking and having a presence at the show is for CFW. While it is a constant whirlwind of meetings, greetings of old and new friends, and bringing new donation centers on board, it was a very rewarding and fulfilling experience that made the long hours of volunteering absolutely worth it. In the few years I have volunteered for CFW, I have seen a difference and proudly have made a difference. I look forward to seeing the new projects like the Synergy Program come to fruition."
John Chernogorec, CFW's Sr. Donation Centers' Administrator, (former Marine): "I have enjoyed being an intricate part of the PCA [Premium Cigar Association] and TPE trade shows for Cigars for Warriors. These shows let me interact with the manufacturers, the retailers, and brokers in a more intimate manner and environment that the shows foster. The communication I have with all the attendees makes it so much easier because we are always placed in one central location. In-person interactions are what makes the cigar world so unique and pleasant. In my humble opinion as a former deployed Marine, Cigars for Warriors is by far the best and most effective charity for our deployed troops. I greatly appreciate all that Kretek and TPE have done for CFW."
For those retailers that have not gone to TPE, you really need to take the opportunity to do so.  The same is true for those manufacturers that have not set up an exhibit. It is very much worth it. I know you will be quite gratified that you did. TPE and PCA are both tremendous trade shows, and I strongly believe neither is greater than the other. They each have their own positive attributes, and what one show doesn't have, the other has, and vice versa. As you can see, TPE21 was a very positive experience by all of our volunteers, colleagues and supporters.
Cigars for Warriors wants to say a very special thank you to Kretek, Phillips & King, TPE and Tobacco Business magazine for the absolute amazing support demonstrated before, during and after the TPE21 trade show this year.
– Contributed by Storm Boen, Chairman, Operation: Cigars for Warriors