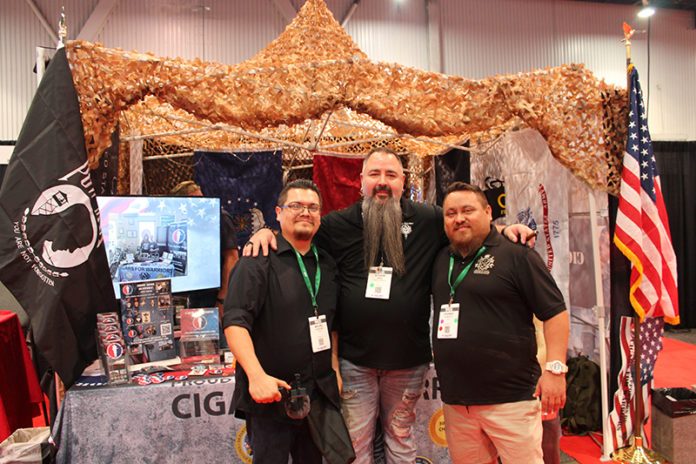 The annual Tobacco Plus Expo (TPE) trade show is an exciting and unique trade show, with so many types of companies, including premium cigars. One of the biggest questions I get from our supporters is what is it like at the trade shows like TPE and how is Operation: Cigars for Warriors (CFW) received as the only exhibiting charity at these events. Some have a delusion that it is like a big festival where you can go around trick or treating. To be blunt, it is not that at all. While at times it does resemble a fun three ring circus with so many things to see. Retailers come to the show to check out the exhibitors' products and to make purchases. It is serious business that can involve 18-hour work days when you count everything that happens after the trade show floor closes at the end of business hours. For most like us here at CFW, we do a lot more business after hours than at the show.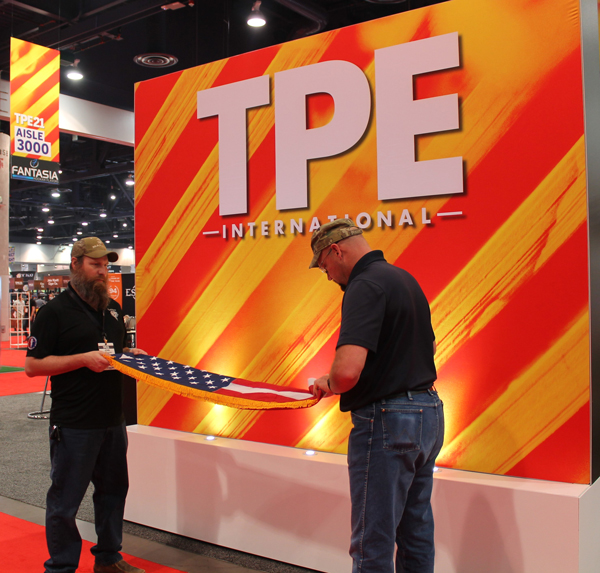 TPE21 marked the fourth year that CFW was in attendance, and for us it was easily our best year, by far. There appeared to be twice as many retailers walking around this year than last year, which if you think about it was amazing. COVID-19 was still a big part of the picture that everyone had to work with and around. The only complaint heard from many, which TPE couldn't help, was the mask enforcers that the convention center had walking around. TPE's managing director, Ben Stimson, and his amazing staff bent over backward, making sure we were set up and given everything we needed to be successful. TPE was very generous in donating a booth to CFW—they are extremely proud to be supporting our military in any way they can, and they do so on multiple levels.
This year was very important to us, as it marked the release of CFW's brand new Synergy Program. The Synergy Program really took off at the TPE trade show. It really blew us away how many companies came to us, instead of the other way around, wanting to know how to be part of it and how else they could support CFW and the troops. On May 5, 2021, Hiram & Solomon released their "Live2Serve" CFW cigar. Hiram & Solomon is donating 100 percent of the profits from this cigar to CFW. By the end of TPE21, there were just 200 boxes of "Live2Serve" left that will no doubt be sold before this issue is released or shortly thereafter.
When the show ended, CFW had five of six manufacturers signed onto our program that will allow for a new CFW cigar to be released every two months.
CFW's boutique coffees, made in collaboration with Janus Coffee Roasters, were released on April 10, followed by a special retail-only CFW coffee that was released at the trade show this year. What makes these so special, besides being specially blended for CFW using high-quality beans, is that CFW receives a significant amount of the proceeds from sales. Even more important is that for every bag purchased, either by consumer or by the retailer, Janus is donating an additional 8-ounce bag of the same blend that we can in turn send to our deployed troops! The person or company that purchases a bag will have their name printed on the donated bag so that our troops know who donated it.
For retailers, the only way to purchase the Hiram & Solomon cigar, or any of the Synergy Program products, is to be an official CFW donation center (DC). In addition to the over 400 DCs already in our program, CFW was able to add more donation centers to our program by the end of TPE this year. Even with that huge success, it pales to the fact that we have now a total of five out of six manufacturers signed up and committed to being part of our Synergy Program. Additionally, we have three companies that are outside of the cigar industry that are making products for us that will be sold and will have 100 percent of the profits donated to our organization.